Unexpected circumstances are part of the joys of travel; but when health issues occur, a travel health kit provides valuable support!
BEING PREPARED IS KEY!
Regardless of the chosen destination, whether for business or pleasure, it can be very helpful to have a well-stocked travel health kit on hand. Because we never know what we may encounter, it's better to have thought of everything—or just about.
The contents of your travel kit must of course be adapted to your destination and to travel conditions. First aid supplies and medications may not always be accessible in other countries or may differ from those offered in Canada.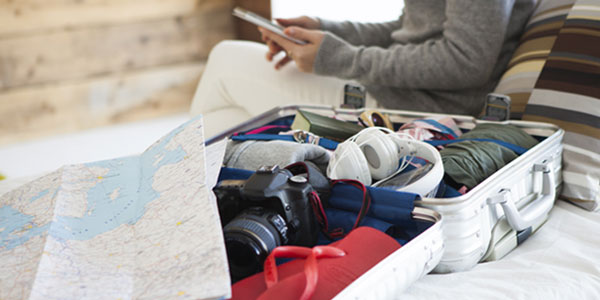 MAKE A LIST
It can be difficult to anticipate the difficulties that might occur during a trip. This is why it is important to think ahead and to make a list. The person best suited to help you is undoubtedly your pharmacist. Speak to them shortly before your trip.
If you are travelling with a child, it is all the more important to ask your pharmacist for advice. Not only can they help you to choose the appropriate products and medications, but they can also determine the doses to be administered if needed.
Here are some examples of items that you should include in your travel health kit:
an antibacterial hand sanitizer
supplies to treat minor injuries such as an antiseptic cleanser to apply to wounds, an antibiotic cream or ointment, different sized bandages, adhesive tape, gauze, etc.
a cortisone-based cream or ointment to treat minor irritations and skin rashes
an antihistamine in the event of an allergic reaction
a pair of scissors
a thermometer
tweezers (to remove a sliver, for example)
sunscreen
aftersun moisturizer or a product to relieve sunburns
acetaminophen to relieve pain or fever
an antacid to relieve a stomach ache or digestive problems
medication to relieve nausea and vomiting and one to fight diarrhea
a rehydration solution (powder to be reconstituted, ideally)
tablets to disinfect water, if necessary
condoms
etc.
LEAVE ON A TRIP WELL EQUIPPED AND WELL INFORMED!
Also, remember to bring:
your health insurance card
the information concerning your travel insurance (including the number to call in case of an emergency)
all of your medication and a thorough list of all the products you are taking, including prescription medication, over-the-counter medication, and natural health products. The list must provide the brand name and the generic name for each product, the complete dosage, the name of the prescriber, and the name and contact information of the pharmacy. The PJC medication list is the perfect tool, as it's an up-to-date summary of your prescription file. Ask your pharmacist to print it for you.
Your medication and your medication list should be with you at all times; keep them in your carry-on. Bring more medication than necessary for the duration of the trip in case of an unforeseen delay.
Your pharmacist is a valuable ally to adequately prepare for a trip. In addition to providing sound advice, they can prescribe medication intended to prevent mountain sickness or malaria (paludism) and to treat travellers' diarrhea, if your situation requires it and if you meet certain prescription criteria. Fill out the form provided below, and bring it for your next visit to the pharmacy.
It's time for us to wish you a safe―and worry-free vacation!