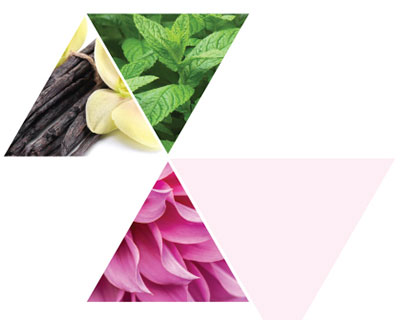 A fragrance for everyone
Delicate, fresh, indulgent, intense... Pick the scent that best reflects your unique style!
The notes of a perfume
Just like a music composer, the perfumer is inspired by notes. He imagines his perfume by focusing on a given theme – flowers, spices, fruits and other notes. He then builds his olfactive structure. There are different olfactive structures, but the most classic is the pyramid, which features three notes: top note, middle note and base note.
Top note
This is the first note released by a perfume. It is volatile, fresh, even sparkling. It is perceived as soon as you put it on, it is the opening salvo of the fragrance if you will. This note gives off fresh, hesperidium, and even green notes.
Middle note
This is the melody of the perfume, that emerges gradually after the top note. It is often called its "bouquet", since it is composed of flowers. The middle note is the initial inspiration of the perfumer and it often determines the olfactive family of the perfume.
Base note
Intense, warm and sensual, this note lingers on the skin for hours. It carries scents of wood, amber, incense, vanilla and musk. This is the finale of the perfume.
Looking for a new signature scent?
Come in store! Your Jean Coutu cosmetician will advise you with pleasure, and offer you a free sample to try. You're in for a pleasant surprise…