When temperatures drop and sunlight fades, your skin's spirits can drop as well. So how do you keep it glowing when the sun isn't? Well, here are a few easy tips!
Vitamin C to the rescue!
Serums, moisturizers, concentrates… there are lots of different products that are rich in Vitamin C! And with good reason: this active ingredient is our best ally for a boost of radiance. Its anti-oxidizing properties help limit inflammation while helping your skin cells resist the free radicals responsible for premature aging. Plus, it helps stimulate the production of collagen, the protein that gives your skin its suppleness and elasticity.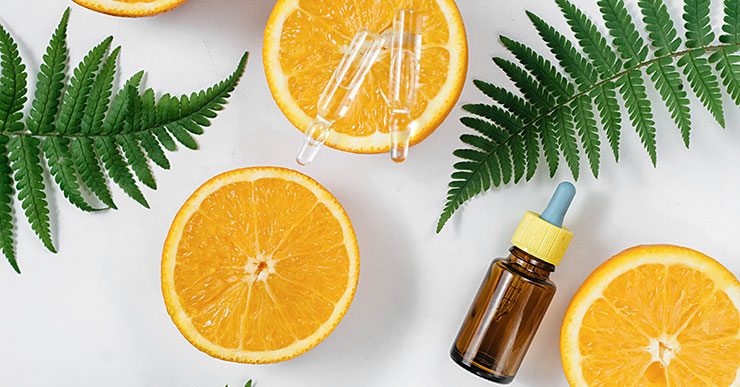 Want to find out if your skincare product contains Vitamin C? Read the label attentively. It could be listed as ascorbic acid, L-ascorbic acid, ascorbyl tetraisopalmitate, sodium ascorbyl phosphate, magnesium ascorbyl phosphate or tetrahexyldecyl ascorbate—which are all forms of Vitamin C.
Our suggestions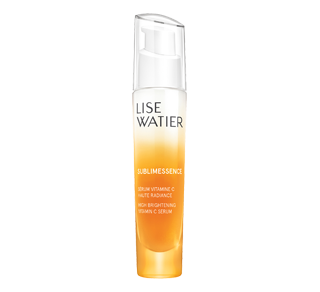 Watier
Sublimessence High Brightening Vitamin C Serum, 28 ml
Brightens - Evens out - Smooths. Thanks to its powerful complex of highly concnetrated ingredients, it helps diminish the appearance of pigment spots and hyperpigmentation, smoothing skin texture and boosting its glow. Day after day, skin is more luminous, more hydrated and healthier-looking.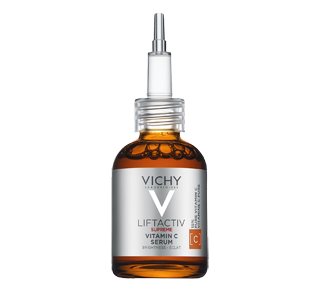 Vichy
Liftactiv Vitamin C Serum Corrector, 20 ml
Vitamin C antioxidant skin-cure to fights signs of aging & fatigue in 10 days.
Also look for ingredients like…
Hyaluronic acid. This elastic molecule is filled with water and helps bind the cells together, keeping your skin taught and radiant, while helping to counter daily aggression.
Thermal water. Rich in minerals and oligo-elements, thermal water soothes and fortifies your skin, helping it stay supple and well moisturized.
Rose water. Acting as a tonic that soothes and purifies, this vegetable extract adds pep to your complexion.
Skincare products can't do everything. So, be sure you get enough sleep and drink plenty of water every day. There's no better way to keep your skin moisturized and minimize the signs of fatigue.
Adapt your skincare routine to the season
The goal of skincare for colder days: give your skin everything it needs to fight back against harsher weather.
Exfoliate
Twice a week: use a gentle scrub or peel to get rid of all the dead skin cells and the impurities. Your skin will become more luminous and more receptive to your skincare products, so it's a double win for you!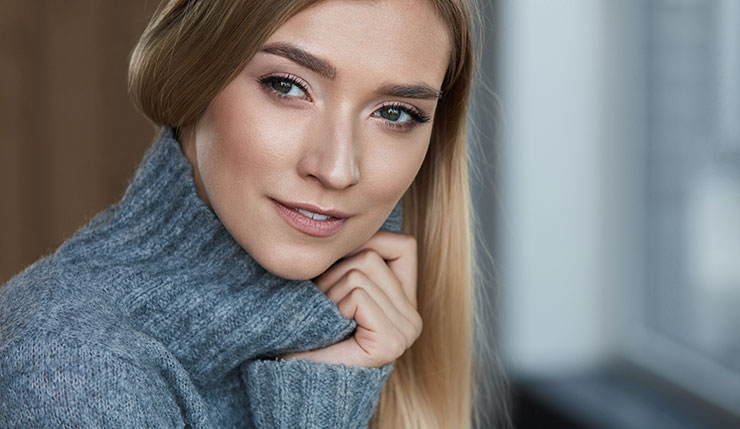 Our suggestions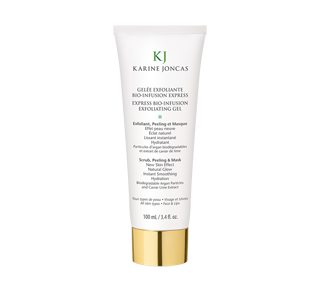 Karine Joncas
Express Bio-Infusion Exfoliating Gel, 100 ml
Scrub, peeling and mask New skin effect Natural glow Instant smoothing Hydration The Express Bio-Infusion exfoliating gel gently exfoliates the skin due to its organic* argan particles and caviar lime extract. This at-home professional-type peeling also provides a genuine "new skin effect". The skin looks instantly more smooth, soft and hydrated. This dynamic beauty treatment invigorates the appearance of dull skin and provides a visible natural radiance. Ideal to eliminate dead cells on the skin and help optimize the effectiveness of daily skincare products.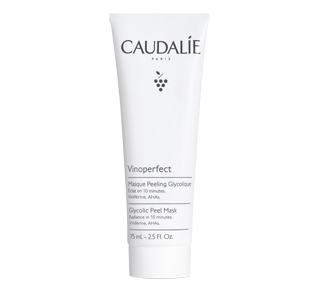 Caudalie
Vinoperfect Glycolic Peel Mask, 75 ml
Radiance in 10 minutes! The mask that sweeps away a dull complexion by exfoliating the skin and making it look more radiant.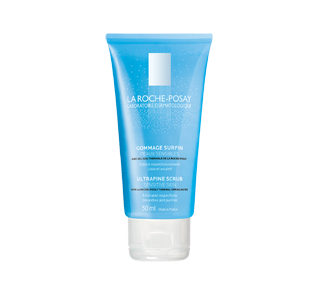 La Roche-Posay
Physiological Ultra-Fine Scrub, 50 ml
Gentle cleansing scrub. Sensitive skin.
Nourish and fortify
Every morning and night: make sure you apply skincare products that are rich and effective at counter-balancing the drying effects of the cold while reinforcing the hydrolipid barrier that protects your skin against aggression. Looking for an intensive, nourishing formula? Choose a serum that boosts the effects of your creams and add some to your mask once or twice a week.
Our suggestions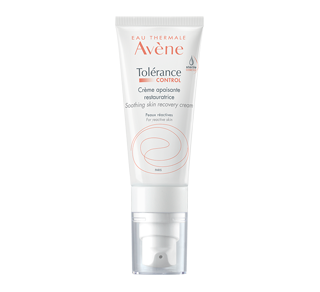 Avène
Tolerance Control Soothing skin recovery cream, 40 ml
Soothing cream for hypersensitive, reactive, intolerant or allergic skin. Calms skin in 30 seconds¹ and lastingly reduce skin discomfort. High tolerance. Tolérance Control cream is particularly indicated for normal to combination reactive sensitive skin.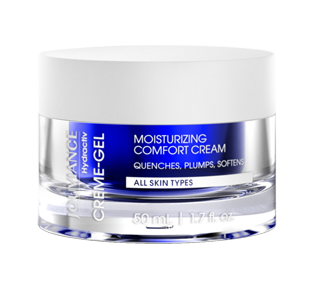 Jouviance
Hydractiv gel-cream, 50 ml
Soothe dry skin with this moisture-rich comfort cream. Its non-greasy, gel-in-cream texture instantly penetrates to infuse lasting hydration that calms dehydrated skin.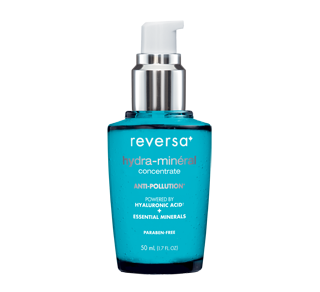 Reversa
Hydra-Minéral Concentrate, 50 ml
Hydrating and plumping A concentrate that provides a daily recharge of hydration and minerals. 99% ingredients of natural origin!
PROTECT YOURSELF FROM THE SUN
Even in winter, when it seems like it's hidden, the sun is radiating, and its rays are just as harmful for your skin. In fact, exposure to the sun is the primary reason for premature aging of the skin. That's why applying sunscreen is a vital step in your morning skincare routine.
Choose a sunscreen that:
Suits your skin type;
Protects against UVA and UVB rays;
Has a solar protection factor (SPF) of at least 30.
Our suggestions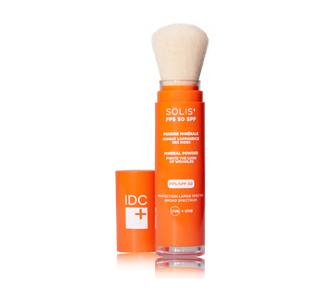 IDC Dermo
Solis+ Mineral Powder Fights The Look of Wrinkles 50 SPF, 6 g, Dark
This quick and easy-to-apply SPF 50 loose powder provides instant 4-season protection against sunburn and the harmful effects of UVA and UVB rays. Its powder texture helps to absorb and regulate excess sebum. This 100% mineral sun protection loose powder contains antioxidants as well as natural, calming and mattifying ingredients. The powder also helps preventing premature aging signs and reducing the appearance of wrinkles and other signs of photo-induced aging including sagging skin and pigmentation spots. Easy, quick and convenient use for consistent protection throughout the day.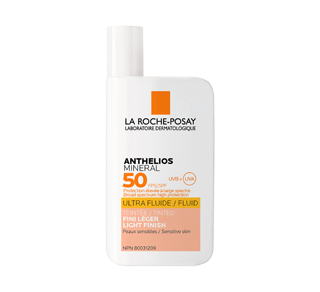 La Roche-Posay
Anthelios Mineral Tinted Ultra-Fluid Lotion SPF 50, 50 ml
100% mineral sunscreen in an universal shade for an instant natural glow. Protects from sunburn. Sensitive skin.