You'll need:
1 soft nail file
1 cuticle pusher
1 base
Your favourite nail polish
1 top coat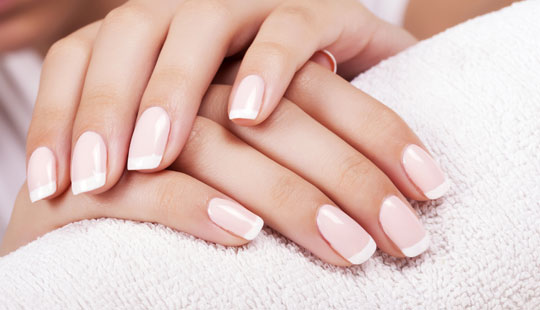 Step 1:
Wash your hands and dry them thoroughly.
Step 2:
File the edge of your nails to even out the length and give them the desired shape.
Step 3:
Soak your nails for several minutes in a bowl of warm water in order to soften the cuticles. Then, after thoroughly drying your hands, gently push back your cuticles using a cuticle pusher. Rinse and dry.
Step 4:
Apply a layer of base coat. This step is essential! The base coat's formula smoothens the surface of the nails and helps the nail polish adhere for long-lasting hold.
Step 5:
Apply two layers of nail polish in the colour of your choice.
Step 6:
Finish with a protective layer of top coat. This product dries in just a few seconds and produces a high-gloss finish.
And there you have it—a salon-worthy manicure!
Tips:
Pressed for time? Dry your nails with a fast dry spray. That way, you'll cut the drying time and reduce the risk of leaving marks.
Treat, strengthen and harden your nails between each application of nail polish with a care product that moisturizes and revitalizes.
Does one hand give you more trouble than the other? Make sure you place the hand you are applying polish to flat on a table. With your other hand, hold the brush between your thumb and forefinger and rest the side of your hand on the table. This will give you more control when applying your nail polish.
Avoid runoffs by always leaving a millimetre at the base and on the sides of the nail polish-free.
If you overrun, use a nail polish corrector to clean up the drips.