Though short, textured hair is all the rage this season, long, super straight hair is always a classic. You'll need a flat iron to straighten your bangs, but if you want to avoid damaging them, you'll want to make sure to get the right one and use it the right way!
Great for straightening hair, a hair straightener can also kill it—too much heat can dehydrate and even burn the hair fibre. You can avoid these problems by buying a good iron and learning how to use it properly. Get an iron with ceramic coating, or better yet—a tourmaline barrel, fused with ceramic. Also, it should be lightweight, have an ergonomic handle and a temperature control.
Straightening your hair in 4 steps
After washing and conditioning your hair with products preferably designed for straight hair, towel dry your hair and apply a thermo-protective hair serum, a must when using heat generating hair appliances.
Next, dry your hair and gently brush it. Never use a flat iron on damp or wet hair or you could damage it.
Then, choose the correct temperature. You'll need to use more heat for thick hair than for fine, curly or coloured hair. For example, if you have fine hair or hair damaged due to colouring, use a temperature of 180°C, whereas for curly or wavy hair of normal thickness, use a temperature between 180 and 210°C. Thick or frizzy hair can withstand heat up to 235°C.
Next, part your hair into small sections and proceed to straighten it, placing the iron close to the roots and moving the iron down the hair shaft toward the tips. Do not pass over the same strand more than twice and avoid pressing the tips too long so as not to weaken them. Also important: brush your hair well after each pass to make the effect last longer. And to fight frizz and dry hair, apply a specific treatment such as John Frieda's Frizz-Ease serum.
We suggest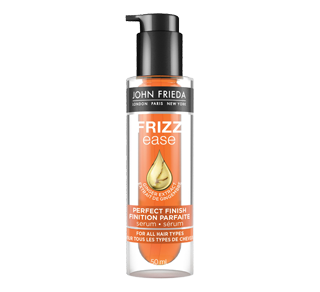 John Frieda
Frizz Ease Thermal Protection Serum, 50 ml
Instantly shields all hair styles against the damaging effects of heat styling that can cause frizz and UV exposure.