Winter's enchanting scenery and exceptional lighting make it an ideal season for photography. Take advantage to have a photo shoot! Here are five original ideas for winter portraits and tips to make them spectacular. You can then print your shots to create beautiful photo albums on long winter evenings or snow days.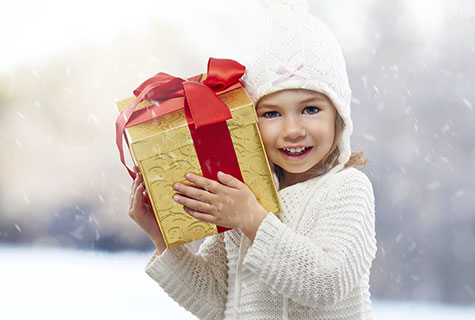 Poetic portraits
Ask your subject to take some powdery snow in their hands and blow on it. Snap your picture as the snow takes off like fairy dust. Set your camera to a "Speed" mode (S or TV) and choose a minimum shutter speed of 1/250 for clearly visible snowflakes. If you prefer a trailing effect, opt for a lower speed. By playing with your focus, you can also blur your subject and zoom in on the flakes, putting a little more mystery into your portrait series.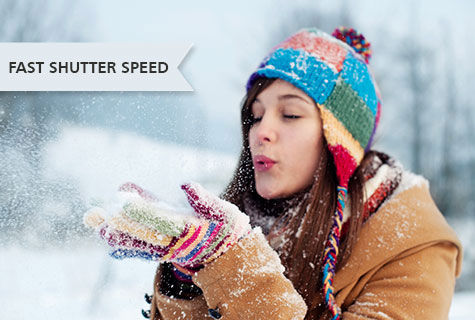 Action portraits
Taking action shots can be very challenging. But when it works, you're guaranteed an exciting shot. To capture your subject in mid-action, set your camera to "Sports" mode or a fast shutter speed (minimum 1/250) to freeze their movement. Luck will always play a role in getting great action shots, so try and focus on taking your picture at the exact right moment. Then, you can crop your photos with image processing software, or even when you print them. You can also increase your chances of taking a successful portrait by trying sequence photo.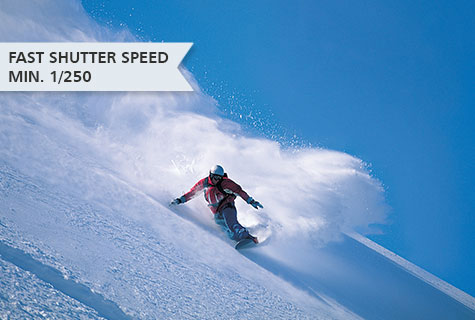 High contrast portraits
Bright colours on white backgrounds automatically grab the eye. Snowy scenery provides an excellent opportunity to play with contrasts, especially with children who are often dressed in colourful outfits. Red and warmer colours generally contrast well with snow. To strike a balance with your colours, place a bit of snow on your subject's toque or scarf. Position yourself level with them, focus on their eyes and shoot! If your subject melts too much into the background, choose an alternate backdrop consisting of fir trees, mountains or even sky rather than snow.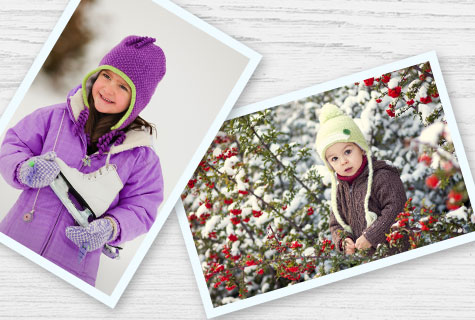 Black and white portraits
Black and white photography shouldn't be ruled out because snow is already white—au contraire. A black and white portrait featuring a wide expanse of white will bring out your subject that much more. Ideally, avoid an all-white background—make sure there are a few trees or buildings in the distance to add some depth to the image or even frame your subject.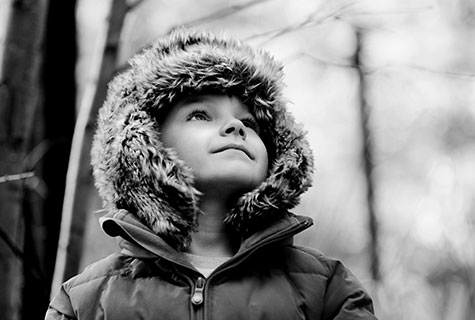 Angelic portraits
For a fun ending to your winter photo shoot, why not try a portrait of a snow angel? Use a wide angle and ask your subject to make an angel in the snow, using a little more snow than usual. Position yourself over them to snap their picture with the snow as a backdrop.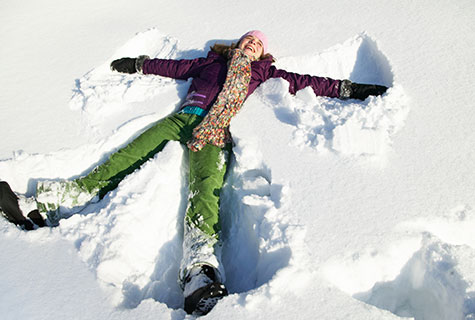 A few tips:
White balance should be set according to current light conditions.
Exposure must be adjusted so that snow in the background appears white, or you can use your device's "Snow" mode.
Opt for a large aperture and short focal distance.
A polarizing filter will provide better contrast, especially with a backdrop of blue sky.
Get close! Place yourself less than three metres away from your subject, especially when using a flash.
For a more authentic style, take two shots at intervals of just a few seconds. Your subject will be more natural in the second shot.