Here's a DIY decoration project that's incredibly easy. The possibilities are endless so don't be afraid of letting your creativity run free to design your own unique take.
Materials
The pictures:

Start by choosing your pictures. You can pick an overall theme, like your family, or something more specific like your latest vacation. For more cohesiveness, don't mix colour photos with black and white ones.

A hint of the great outdoors:

It can be a branch you found in your yard, a piece of lumber or some driftwood you collected during your most recent trip to the beach. If you use a branch, make sure it's wide and solid enough so it doesn't end up looking frail next to your pictures.

To make your project blend in with the room's decor, you can paint the piece of wood or use it as is.

Hanging your artwork

There are lots of options available. You can use string, a rustic rope or nice silk or lace ribbons.

Frames (optional)

You can use identical frames of the same material (wood, plastic, silver) in the same colour. But you can also hang your photos without frames if you want to be able to easily change them. However, if you pick the latter option, your photos will be more exposed to air drafts and could end up facing the wall.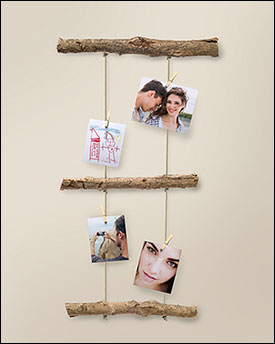 Directions
Drill a hole in both ends of the branch to thread the rope or ribbon you'll use to hang it up.
Drill evenly spaced holes where you want to suspend your pictures. Make sure you leave enough room for the frames.
Hang your photos and you're all set!
Optional: For a rustic look, you can hang a few small objects or mementos, like a starfish or a baby bootie.