Pigtails and ponytails are great when you're in a hurry, but they're hard on your hair! Here are 5 mistakes to avoid if you want to avoid damaging your hair when you're tying it up.
A close-up on hair

Hair is 95% keratin—a fibrous protein that's also found in your nails and skin. It is found both in the cuticle of your hair, a protective outer layer of cells that are like scales, and the cortex, which is the inner part that gives your hair its strength and flexibility.

When the scales of the cuticle are tugged and lifted by external forces (styling products, heat, pollution, etc.), your hair becomes fragile, which makes it vulnerable to loss of shine, drying and brittleness.
MISTAKE 1: TYING THE ELASTIC TOO TIGHT
When the elastic is too tight, it puts excessive pressure on your hair and that can lead to breakage over time. What's worse, that pressure is also applied to your hair follicles (the cavities in the skin where your hair takes root), and that can lead to headaches and even hair loss—especially if your hair is dry or damaged.
Remember: When the rubber band is stretched too tight and shows signs weakness, don't keep twisting it. Throw it out and get a more supple one. And remember to tie it just tight enough. You don't want the pain or aggravation of damaged hair!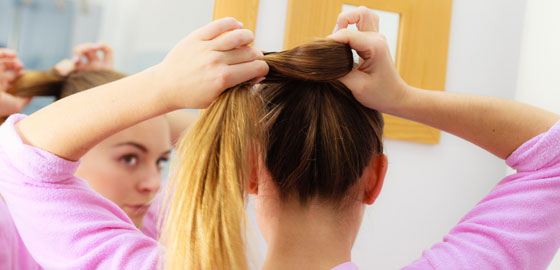 MISTAKE 2: RIPPING THE ELASTIC OFF YOUR HAIR
Pulling the elastic off your head all at once is not really using your head... Why? Because you could end up pulling out a lot of hair, causing serious damage to those locks of yours.
Remember: Even when you're in a hurry let your hair down after a long day, take the extra couple seconds to loosen the elastic one turn at a time. It will save your hair a lot of unnecessary wear and tear!
MISTAKE 3: USING ELASTICS WITH METAL CLIPS
It's happened to all of us: our hair gets tangled up in the elastic and we spend forever trying to untangle it (unless we get frustrated and use our scissors!).
The culprit is often the metal clip, which gets easily caught up in your hair, damaging it or creating split ends. Another enemy? Rubber, which sticks to the fibres of the hair super easily, tangling them and promoting tearing. So, even if you have nothing else close at hand and you're really tempted, never use one of those office elastics to improvise a bun.
Remember: Cloth elastics are best because they're softest. Or use accessories like scrunchies, headbands or barrettes. They're super trendy now, so there's plenty to choose from!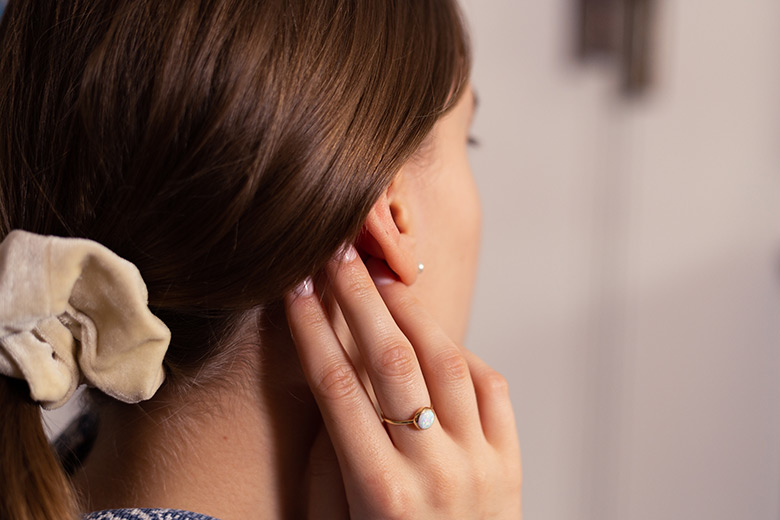 MISTAKE 4: TYING UP YOUR HAIR WHEN IT'S WET
Some mornings, we find ourselves in a rush and we're tempted to do our hair quickly, even when it's wet. But beware! Moisture makes hair softer and more fragile, so it's more likely to break. Even worse, wet hair is more likely to get tangled up in your elastic!
Remember: It's always best to give your hair a quick blow-dry or let it dry by itself before you tie it up. Better still, dry it and then apply a leave-in nourishing treatment before you tie it up!
MISTAKE 5: ALWAYS WEARING THE SAME TYPE OF BUN
Styling the same way every day means you're always exerting pressure on the same parts of your hair. And as you know, when it's under pressure like that, it becomes brittle...
Remember: It's best to have a repertoire of 3 or 4 hairstyles of different heights, which you can wear on alternate days: a high bun, a half-bun, a low ponytail, a braid, etc... There are lots of quick and easy options to choose from!