The skin on newborns is super fine and fragile, so it requires special attention. To help you make the right choices, we've answered five common questions about skincare for babies.
Why is a baby's skin so fragile?
The skin of a baby is immature, which means that...
It's about five times thinner than that of an adult.
Several types of glands aren't fully functioning yet. For example, the skin of a newborn can't secrete sweat or natural oil (or sebum), so its shield system against germs and environmental attacks isn't yet fully functional.
It barely produces any melanin, the brown pigment that helps protect against UV rays.
It has a neutral pH in the first six weeks of life, so it's more prone to irritation.
Delicate skin requires gentle care
To protect your baby's skin fully, choose unscented, hypoallergenic products that have a neutral pH. You'll also want to avoid preservatives like parabens, alcohol and phenoxyethanol, and avoid products with sulfates and phthalates.
Does a baby's skin need moisturizing?
Because a baby's skin doesn't produce sebum, it tends to dry out more easily. So, it's vital that you keep it well moisturized and provide it with the emollient ingredients it needs to compensate for the lack of natural oils. One good way is to apply a gentle cream to your child's skin when it's still wet, after every wash; and repeat the gesture several times a day as needed.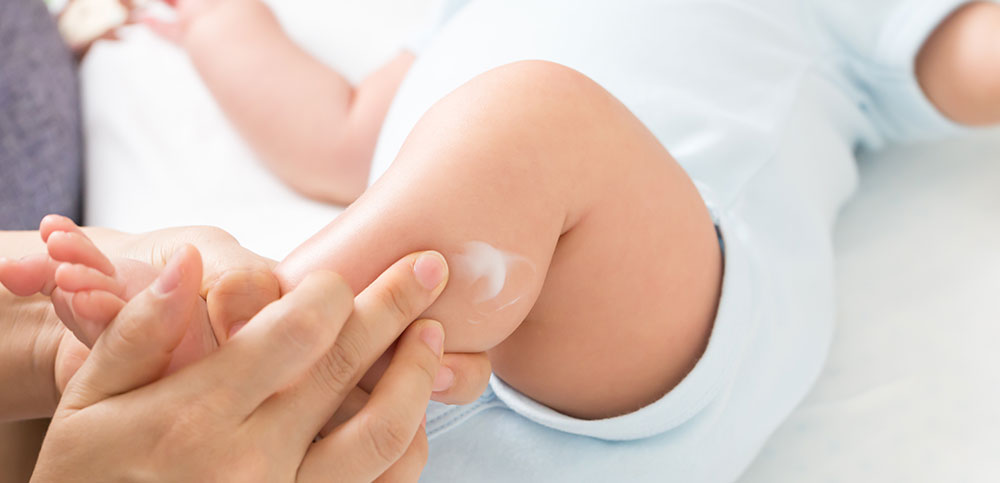 Baby still has dry skin after all that... what should you do?
If your baby's skin dries out, peels or cracks, even though you moisturize it often, check that the air in the baby's room isn't too dry and avoid using traditional soaps. Simply wash your little one with water, then apply moisturizing cream or lotion to the dry areas. If in doubt, don't hesitate to consult your doctor or pharmacist.
How often should you give your baby a bath?
Water can dry out a baby's skin, especially when it contains high levels of lime. Because of that, you'll want to limit bathing to two or three times a week during the first few weeks of life. And even when you do bathe, try to keep it to 15 minutes or less. On other days, simply wipe your baby with a gentle washcloth using lukewarm water; water that's too hot can also dry out baby's skin.
Instead of regular soap, use one that's mild and pH-neutral, created especially for newborns; ideally, one that's rich in fatty substances or moisturizing ingredients. Soaps that come in bottles with dispenser pumps are practical because they're easy to handle and offer good protection against the intrusion of bacteria.
As soon as you've bathed your baby, make sure to rinse their skin well, including inside the wrinkles and folds, as formula residue could cause itching. Then, to dry them off, use a soft towel to wipe or dab gently without rubbing.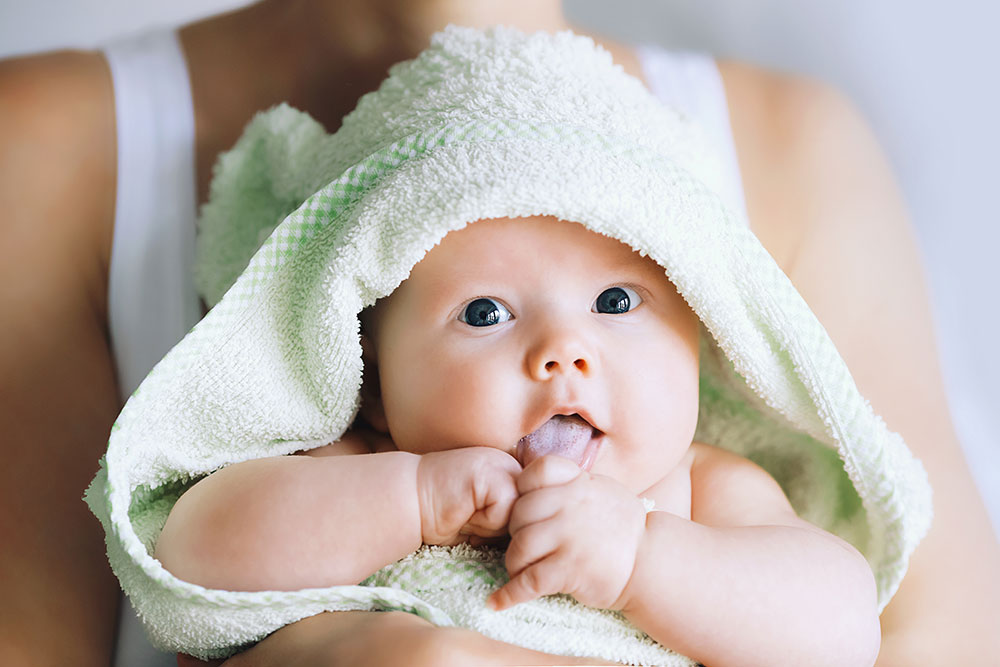 Because newborns produce very little melanin—the brown pigment that protects skin cells from UVA and UVB rays —they are particularly sensitive to the sun. Experts recommend avoiding any exposure to the sun, even indirect exposure, during the first year of life, particularly before the age of 6 months, when babies can't wear sunscreen.
If you absolutely must go out with your little one during the day, remember...
Use an opaque blanket, an awning or the sunshade of your stroller.
Stay in shaded areas whenever possible, especially between 11 a.m. and 4 p.m., when the sun's rays are at their strongest.
Dress your baby in light, comfy clothing that covers their arms and legs.
Make them wear a wide-brimmed hat and sunglasses with filters to protect their face.
What are the most common types of skin problems in infants?
The following four conditions are quite common in infants:
Milium (or infant acne): these tiny white pimples are caused by the build-up of fat in the pores of the skin;
Diaper rash (or seat dermatitis): a skin irritation caused by prolonged contact between the diaper and the baby's skin;
Hat head (or seborrheic helmet): dry scabs that develop on the scalp because of the excess production of fatty secretions, or when shampoo is not rinsed off properly;
Heat rash: red, rounded, raised marks that can be seen on the neck, forehead or in the folds of the skin during periods of hot weather.
No matter what the issue, you can count on the advice of your pharmacist to offer sound baby-care advice and products that are right for your little one.

Our suggestions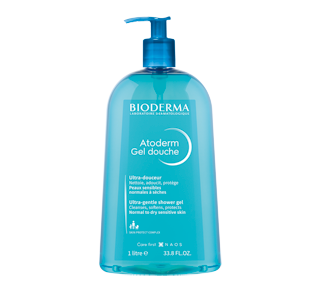 Bioderma
Atoderm Shower Gel, 1 L
A daily gentle soap-free cleansing shower gel that respects the skin. Face, body, adults, children, baby.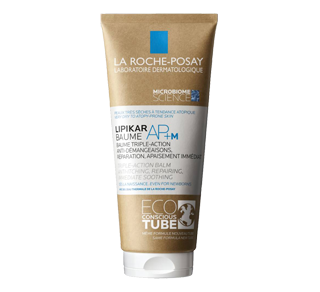 La Roche-Posay
Lipikar Baume AP+M Triple Action Balm, 200 ml
Lipikar Balm AP+M is a soothing*, lipid-replenishing body balm for newborns, children and adults with dry, itchy and eczema-prone skin. Clinically proven to reduce itching, provide immediate soothing* and space out the frequency of flare-ups** of eczema and severe dryness. The new AP+M triple-action formula has a reinforced anti-scratching, anti-relapse efficacy** and helps to rebalance the skin's microbiome. It replenishes skin's essential lipids to strengthen its moisture barrier and provides long-lasting 48-hour hydration. It can be used on the face, hands and body and is suitable for adults, children and babies as young as 2 weeks, for use all year round. Our new eco-conscious tube made from cardboard packaging uses less plastic*** to be more respectful of the planet. At La Roche-Posay, we are committed towards our people and our planet. As we innovate our products, we ensure to improve our environmental & social impact on our planet and people. One of the ways that we do this is by committing to reduce the use of plastic through our eco-friendlier packaging designs. * In cases of dry skin. ** With continuous use, 1 application/day, severe dryness peaks are spaced out. *** Compared to the previous 200ml tube.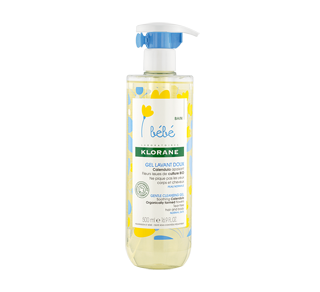 Klorane Bébé
Gentle Cleansing Gel, 500 ml
Rich in moisturizing agents, its biodegradable formula cleanses gently. The skin is protected from drying out. Does not irritate the eyes.