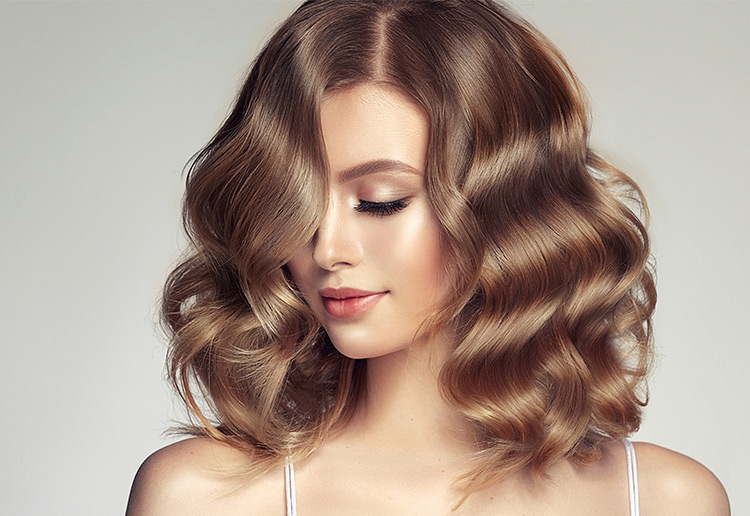 Silky hair at a soft price!
Offered exclusively at Jean Coutu, Solfine brand, from Italy, offers professional-grade hair colour at an affordable price: everything for long-lasting colour, beautiful shading and soft, shiny hair.
Viva Italia: a collection bursting with colour

Discover four rich shades, created to enhance the natural colour and radiance of your hair. You can get them by mixing existing Crema Color and Natural Color shades: ask your cosmetic specialist in store for the recipes!
Roma
Mocha al Cioccolato, a rich, deep brown with a hint of mahogany.

Firenze
Nocciola Tostata, a warm, hazelnut brown.

Venezia
Caramello Fresco, a dark caramel shade with cold highlights.

Milano
Café à la Vanillia, a soft, clear coffee shade.
Colour lines created with your hair in mind
Solfine hair colours are made to achieve 100% grey hair coverage

.

Low ammonia formulas are gentle on the cuticle (the outermost part of the hair shaft, formed from keratin scales) and help preserve its integrity.
The Natural Complex technology is infused into each shade and provides key ingredients that help protect, nourish and preserve the structure of the hair during the colouring process. This mix gives shine and long-lasting color to the hair.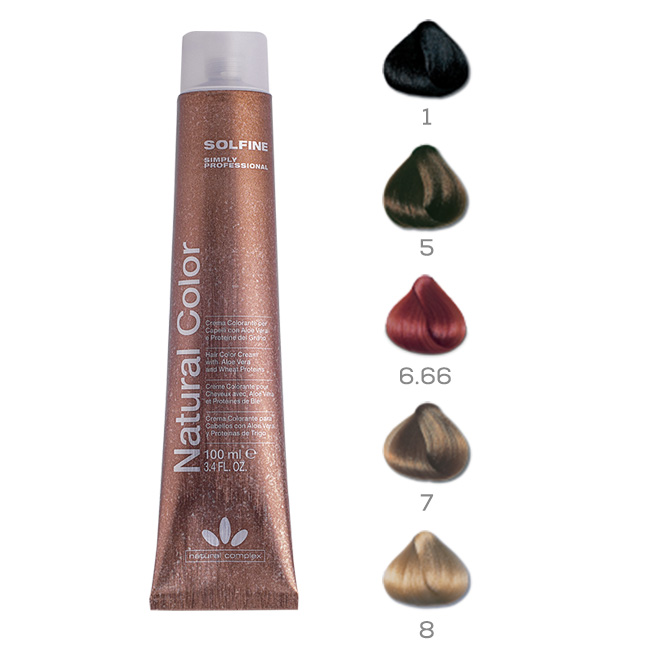 Natural Color: Naturally vibrant
Innovative and efficient, Natural Color products offer maximum results ... and maximum respect for the hair! Pre-mixed with the precise amount of base color to hide grey, these PPD free colors are perfect to make hair shine or accentuate highlights. A bonus? The shades (more than 45!) abound in natural ingredients: aloe vera, wheat protein, jojoba oil, bamboo, panthenol, chamomile… A gentle mix!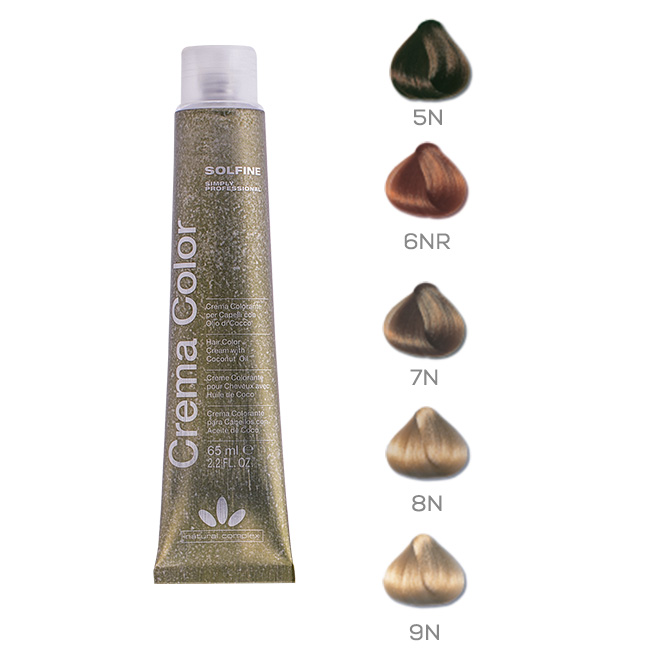 Crema Color : top quality hair colour
Do you want to treat yourself to a new look? Get rid of the grey? Crema Color permanent hair color let you do it all! Nourished by the emollient properties of coconut oil, they penetrate deeply into the hair, leaving it soft and easy to style. Rich, long-lasting shades with golden, coppery, red, mahogany or purple hues. Unleash your creativity! More than 50 shades can be mixed, with each other and with OXY oxidants, to create personalized shades. And there is a bonus! The products leave a pleasant aroma of citrus and flowers.
Want to see Crema Color in action? Have a look at our tutorial and learn how to use it to retouch your roots!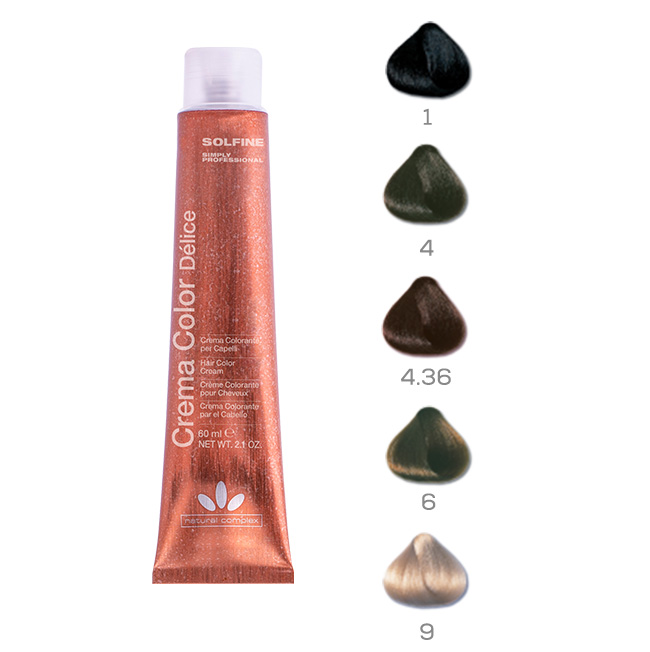 Crema Color Délice: gentle color
For sensitive scalp and fragile hair, try Crema Color Délices. Available in more than 25 natural and translucent shades, the semi-permanent colors in this line contain no ammonia or PPD, making them both mild and safe. Their key ingredient? Yogurt extract. Rich in lactose, protein, mineral salts and vitamins, this active ingredient gives hair hydration and vitality, during and after the colouring process.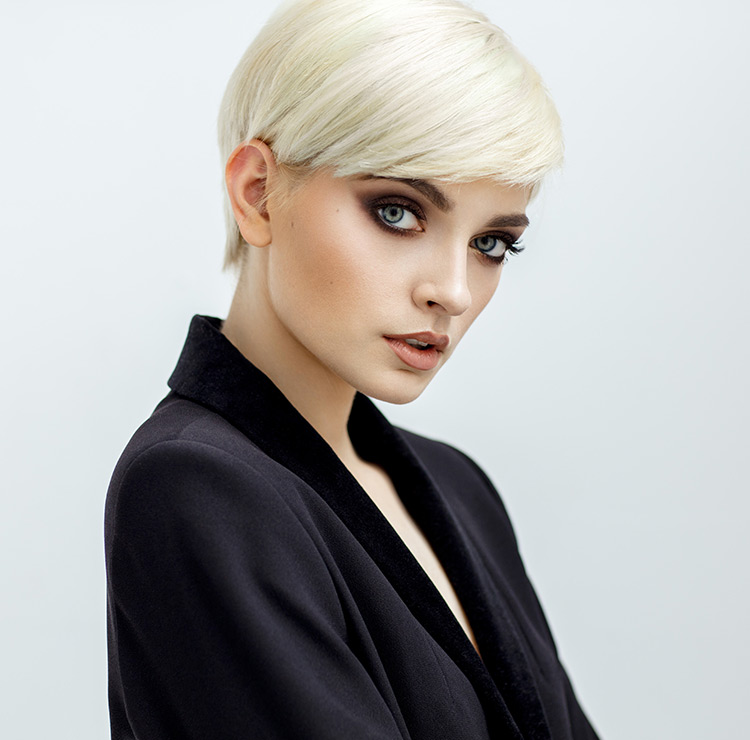 Déco: because you have to de-colour before you can re-colour
To create perfect highlights, steaks or simply to lighten your hair before applying a new colour, Déco hair bleach is your best bet. Thanks to aloe vera's emollient and restorative properties, Déco works gently, without irritating your hair or scalp. Mix it with OXY 10, 20 or 30, depending on the intensity of the desired bleaching and you're good to go!
Shop online!
Did you that Solfine products are offered in our online boutique? Check it out and let yourself be tempted!