Have you planned your wedding down to the last detail? If you want your photos to do your planning justice, heed these tips for great couples photos, right down to the little details that count.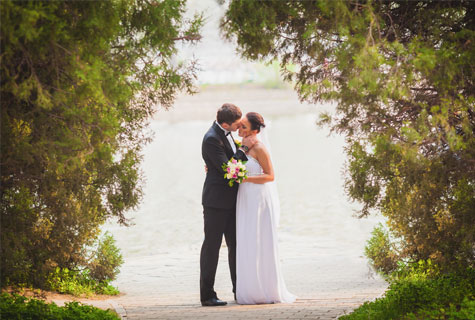 Setting up couples photos
The couples photo shoot is a must. And while it's tradition to call upon professional wedding photographers to take the pictures, that certainly doesn't mean you don't have a role to play.
If you want something a little out of the ordinary, make sure to tell the photographer and don't hesitate to bring accessories along with you. A coloured ribbon tied to a tree, a balloon floating up into the air, chairs set in the middle of a field or on a road… It doesn't take much to create an otherworldly or dreamlike atmosphere.
If some of the shots you have planned involve sitting on the grass, don't forget to bring a blanket and short towels to avoid unsightly stains on the bride's wedding dress.
You absolutely must take pictures during golden hours, the hours closest to sunrise or sunset. The soft, warm light of that time of day will enhance and lend romanticism and poetry to your photos.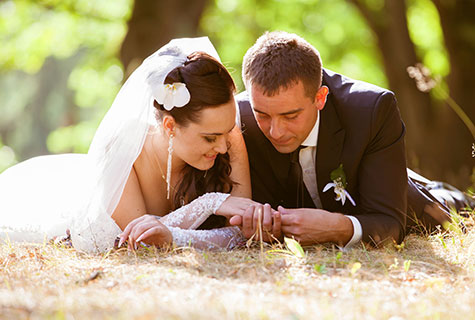 Paying attention to detail
Don't forget to include items of personal significance, such as the bracelet your grandmother handed down to you or a table centrepiece made by your children—if possible, have them photographed under natural light.
Garlands, balloons, tablecloths… the décor should also be immortalized—from preparation, through setup, to dismantlement. This can also provide an elegant means to illustrate the chronology of the day's events in your future wedding photo albums.
Take close-ups of your wedding rings, either placed on a cushion or organized in another fashion—around the stem of a pink rose in a child's hands, for example.
Place disposable cameras on guest tables, so that everyone can have fun taking pictures of each other and leave memories behind for you.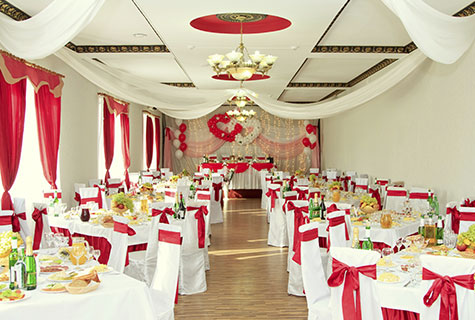 Wedding photo ideas
One of the highlights of a wedding is seeing the bride and groom as they prepare for the ceremony. You'll be too busy preparing to take your own pictures, but nothing is stopping you from asking others to make your wedding picture ideas happen. Here are a few moments you won't want to miss:
For great original portraits, use the mirror to capture the background behind the bride as she does her makeup.
Pull out all of your accessories, from shoes to jewellery. This is the perfect time for close-ups and also for snapshots of exchanges between family and friends that are present with the newlyweds.
Your mother tightening your corset, your best friend tying your bow tie, smiles, tender gestures—these moments must go down in history. Alternate between close-ups of a hand on a shoulder, for example, with wider shots to capture the entire unforgettable scene.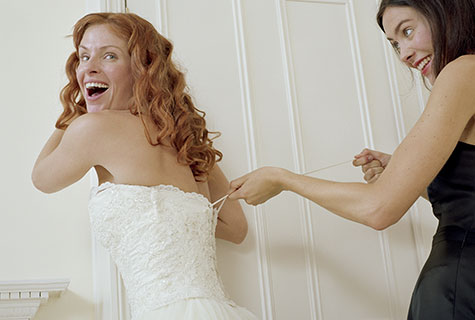 Posing during the ceremony
On the big day, you're the star! So act like one:
Hold your head high—don't stare at your feet, especially when you're heading for the altar.
Stand up straight and look your guests in the eye, be it at church or at the reception afterwards.
Choose confetti or flower petals instead of rice to throw when you exit the church, otherwise you'll probably end up closing your eyes to avoid getting a grain of rice in them, possibly ruining the photo.
A new twist on group photos
Rather than a wide photo where it's hard to recognize anyone and everyone seems stiff, go for smaller group photos of family friends, boys on the groom's side, children, etc. Ideally, you should give a list of groups to be photographed to the wedding photographer or make someone responsible for gathering groups together at the appropriate time.