The secret to a one-of-a-kind Valentine's Day photo lies in its staging. Take the time to properly choose your accessories and backdrop and set a scene that does your love justice. Whether you go for funny or poignant, here are some ideas on how to create your very own romantic masterpiece.
Valentine's Day is one of those rare occasions when accessories are essential for creating a photo that's more original than one of a couple locking lips. The perfect accessories, combined with an amazing backdrop, will add feelings and originality to your photos. But before you even get your feet wet, don't forget the most important thing—you need an assistant! Of course, you can make use of your camera's timer to take a photo of the two of you without anyone's help, but a real-life photographer, even an amateur one, will get you much better results.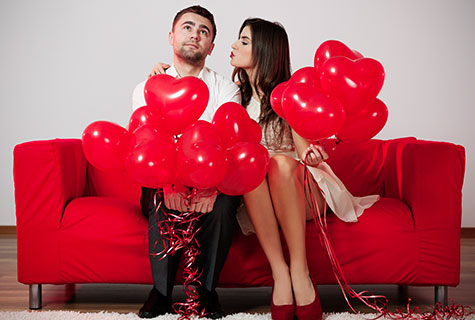 Hearts everywhere!
A timeless symbol of love, there are a million ways to incorporate the classic heart into your photos. Here are a few ways to make hearts work in your photos:
Cut a giant heart out of cardboard or draw a red one on a sheet, place it in front of the couple, and set it up so that they pop their heads out from behind each curve of the heart.
Have one person hold a heart with a message on it (that the camera can pick up), e.g. a declaration to their loved one, like in an old silent movie.
Have one person hold a heart in the foreground while they kiss their other half. Have the camera focus on the heart, keeping the couple slightly blurred in the background.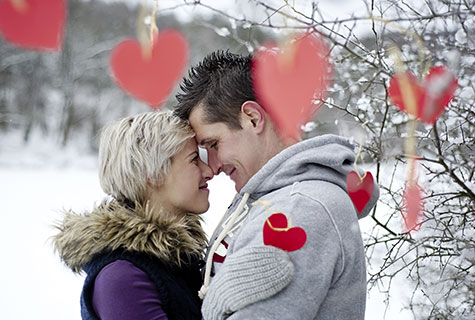 Roses are red...
Red is the colour of love par excellence. Boas, hats, roses, lipstick marks... there are so many ways to add a touch of red to your Valentine's Day. Here's an idea: take a colour photo, then use your photo editing software to change it to black and white—all except the red—making the colour of love really pop.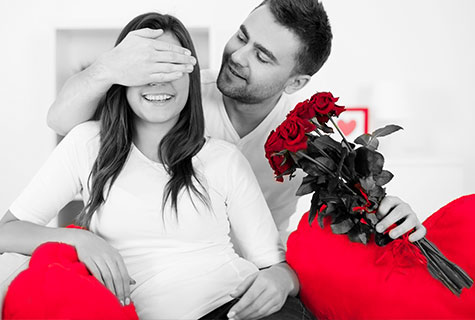 Make the most of your backdrop
Two tree branches touching gently in the background? Make the most of your natural surroundings to frame or enhance your photos. Write sweet nothings in the snow in front of you or make heart-shaped ice cubes scatter them in the forefront of the shot. Down south? Not a problem. Draw a giant heart in the sand or use stones to create a heart shape, then stand in the middle of it with your loved one and take a high-angle shot.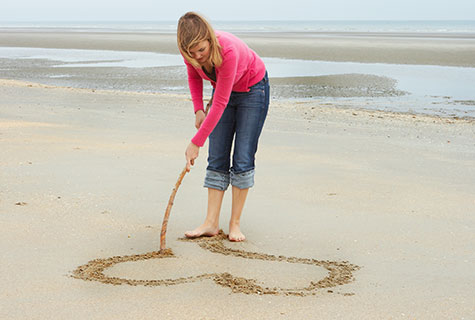 In a nutshell: have fun!
Use these everyday items to take original and romantic photos:
Share a bottle of milk or a glass of wine with two straws for a silly couple's photo.
Dance in the street dressed only in pyjamas, at night if possible when the streets are damp and reflecting lights, making for a dreamlike Valentine's photo.
Bust out your fishing rod and make your partner take the bait!
Jump up and kick your legs back while holding a bouquet of balloons in the shape of a heart.
Hang little hearts or letters out to dry on a clothesline to add a bit of whimsy to a city or country scene.
Take pictures of each other using your smartphones, side-by-side for example, and hold them one against the other for a virtual kiss . . . and then really kiss behind them!