Looking for inspiration for your upcoming wedding photos? Let your creativity shine by changing up the framing and poses and incorporating accessories. Get shots on a trampoline, create a miniature wedding, take faux selfies, play with perspective, shoot the couple's reflection, and more. Here is a selection of fun and innovative wedding photo trends.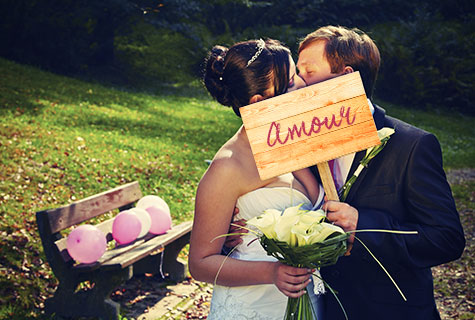 Trampoline
With a trampoline, you can get a shot of newlyweds high in the clouds. Place your camera on a tripod and set it to a high enough shutter speed to get an in-focus shot of the happy couple as they recreate their vows mid-jump.
Mini wedding
A technique called tilt-shift can be used to create an unusual vertical or horizontal blur, significantly reducing depth of field. The scene appears miniaturized, like a scale model. The effect can be achieved with a special tilt-shift lens, or by using photo-editing software such as PhotoFiltre or TiltShiftMaker.
One kiss, two snaps
Framing isn't the only thing to think about in wedding photography—layout matters too. The martial kiss is a great opportunity for creative compositions.
Light painting
Light painting creates a beautiful effect for wedding photos. If you want to add a message to the photo or have a heart appear around the newlyweds, you can do so by using a candle or flashlight and experimenting with the exposure time.
Balloons
Available in all shapes, sizes, and colours, balloons are all the rage for wedding photos these days... and you can see why!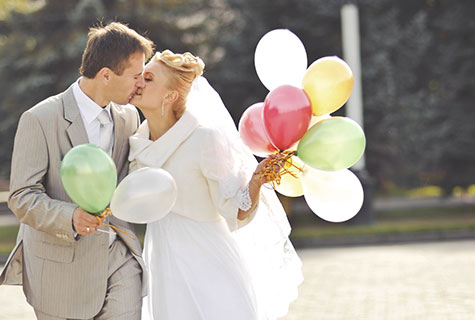 Contre-jour
Contre-jour (French for "against daylight") is a great technique for wedding photos. For a first photo of the bride in an album, why not take a contre-jour photo showing only the silhouette of her gown?
Loving couple?
For fun (and unrealistic!) shots, ask the newlyweds to pretend that this is the worst day of their lives.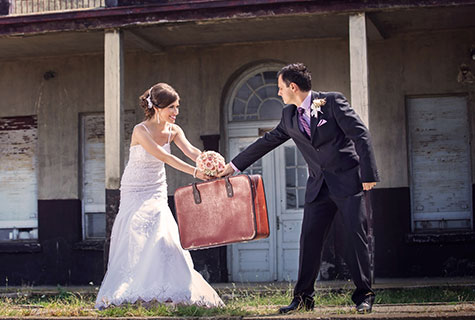 Inside the ring
Play with perspective for a magical way to frame the couple.
The faux selfie
Believe it or not, the selfie has made its entry into marriage photography. Ask your photographer for creative pose ideas: it's a fun and original break from traditional wedding poses.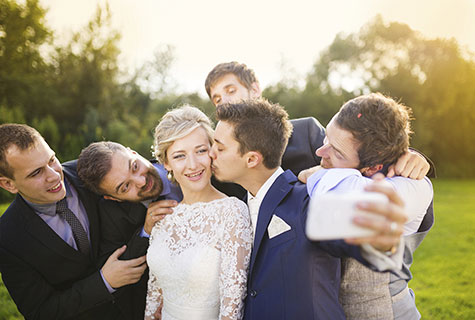 Don't look!
Don't hesitate to include guests in your wedding photos. Recreate the kiss, this time with small children covering their eyes in the foreground.
Childhood memories
An old photograph is a great accessory that evokes happy memories.
Triptych
Each wedding photo tells a story. When you put three together, you say it all.
Topsy-turvy
This funny snap is super easy to achieve with photo-editing software—even for neophytes.
Reflection
Take a picture of the newlyweds' reflection in a pool, mirror or puddle for a poetic effect.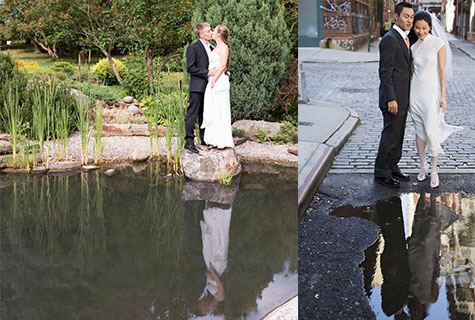 Look out!
How about a fun background? Ask the wedding party to run in place in front of a neutral background. Then, replace it with a picture of a monster using Photoshop or other editing software.