You don't have to put your camera equipment or smartphone away for the winter! To make sure moisture, frost and dead batteries don't ruin your photo shoot, follow these tips to suit yourself AND your camera up for winter.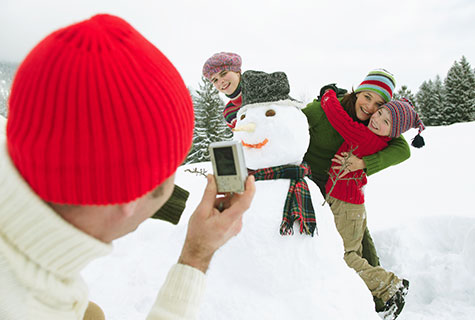 Dealing with winter butter fingers
Gloves aren't ideal for snapping pictures. But did you know that there are gloves specifically designed for taking pictures? Also, be sure to use a wrist or neck strap to make sure your camera doesn't end up on the ground should it slip out of your hands… And for those of you who cringe at the mere thought of unfolding a metal tripod in the blistering cold, you can choose one with foam-insulated grips or make them yourself with no-slip tape, like the kind used for hockey sticks and tennis racquet handles. If you're using a smartphone, get tactile gloves that will allow you to tap your screen without exposing your fingers. Some manufacturers like Nokia even produce displays you can use with leather gloves.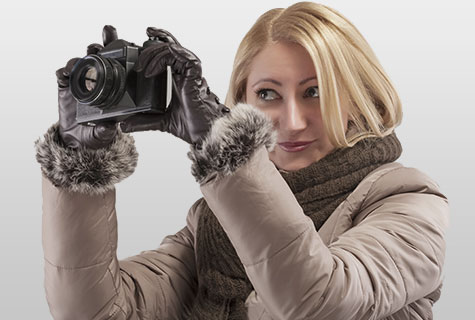 Foolproof transportation
Avoid keeping your device in an exterior coat pocket—an inside pocket will protect it from the cold better. Ideally, you should carry it in a rigid, waterproof backpack. Before slipping your camera into your bag, make sure you remove the lens for added protection in case you slip and fall. Smartphones and cameras will benefit from the added protection of a case or a waterproof jacket like those used in scuba diving. When you stop to snap a few shots, be sure to trample down the snow in the place you choose to put your bag to prevent snow from getting into it.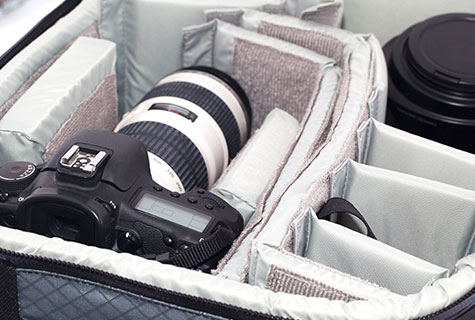 Condensation's tricky
Camera lenses are like sunglasses. Sudden temperature shifts, like when you go indoors after being out in the cold, cause condensation. The same applies when you pull a warm camera out of your bag into cold air—condensation will fog up your lens and ice may even form on it. To prevent condensation, tote your lenses or compact camera in a hermetically sealed or Ziploc bag. When you come in from the cold, wait until your device gets to room temperature—usually after an hour or two—before taking it out of the bag. Remember—don't leave your equipment in the plastic bag for too long once it has warmed up!
Battery or bust
Batteries don't like the cold and will drain faster in colder temperatures, unless you take a few precautions. When the mercury plummets, take the battery out of the camera and place it inside of your coat, closer to your skin where it will stay warm. Ideally, you should switch your batteries out regularly—doing so can significantly lengthen battery life in extremely cold conditions.
Banishing moisture
You're chilled to the bone and your lenses are covered with moisture?
Don't use a cloth to wipe them as doing so may cause streaks. Remove any protective caps and filters and wait for the moisture to evaporate. Always place lenses vertically to prevent dust from accumulating on them as they dry. If your smartphone is frozen, remove the battery and leave it out to dry.