Picking the best images, working on the layout, chosing the ideal size… Learn everything you must know to create your photobook!
Why a photo book?
Whether it's to look back on a trip, a birth, an anniversary, a vacation, a wedding or just for the pleasure of putting together a few great pictures, you won't be lacking in occasions that warrant their own photo book! And for each one there are several ways to tell your story. The main thing is to think about who your photo book is aimed at. If it's you, it will first and foremost be a collection of memories. If it's for a gift, don't forgo that element of discovery and the various surprises you can tuck inside.
Size matters
Before thinking about what photos to choose and how to arrange them, you'll need to choose the shape and size of your photo book: various options exist in vertical, horizontal and square formats. One is not better than the other—it all depends on your theme and the pictures you pick. If you would like to mainly use photos of landscapes, a horizontal photo book might be a better choice. For portraits, a vertical one would be more appropriate. Lastly, the square shape is perfect for your Instagram photos!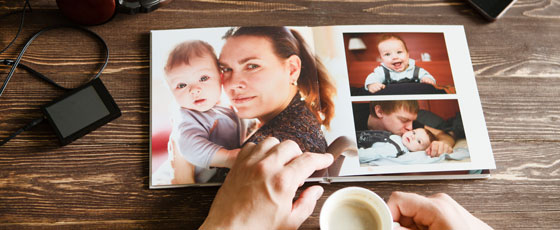 Style choices
Are you an artistic type who prefers a scrapbook-inspired layout, or do you fancy a more standard approach, laying out your photos in a conventional pattern? Again, it's up to you, but it also depends on your theme. What's more, there's nothing stopping you from doing both and alternating between them. Actually, that's probably the best advice we can give you. Just like with comic books, for example, the variation will add rhythm to your story.
Telling your story
The most practical way to do this is to take a chronological approach. By arranging your best shots by date in advance, you'll be able to quickly weave the thread of your story. But don't stop there! Like in the movies, if the story is told in a too ordered fashion from start to finish, there will be no surprises and it can quickly get boring. Tip: pick out a few funny pictures that you can slip in here and there throughout your photo book to recount little anecdotes.
You can also tell your story from the end, going backwards, or voluntarily mix up the order of events while retaining a certain amount of coherence so you don't lose your audience. For example, in a vacation photo book you may want to illustrate a meal that was particularly special. What you can do is add lots of pictures of food over a few pages with no regard for dates or sequence of events, and then pick back up on your story later on. When designing a photo book, you get to choose the colours and storyline. Note that doing so, however, might result in form taking precedence over function.
Photos that go well together
Whether you go with a scrapbook layout or a more ordered look, you'll need to pool your photos together. To do this, we would advise you to use pictures taken from a range of angles, from wide-angle takes to close-ups. For example, you could place a landscape picture of a beautiful beach right next to, or underneath, a square close-up of a palm tree.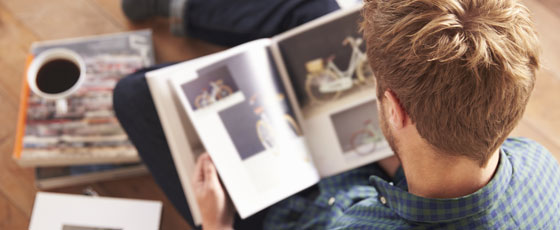 Don't overload your pages
When you set for on your photo book adventure, it can be tempting to want to include as many pictures as possible. But remember: when you're telling a story, the power of the images is often more important than the quantity. A strong image can lose its impact if there's too much "noise" around it. The golden rules? Use your pictures sparingly and select sober colours. If you still have inspiration, why not create a volume 2?
A picture is worth a thousand words
Although not obligatory, text can be very useful if you want to shed some light on your photos. You can add a legend with the date, place or names of the people shown to help you tell your story. However, writing "beautiful sunset" under a photo of a beautiful sunset is not necessary. Remember, a photo is worth a thousand words.