Shutter speed is the amount of time you allow light to pass through your camera's sensor; it determines your exposure time. Shutter speed influences both your photo's exposure and sharpness. It allows you to freeze a subject in motion or blur it to give the impression of speed.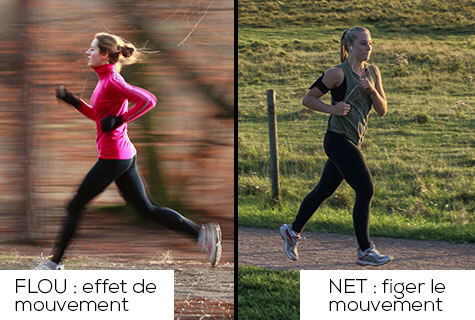 Shutter speed? What's that?
Shutter speed is expressed in fractions of a second, for example, 1/500 s. Most cameras have shutter speeds of up to 30 seconds at 1/4000 s (up to 1/8000 s with high-end models). Each time you turn a notch on your camera's dial, the time is multiplied or divided by two.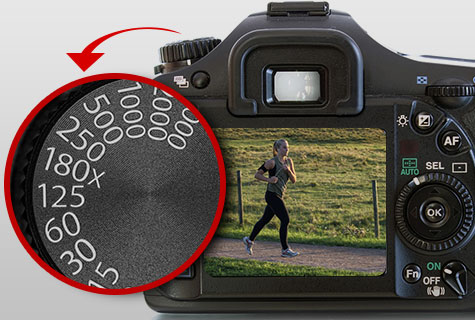 Shutter speed influences exposure
The longer your exposure, meaning the slower your shutter speed is, the brighter your photos will be, since you are allowing the light more time to pass through the camera. Thus, the risk of getting blurriness or noise in your photos likewise increases. To avoid overexposure, you must also reduce the aperture (high f number) if you are increasing the exposure time (slow speed).
Freeze or reproduce movement?
You can adjust your camera's shutter speed to freeze a moving subject or reproduce movement with a slight blur. For example, with a long exposure, you can capture grass blowing in the wind or flowing water, while a faster exposure allows you to freeze the movements of a runner or a flying bird.
Here are some useful references:
To freeze fast-moving subjects such as birds: 1/2000 s
To freeze a car: 1/1000 s
To freeze a runner: 1/500 s
To freeze somebody walking: 1/250 s
At 1/250 s, you will get a blur if you are photographing a car on the road. This is referred to as the "panning effect". This slight blur gives the impression of speed and shows a moving subject versus a frozen one. What you lose in sharpness, you gain in feeling. Try it out! At 1/60 s, you'll get a good blur of your child's bike, while 1/14 s will be suitable for capturing a family taking a walk.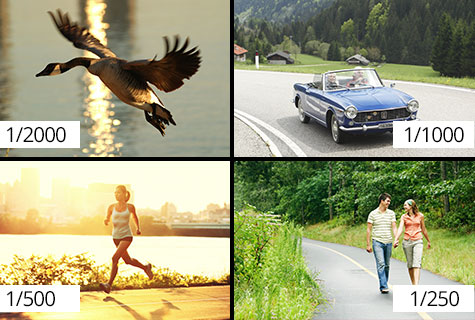 Changing the shutter speed
To change the shutter speed, you have two options: manual mode (M) or shutter priority (S or Tv). In manual mode, simply turn the dial to change the shutter speed; however, you must adjust your aperture and ISO sensitivity as a result, so that your photos will be properly exposed. It's better to use shutter priority – you determine the speed and your camera takes care of the rest.
The tripod: shutter speed's best friend
The larger your exposure (slow shutter speed) is, the greater the risk of movement during exposure time. Shaking or false movement may result in an unappealing blur. Luckily, there are tripods that you can use to guarantee stability. Note that the risk of blur due to shaking is significantly increased when the speed is lower than 1/60 s. For longer exposures, such as those used in night photography, a tripod is an indispensable tool.