Want to play a fun trick on your friends? All you need is a camera or cellphone. With a bit of imagination and the right apps, it's super easy!
House for sale
A simple "for sale" sign and a short walk is all you need for this hilarious prank. Go to a friend's house while they're out, then place the "for sale" sign in front of their house and photograph it.
The next time you see your friend, ask them lightheartedly: "You didn't tell me you were selling your home; have you had any offers?" They will certainly respond saying you're mistaken. That's when you show them the photo you took. Their incredulous reaction will certainly be worth your efforts!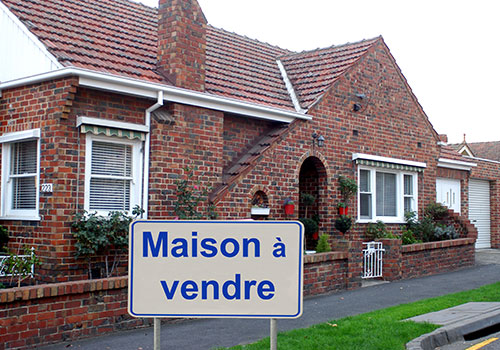 New star
Gracing the cover of a magazine is easy thanks to the PhotoLab app on iPhone and Android. This prank works a bit better when you're young and trying to make it in show business or have a garage band. But you can also make people believe you were on the cover of a trade magazine or foreign publication.
A real groupie
For this trick, invent an amazing encounter with your friend's favourite singer or actor thanks to Photoshop. All you need to do is find a photo of the star, then include yourself in the image. Just make sure to choose a recent photo, and one that wasn't on the cover of a magazine.
Tip: the more likely the encounter was to take place, the more likely you are to trick your friend. Try to choose a local celebrity or someone shooting or on tour nearby.
A new haircut
Want to really shock your friends? Make them believe you shaved your head—completely bald! You can do this the old fashioned way, with a costume accessory. Next, take a low-resolution selfie with low lighting, or add a vintage filter that blurs the details, and your prank is complete!
There's also an app (Baldify on iOS) that automatically edits your photo to make it look like you're bald.
Obviously, this trick won't work face to face. So share your photo by changing your Facebook profile picture. You're guaranteed lots of reactions!