Taking a picture of light is now easier than ever with light painting. Here's how to master this technique and give free rein to your creativity to produce exceptional photos!
The light painting technique
The basic principal of light painting is to capture the movement of a light source in order to create aan original drawing on pictures.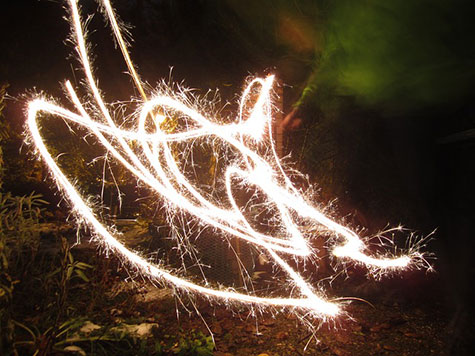 Materials
A camera with shutter priority mode (A) to create long exposures
A light source of your choice (candle flame, firecracker, flashlight, lighter or smartphone)
A tripod or solid base
A self-timer or remote control for the camera
Directions
Set the camera up so you can move in front of it with the light source for the length of the exposure.
Tip: It's important to keep moving so your body doesn't show up on the picture.
Select a long exposure time, from 20 to 60 seconds or more, according to the drawing you want to create.
Choose the lowest possible ISO sensitivity (50, 100 or 200) to capture the light and avoid overexposure.
Set the aperture to let in a low amount of light (f\8 or higher).
Set the scene
One of the most important parts of a photo featuring light painting is the background. Choose a location with as little light as possible, indoor or outdoor. Trees, playground structures or other fixed elements can be used to create an original scene. You can vary your camera settings if you want to capture a drawing on a dark background or if you want to insert the light painting into a specific décor. In the latter case, you need to modify your camera settings to capture more light.
A few tips
To create crisp letters or numbers, you need to shut the light source off between each character you draw.
Using colour filters can add a few different hues to the drawing.
By staying in motion, the subject will not be visible in the photos. However, if you want to show up as a shadow in the background, make sure to move slowly.
The more people there are to handle the light sources, the more varied the lights can be and the more drawings you can create.
Illuminate your greetings!
Once you've mastered this technique, all you need to do is print your piece of art. Choose a card format to offer spectacular birthday wishes featuring your illuminated creations. You can also create a Valentine's Day card with hearts made out of lights… or enlarge your photos and display them on your walls!