High mountains, green plains, steep cliffs, sparkling seas... Capturing the majesty of a landscape requires a little equipment, a good dose of technique and, especially, a seasoned eye! Here are some tips for breathtaking shots.
Equipment
Unless you want to specialize in landscape photography, new equipment isn't necessary. An SLR, a compact or even a cell phone will do, especially if these devices can be equipped with a wide-angle lens for panoramic shots and a zoom for close-ups.
As for accessories, a tripod will make your life easier when taking long exposure shots and refining your compositions, both of which are essential ingredients for landscape photography. A polarizing filter can be equally useful and help make contrasts—such as that of a green expanse against a blue skyline, for instance—much more vivid. This filter also eliminates unwanted reflections in water.

The right settings
The majority of devices have a landscape mode (generally denoted by a mountain icon). If you prefer to adjust your camera settings manually, go for maximum depth of field. To do so, select Aperture Priority mode (A or Av), then a small aperture opening (or a large f-stop number, e.g. f16 or more). Make sure to increase the ISO sensitivity and ensure camera stability since exposure times can be longer than usual. That's when a tripod can be very handy.
Composing a landscape
Properly framing a vast expanse is crucial. The horizon should be straight and fall within the upper third of the photograph—never in the centre—unless you're photographing a waterscape. Also, pay special attention to foreground elements, such as palm trees along a seashore—they lend perspective and grab attention. Make use of landscape perspective lines, such as those formed by a mountain ridge, to lead the viewer's eye into the scene. With immense landscapes, focusing on a small detail, such as a car winding its way along a sinuous road, can give the image a sense of scale and dimension. Finally, get up very early... or very late! The magical warm light of dusk and dawn bathing landscapes gives your images character and drama.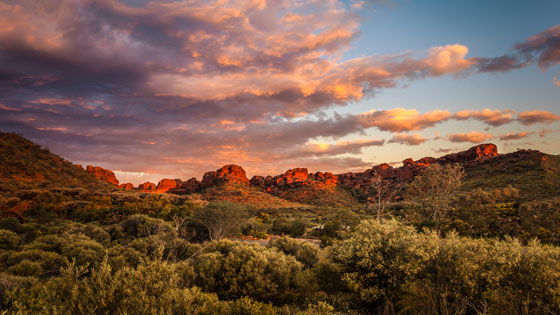 Panoramic mode
Want to photograph an entire mountain chain? Try making a panoramic photo! If you own an SLR or a compact camera, choose a horizontal landscape and take several consecutive photos, always making sure that they overlap by one third. Ideally, shoot in Raw format, and take multiple shots so you don't miss any part of the landscape. This will also make it easier to combine the photos in a single large panoramic image, using image processing software.

Many smartphones also offer the ability to take panoramic pictures: just choose a starting point and move the camera horizontally, keeping your finger on the shutter button. Easy, breezy, fabulous!