Whether at rest or in flight, birds can be hard to photograph. While bird photography requires specific equipment, it is nonetheless possible to take bird photos with minimal equipment, the right settings, and a dash of patience.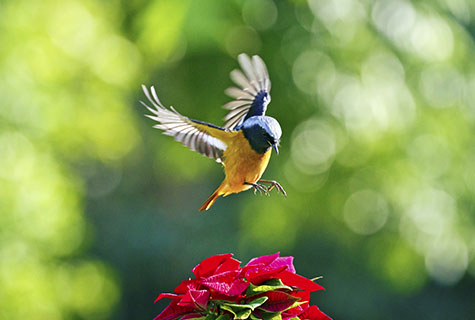 Equipment for bird photography
A 200mm (minimum) zoom lens, given the size of your subjects and the fact that they are hard to approach. In addition to making them appear closer, a telephoto lens will allow you to play with the depth of field. Focusing on the bird will blur the background, which is often of little interest, and will highlight your subject.
A tripod will provide the necessary stability for taking great shots. The only challenge now will be to stay still as you wait for a bird to appear, which can often prove frustrating. Go ahead and set the tripod up in a location birds favour—like your garden, for example. If a tripod is out of the question, hold your camera with both hands–one on the base, one on the lens–and hug your elbows to your body for added stability when taking the shot.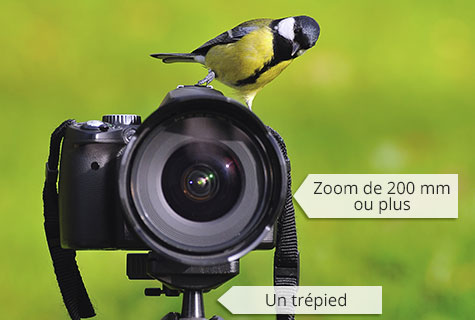 Be prepared!
Animal photography requires patience and preparation. Patience is required in order to approach birds without scaring them. You will need to do so slowly, pausing as you go, and have lightning fast reflexes in order to get a good shot. Preparation is therefore vital for seizing the moment. So before heading out, check your battery levels and memory card and adjust your camera settings, so that the only thing left for you to concentrate on is pressing the shutter-release button.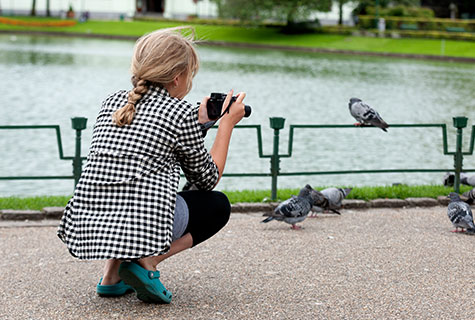 Knowing your subject
To maximize your chances of taking beautiful bird pictures, you should get to know your subjects, so that you understand their habits, the best time to photograph them, their flight patterns, etc. Why not get into some ornithology and consult a few bird books?
The right settings
Flight: It goes without saying that the key to photographing birds in flight is setting the shutter speed correctly. Set it too slow and your subject will be blurry and you won't be able to make out its distinguishing traits. Set your camera to Shutter Priority mode (Tv or S) to avoid having to worry about aperture or ISO sensitivity, and then set your speed. Choose a speed of at least 1/500 s to limit blur due to hand trembling and to snap freeze frames.
Hold the camera firmly, follow the bird with your lens and snap your shot while continuing to follow the bird for a few seconds after you press the shutter-release button.
Use and abuse burst mode. You'll have to weed through a lot of reject shots, but you're sure to snap a gem using this method.
Set camera focus to automatic. Use the small square in the centre of your viewfinder rather than those on the edge or screen to set camera focus. Don't forget to focus at eye level with your subject.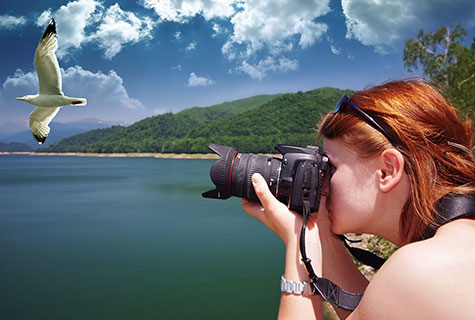 A few creative tips for bird photography
Vary your framing: Use tight framing for portraits and wider framing to situate the bird within its environment.
Be playful and imaginative: Shoot a close-up of plumage, take a photo of bird tracks in the mud or of the reflection cast in the water by wading shorebirds...go wild!
Play on contrasts, for example, between the dazzling red of a cardinal and the green of a neighbouring bush,
Cheat by creating ideal conditions for yourself if need be! Install bird feeders in your garden to attract birds and set your camera up on a tripod in a discreet corner.