Cover your walls, brighten up your desk, table or shelves—use your photos to add a personal touch to your home!
Don't let your photos weigh down your computer or smartphone. Print them and put them to good use! Use them to brighten up a room, cover a wall and get that perfect ambiance. To help you, we've put together a few tips and tricks.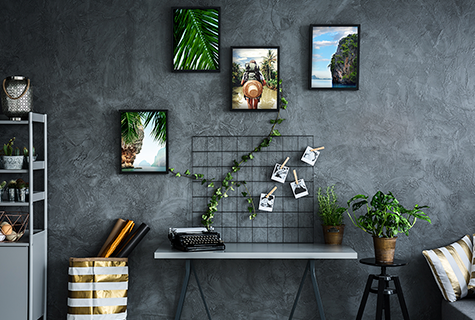 DIY decorating
So your pictures are taken. What's the next step? Sort through them, choose the ones you want and decide how big you want them—do you want a large blow-up, an artistic mash-up or a retro square? Next, choose the vessel with which you want to display your photos. Wood, fabric, metal . . . be creative when it comes to showing off your photos, play with different materials, focus on the details and create contrasts with the colour schemes in your home. If you're feeling crafty, why not use recycled materials, like a Mason jar or an old frame, and really make your photos stand out? Be creative but make sure you follow certain basic rules when choosing where to display your wares.
To really make your photos shine and help incorporate them into your home décor, read the following articles: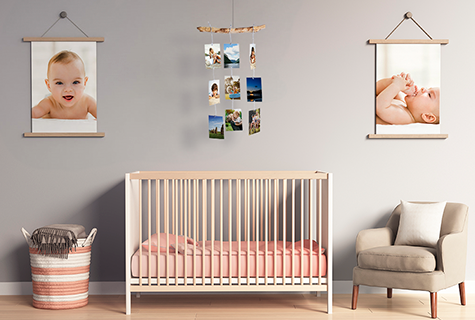 Creating the perfect atmosphere
Your photos can help transform any room in your home into an original living space. Enlarge your photos, laminate them or set them on canvas and watch them turn into stunning masterpieces, or streamlined centrepieces that garner attention. Be selective when choosing what colours to work with—are you going for a subdued, laid-back or vibrant atmosphere? You can also have fun arranging your photos, using a variety of different frames and photos to tell a story. Everything is possible. Unleash your creativity!
For loads of decorating ideas, read the following articles: