Architecture is a much-loved subject among passionate photographers, and a good way to discover (or rediscover!) our heritage. But some specialized equipment and basic skills are required to get the best results.
Equipment
Smartphone, point-and-shoot camera, DSLR… there are no bad choices when it comes to architectural photography. But, without a wide-angle lens, you'll have to stand a fair distance away from a building to get it all in the shot. If you're downtown, tall buildings and narrow streets can make things tricky if you don't have the right equipment. Whatever camera you use, make sure to get the lens you need.
As the frame plays a key part in the quality, originality and impact of architecture photos, you also need to do everything to make it flawless! Finding the right position to materialize what you have in mind is not always easy. A tripod is therefore helpful: it lets you frame your shot with precision and position your camera to capture a building's lines perfectly.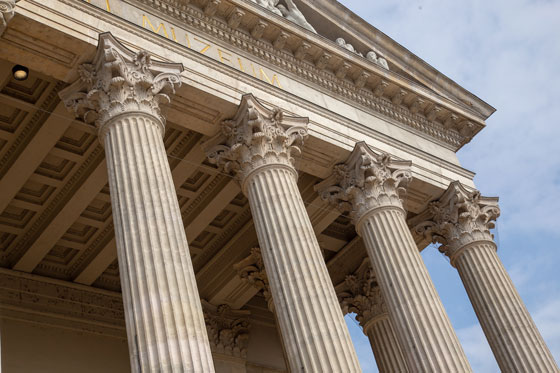 Architecture photography is not just an outdoor thing! If you want to get interesting shots in a building – the columns of a great hall, the organ of a cathedral, etc. –, a flash can come in handy. Of course, there's always an option to increase the exposure time (especially with a tripod), but in really dark places, you sometimes need other means.
Setting up your shot
Architectural photographers usually prefer to capture tall buildings looking up, using a wide-angle lens. However, you need to avoid these two common mistakes if you want your picture to look realistic:
If you use too wide an angle, you'll experience distortion, that is, the bending of lines to a lesser or greater degree. It's the effect obtained using an ultra wide-angle or fisheye lens. Although it can be visually appealing, it doesn't reflect how the building looks in real life.
Shooting a building looking up can also create distortion, as vertical lines will tend to converge as they move upwards. This gives the impression that the building's base is larger than its top.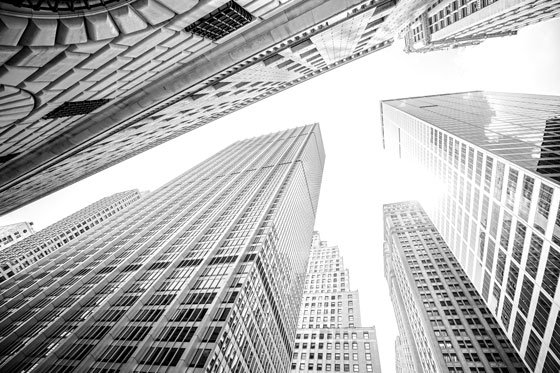 It's therefore best to get as far back as possible, or to edit your snaps. Most photo editing software (Photoshop, Lightroom, etc.) lets you easily readjust the perspective and fix any distortion.
Great works of architecture are best appreciated from all angles. Make your way around the building to get the best angle and take advantage of the best lighting for the time of day. Don't forget to get some close-ups of details, as they're often the best way to showcase the beauty of the work.
Local ideas
From the French-style architecture of the 1600s to modern architecture (1950s to today), not to mention neoclassicism, Victorian eclecticism, the vernacular cottage, and the cubist house, Quebec has seen many different architectural styles throughout its history. Take your camera and discover this rich and diverse heritage.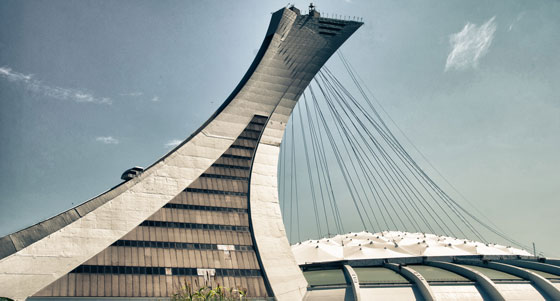 Château Frontenac, Quebec City
Overlooking the Saint Lawrence River in Old Quebec, this majestic historical building is a must-see. It's even said to be the most widely photographed hotel in the world.
Notre-Dame, Montreal
One of the best neo-Gothic designs in North America, it's also Quebec's most cherished piece of religious patrimony. Don't forget to get good pictures of the interior too.
HABITAT 67, MONTREAL
Designed by Moshe Safdie for Expo 67, this housing complex is made of 354 modular concrete components. Whether you capture the entire building or look for interesting details, it's a lot of fun to photograph.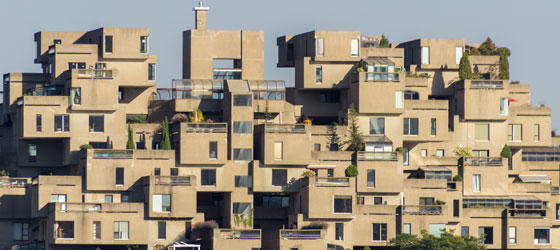 Canadian Museum of History, Gatineau
Formerly known as the Canadian Museum of Civilization, this national museum's bold shapes make it one of the most visited in Canada. It was designed by the aboriginal architect Douglas Cardinal.
Olympic Stadium, Montreal
A unique work of art, the Olympic Stadium's design is also controversial. Built for the 1976 summer Olympic Games, it features the largest inclined tower in the world and provides an exceptional panorama of the city.
The Biosphere, Montreal
You can't ignore this environmental museum, located on Île Sainte-Hélène, in the former United States Pavilion of Expo 67. Its geodesic dome, the largest of its kind in the world, was designed by the architect Richard Buckminster Fuller.
Château Montebello, Montebello
Designed in the 1930s, this log-cabin-style hotel is made from red cedar, with an immense six-sided central lobby. It remains the largest building made of logs in the world. Although it began as a very exclusive private club, it's now a hotel resort with many different attractions.