Back to school, birthdays, family holidays—there are so many good occasions to take a ton of photos with your smartphone. But what do you do with all these precious memories? Make photo collages. How? By using one of these six mobile apps. Nothing could be simpler!
All these apps are compatible with Android and iOS. Some of them are free,while others you have to pay for if you opt for the "pro" version.
Photo Grid
Select the photos you want and Photo Grid automatically suggests personalized frames and layouts. The app offers frames in different sizes, as well as different backgrounds and borders. You can also crop your photos and arrange them in a collage yourself. In the end, you'll always end up with a clean-looking and eye-catching collage. And, if you're the type who likes leaving things up to fate, just shake your phone, and Photo Grid will rearrange your photos for you.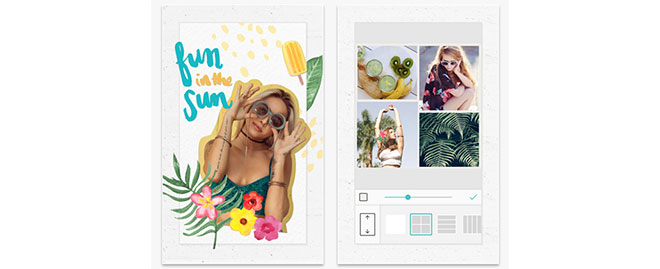 Pic Collage
Create a collage without the frames! Just drop your photos onto the canvas on your screen, then add effects, doodles or text, or change the background. The sky's the limit! The collages this app generates bear the closest resemblance to actual paper collages, with the added bonus of being easy to share on social media. The end result may occasionally look a bit messy, but it's still creative and fun.
Pixlr
First made available through a hugely popular website that allows you to edit images online, Pixlr has been made into a mobile app for smartphones, and it comes as no surprise that it's all the rage. With more than 2 million different combinations of effects, overlays and filters the possibilities are endless! But what really makes Pixlr stand out are its unique tools such as auto-fix and effects like smoothening, blurring and colour splash. You can even use Double Exposure to combine two photos in one. Not too shabby!

Moldiv
This app is a favourite among photo collage fans. Why? Because it is super intuitive to use and its many functions allow you to create stunning photos that you can personalize and edit as much as you want. The possibilities and combinations are nearly infinite. Simply choose a layout (the base model comes with 80) and get snapping! Let your creativity run wild, since you can configure each layout thanks to adjustable settings like size, colour, cropping, frames, backgrounds and shadows.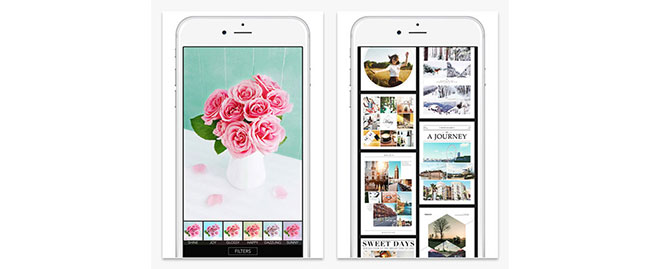 PicsArt – Photo Studio
With a plethora of collage options and artistic effects, inspired photo editors will love this multifunction app that's probably the most complete photo application you can find right now. In addition to its basic functions (image editing, filters, frames, text, etc.) this software allows you to integrate drawings and add custom effects to your photos such as stencil, comic, vintage, watercolour or pencil sketch. It's sure to get your creative juices flowing!
PicFrame
Easy to use, PicFrame guides you step-by-step through the collage-making process. Just select your favourite shots, the type of frame you want, and then personalize it by adding text, effects and filters. One of the best apps to create a collage on the fly and share it instantly.