The importance of a

balanced diet

for babies

Parents' role is to ensure that their baby's daily needs are met until he/she becomes autonomous. Because nutrition is the basis of good health, it is important to make good choices.
fill empty
A strong start for optimal development
When you are a parent, you know the importance of all those "firsts"—first contact, first smile, first bath, first bite of finger food, first word, first steps, and so on. These milestones often become imperishable memories—especially when we get a chance to capture them in a photo or on video! Your baby is growing and provides you with a thousand and one opportunities to let you marvel at his/her brilliant exploits. One of your responsibilities is to provide your little one with all of the necessary resources needed to strive. Feeding your child well is as much a priority as it is a preoccupation and a responsibility. This is how you can offer your baby the best nutrition.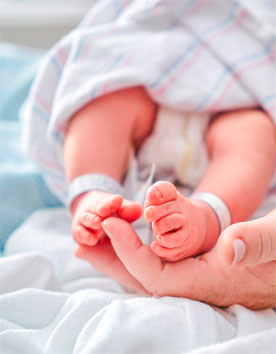 The choice of milk
Health Canada promotes exclusive breastfeeding until the age of six months, then combining breastfeeding with adequate supplementary food until the age of two or longer. Some of the benefits of breastfeeding are to protect the immune system and optimize growth and development for babies and young children.In any event, when breastfeeding is not possible or desired, it is necessary to turn to another option—infant formula. Read the following text for additional information: How to choose infant formula.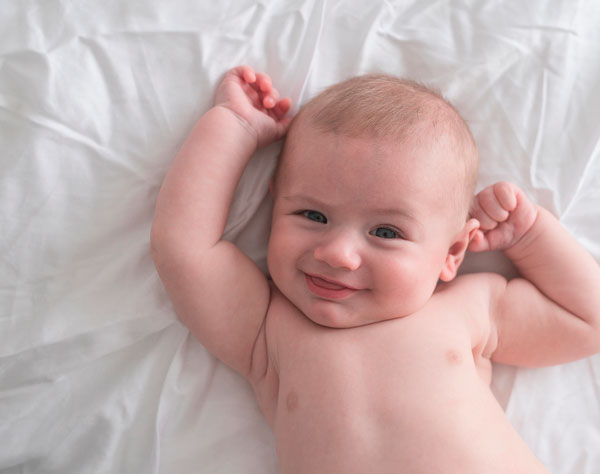 Introducing solid food
A child can try solid food for the first time at about six months. It's an exciting challenge for both the child and the parents! Despite baby's funny faces and Mom and Dad's giggles, introducing solid food remains a step that must be taken seriously. Here is some advice to make the transition easier.
Begin with liquid textures, and progress to thicker textures. Ensure that lumpy textures are introduced at nine months at the latest.
Respect your child's appetite and pace. Be aware of the signs of hunger and satiation. If your baby refuses to eat the food being offered, do not force him/her to eat it.
Make mealtime a time of fun and sharing with your child.
Never let your child eat without supervision.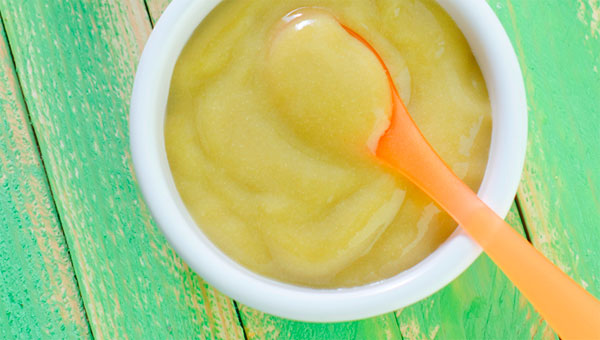 The importance of a varied diet—and healthy choices!
While waiting to develop his/her autonomy, a baby must be able to rely on his/her parents to eat healthy and varied foods. Here is some advice about the choice of food and beverages for your baby.
Early on, introduce iron-rich foods, such as iron-enriched cereals (rice, oats, and wheat) and meat purees or substitutes. Iron is essential to the health and development of babies. Ideally, your child should eat foods that contain it at least twice a day.
Fruit and vegetable purees are also good foods to introduce early.
Always introduce one food at a time over a three to five-day period.
After a few months, varied and healthy snacks from the four food groups can be added to the meals served on a regular schedule.
Limit the consumption of juice and sweet drinks. Instead, keep the emphasis on water and milk; ideally, breast milk or infant formula.
Do not introduce cow's milk before the age of 9 to 12 months. When the time comes, choose homogenized milk, which has a fat content of 3.25%.

Don't hesitate to speak to your pharmacist if you have any questions about your baby's health and well-being.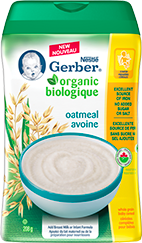 Gerber
Organic Cereal
Oatmeal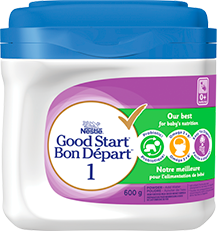 Good start
Probiotic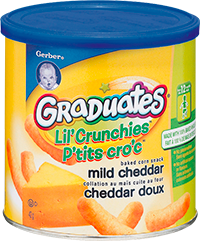 Gerber Snacks
Lil' crunchies
mild Cheddar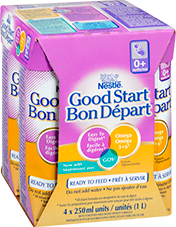 Good start
Omega