Over the past few years, we've seen many variations on healthy complexion and no-makeup trends. The most recent one, which will be all over Instagram this season: yoga skin. Curious? Check it out.
What is it?
Developed by British makeup artist Sara Hill, this technique aims to reproduce the way your skin looks after a yoga session: dewy and radiant. It's not about trying to hide all your imperfections–it's about playing up your natural skin and respecting its "personality."
Why you should follow this trend:
Remember glass skin, the perfect complexion with its super smooth, translucent, porcelain look? Although pretty in theory, this look is very difficult to reproduce, even with a comprehensive and unwavering routine. Yoga skin is much more realistic to achieve. Using a makeup base, the technique is quick, easy and free of the expectations of a perfect result.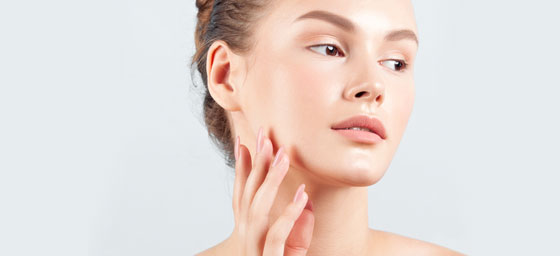 How to get this look :
Start by cleaning your face thoroughly and then apply your usual moisturizing products. Leave them on for at least five minutes so they can penetrate well before you apply your makeup base.
Next, comes the key step : the glowing cocktail. Mix two to four pumps of liquid foundation (for light to medium coverage), a drop of face oil, and one or two drops of illuminator. Apply this mix in small circular movements to your entire face like a cream. Apply thin coats until you get the result you want.



Applying by hand not only helps the base and the mixture better adhere to your skin, it can improve blood circulation, drain swollen areas and relax muscles. It's called "yoga skin" for a reason.
If needed, use a cream concealer and some fixing powder to correct certain areas. A touch of blush or bronzing cream and you're ready to go!

Who's it for?
It works for everyone! Of course, the combination of oils and moisturizing formulas is more suitable for dry or normal skin. If your skin is oily or mixed, be sure to use non-comedogenic products and to not mix in too much oil. You can even skip the oil, focussing instead on the illuminator. If you need to, add a touch of powder to the areas that tend to be oily. It's just a question of toning down the shine without extinguishing the glow.