It's warm, it's cold, it's wet, it'd dry… as the season changes, your skin has a hard time staying its best. Here are a few easy ways to put a little spring back into your skin.
THREE MUSTS
1. Exfoliating .
When? About twice a week
Why? Proper exfoliating rids your pores of dead skin cells and residual impurities. As a result, your skin maintains its glow and becomes more receptive to nourishing from your care products.
How? Before finishing your bath or shower, apply a full body scrub then rinse completely. Whether you use a facecloth, a glove or your bare hands, remember these golden rules: don't scrub too vigorously and make sure you get the rough parts, like your elbows and knees.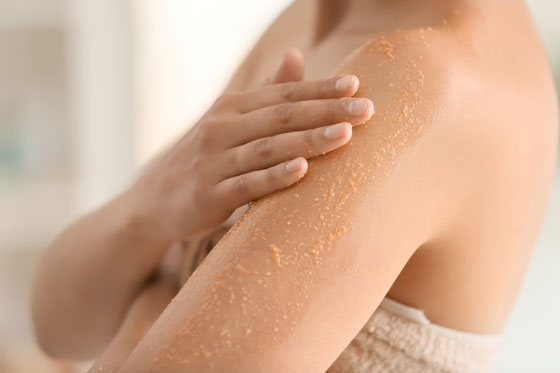 2. Hair removal
When? Every two days... or every two to three weeks, depending on your method. The one rule that holds either way: don't do it daily or you could weaken your skin and harden your hair.
Why? Hair removal doesn't just make your skin soft and smooth, like a good scrub, it also prepares your skin to make the most of the care products you apply.
How? Razors, depilatory creams, waxing… there are a number of techniques available. What matters is choosing the one that's right for you. Looking for a permanent solution? Once reserved for professional salons, light pulsating treatments are now available for in-home use, with smaller, easy-to-use devices.
3. Moisturizing
When? Every day, morning and night!
Why? Well-moisturized skin keeps its tone, its suppleness and its elasticity. It also stays protected against irritants, like the cold, wind, friction, etc.
How? Right after your bath or shower, apply a nourishing cream to your entire body. You could also use a moisturizing body wash to start the process while you're still in the shower!
SELF-TANNERS… THE PERFECT COMPLEMENT!
The days of the orange tint are long gone! Today's self-tanners offer a flattering, natural-looking tan, which makes them the perfect complement for your newfound complexion, no matter what time of year it is.

How do they work?
Self-tanning products contain two active ingredients: DHA and erythrulose, which react when they come into contact with the amino acids and keratin contained in your skin. In just a few hours, darker pigmentation appears. Remember: the tan will gradually fade over time if the treatments aren't renewed on a regular basis.
DHA and erythrulose are both natural ingredients. The first is found primarily in wheat and rapeseed, while the second, a vegetable sugar, is primarily found in raspberries.
Careful! Self-tanners don't block UV rays. So before you go out in the sun, make sure to apply a sunscreen with an SPF of at least 30.