The hairstyle is an integral part of your wedding look: It crowns and distinguishes your look. Hence the importance of choosing a look that you like, that harmonizes with your style and remains impeccable from morning to night. A short practical guide for a flawless day.
Own those trends... simply!
Your hairstyle will be immortalized by countless photos: it must withstand the test of time. Without being too tame or ignoring trends, the key word is simplicity. Luckily, a natural look is in for all hair lengths.
Short hair
One word: texture! Square cuts are complemented with beach waves, and curls regain their rightful place: rather than straightening them, give them structure and definition. Also, make sure that they frame your face well and that they emphasize its shape.
In terms of accessories, go vintage by wearing a small veil, or opt for a delicately adorned headband—an ideal choice for pixie cuts.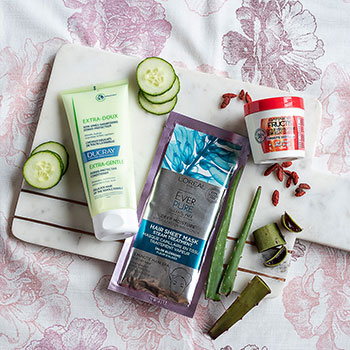 Shoulder length hair
Loose or tight, Old Hollywood curls are in. And for a good reason! They're easy to accomplish on many types of hair and they can be both glamorous and casual. The half-updo also remains a classic with either a half-bun in the form of a knot or a braid, discreet or imposing. Make your look romantic with sparkling pins or a short veil.
Long hair
Here too, the braid reigns! Wear it loose, a little messy, or used it to give volume and texture to the casual low bun. Depending on the style you are looking for, embellish your hairstyle with a decorated hairpin or flowers.
Another smash hit? The ponytail. High or low, minimalist or decorated with a bow, it adapts to all looks.
Prefer loose hair? Straighten it with care... or simply keep it as close as possible to your everyday style!
Preparing like a pro
The nightmare of any bride-to-be? To realize, a few hours before the ceremony, that the idea you had in mind does not work. To avoid a disaster, remember these five golden rules.

1. Test
Planning a test session with your hairdresser is imperative. Not only can you see what you look like with more than one style (ideally, you test three), but you can also estimate the time it will take to create your hairstyle on your wedding day.
And what's more during this appointment, you will get an outsider's perspective. Bring one person who knows you well, who will give you an honest opinion and who can take pictures from several angles throughout the appointment. The back of our head must look just as good as the front: do not hesitate to frequently ask to see what's going on back there.
2. Give precise information
The person who is styling your hair needs to know the conditions under which the wedding will take place. Will it happen indoors or outdoors? Is it more likely to be hot or cool? Should we expect high humidity? These details will determine what is best, a high or low hairstyle, and wavy or smooth hair.
To give an idea of the desired style, in addition to pictures of hairstyles you like, you can provide a picture of your dress, as well as typical wedding aesthetics. Be careful, however, not to overdo it! Too many different pictures can be more confusing than clarifying.
3. Be realistic
To avoid disappointment, make sure to choose a look adapted to your hair type. Take into account the volume and texture of your hair, stay true to your length, and do not stray too far from your current cut or colour.
4. Take care of your hair
In the weeks before the wedding, pamper your hair. Wash it with a high-performance shampoo and conditioner, adapted to your hair type. For an in-depth treatment, according to your needs, apply once or twice a week a targeted treatment such as a mask or conditioner. If necessary, add a shine serum.
For optimal texture, avoid washing your hair the morning of the big day: style it the day before, making sure not to use too much product. If you opted for a high hairstyle and are afraid of damaging it, go to the hairdresser with a buttoned-down shirt that will not need to go over your head when the time comes to put on your wedding dress.
5. Prepare an emergency kit
Whatever happens, your hair must hold up until the end of the last dance. Make sure that your hairdresser sets your hairstyle well (tests are allowed!) with products that will not weigh down your hair or make it stiff. During the day, also carry a survival kit containing comb, hairpins, invisible elastics, pocket mirror, hairspray and dry shampoo. Ready for anything: that's our motto!