That's it! You found the outfit in which you will say I do! Next step: makeup. Whether you prefer to do it yourself or entrust it to someone else, follow this quick guide to get THE look you want... and keep it all day long with long-lasting formulas!
CUSTOMIZED LOOK
The perfect makeup is above all the one that looks like you. Can't decide? Here are suggestions for each style.
Bohemian
To accompany a wreath of flowers and delicate lace, this makeup is fresh, bright and discreet: eyelids slightly iridescent, enhanced by a subtle touch of eyeliner, combined with bright-coloured lips in hues of wild berry.
Modern
Say I do... to the trends of the season! Dare tone on tone makeup by combining red lipstick and light pink eye shadow, or enhance a neutral makeup palette with tangy eye shadow. Fan of no-makeup? Choose earthy and nude tones, drawing on peach, and get a healthy glow by applying bronzing powder and illuminator in strategic places.
Classic
Choose simplicity and elegance by relying on timeless products: pearl grey or champagne eye shadow (the makeup equivalent of the "little black dress"), rosy blushes and coral lipstick.
Vintage
Play it glam à la Old Hollywood. For a sultry look, explore smoky eye variations from the subtlety of taupe nuances to the dramatic magnetism of anthracite. Do not hesitate to accentuate eyelashes with a volumizing mascara, and line them with a stroke of khol. For the lips, choose flaming red, antique rose or aubergine.
The golden rules of wedding makeup
It is timeless. A look that follows fashion too closely may become outdated: simply think about some wedding photos from the 80s... Therefore, focus on subtlety when adopting trends.
It is balanced. Elaborate makeup can create a lot of noise—especially if the rest of the look is already imposing—and give a clownish effect when photographed. Show a sense of proportion by building up the intensity of blush, eye shadow, illuminator and bronzer. You should also strive to accentuate only certain parts of the face:preferably, neutral lips are paired with more intense eyes, or vice versa. A good way to gauge your look: make sure that among your hair, eyes and lips, only two out of the three are bold.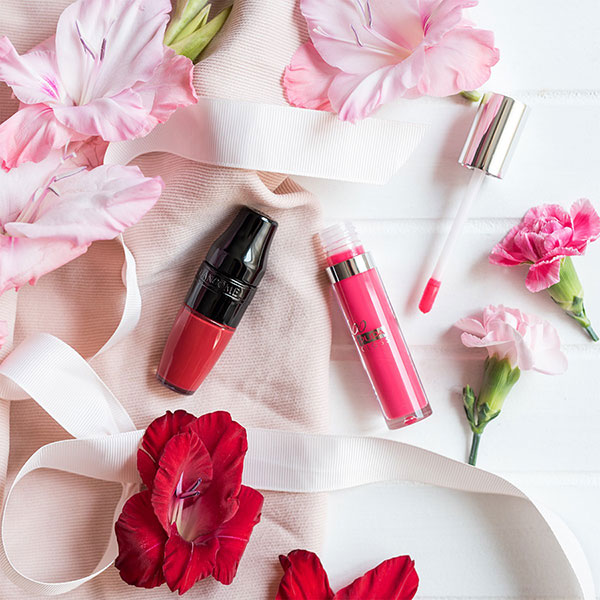 KEEPING DISASTERS AT BAY
It's better to prevent a disaster than to start all over again! To avoid such a catastrophe, be weary of these five common mistakes.
1. Neglecting your skin
The basis of successful makeup? A well-prepared canvas! It's difficult to obtain an optimal effect with dry or dull skin. Therefore, step up your diligence in the weeks leading up to your wedding day: apply masks and facial treatments, pay particular attention to hydration, and avoid activities that can mark or irritate the epidermis—extracting comedones, for example. Above all, use skin care that you've tested before; this is not the time to try a new scrub or change your day cream.
2. Skipping the test step
THE number one mistake!To avoid unpleasant surprises, testing the makeup you want to use is a must.
If you have a makeup artist, plan a consultation before their schedule (and your own) fills up. You already know the colour of your outfit and your hairstyle? Adopt a look similar to what you tested out during the consultation: you will have the best idea of the effect of the makeup.
If you create our own look, wear it for the first time at a party; the bachelorette, for example. You can then make sure that you are comfortable with it and that it photographs well, with or without flash.
3. Not planning enough time to create the look on your wedding day
Can't find your pencil, broken brush, dried-out eye liner... you never know what can happen. So add thirty minutes to the estimated time needed to apply makeup. Better to wait a bit than finish in a rush!
4. Overestimating the hold of the makeup
Between the first step down the aisle and the final notes of the last dance, several hours of kisses, smiles, bites of hors d'oeuvres and sips of champagne await. It's good—but for makeup to stay fresh, you need a game plan from the outset!
Prepare your skin with products that will not make it slippery, and give it time to fully absorb them. Then apply a base on the face and eyelids, and spread foundation, blushes and powders evenly, in thin layers. If you know you will spend time outside, think of using products with an SPF.
So that your lipstick does not fade with the first kiss, boosts its resistance. After using a contour pencil as a base all over your lips, apply a layer of lipstick and pat the excess. Repeat the process once or twice, then seal with a little powder. For maximum hold, use a matte lipstick or a lip stain: THE miracle solution!
A must for emotional moments or heat? Waterproof eyelashes! A few layers of volumizing and water-resistant mascara will do the trick. You can also opt for false eyelashes; however, make sure that the glue will hold if you cry, or try magnetic false eyelashes after applying your mascara.
A little trick for tears: absorb them with a tissue as much as possible by tapping outwards. You will avoid creating a groove in the centre of your cheeks.
5. Forgetting the essential for touch-ups
Having an emergency kit handy during the day is imperative. In addition to basic makeup products (lipstick, blush, translucent powder), add cotton swabs, tissues and mattifying wipes.