Time takes its toll on our faces… but there are ways to soften the blow. Here are nine proven tips to help fight the signs of aging.
Do facial gymnastics
Inspired by ancient ayurvedic techniques (a form of traditional Indian medicine), it focuses on relaxing the face, toning the muscles and stimulating blood flow. A facial gymnastics session provides a moment of relaxation, it's a bit like getting a massage. Thanks to specific exercises, you can plump up your face by increasing the muscle volume of certain loose areas, such as eyelids, the contour of your lips and the neck. All you need to do is stretch by opening your mouth and eyes as wide as possible and then closing them tight, and massage your skin using your fingertips to alleviate, smooth and calm your features. You can do this in the morning before undertaking your regular beauty routine.
Protect your skin from the sun
Uva rays represent about 95% of the UV rays that reach the earth. They are also responsible for making the skin age (loss of firmness and appearance of wrinkles). They pass through clouds, glass and the skin, and they alter the cells over the long-term which can sometimes cause skin cancer. To protect yourself properly, you need to use a sunscreen with a spf of at least 30 on your entire body, every day in the summer and winter. A good way to integrate this product into your beauty routine is to use daily moisturizing products with spf. But keep in mind that if you're going to go outside when the sun is at its peak, between 10 a.m. And 2 p.m., you need to reapply sunscreen every two hours. Same goes for when you've been sweating, swimming or have dried off with a towel.
Drink enough water
About 65% of our body is composed of water... and 40% of that water is in our skin. By moisturizing properly, we help our skin stay healthy. Proper hydration not only helps our skin defend itself from daily aggression, but it also provides a much-needed boost so our cells can regenerate themselves, adding radiance in the process.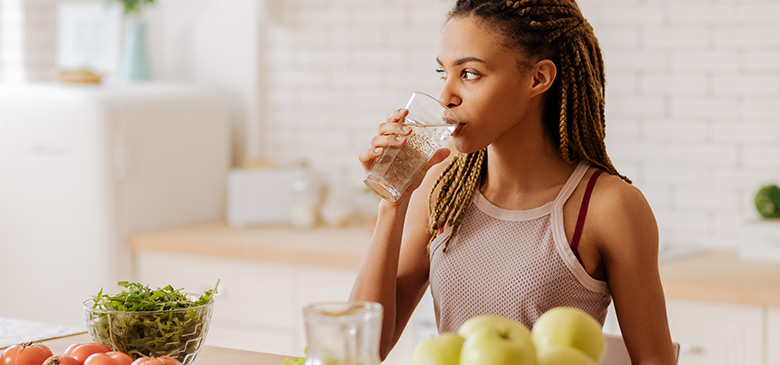 Watch what you eat
Tea, soya, garlic, cabbage, bright vegetables and fruits, germinated seeds, legumes, cereal, fish that does not contain heavy metals, avocado, berries, nuts and almonds, oils (olive, nut, colza, camelina, hemp, linseed) eggs rich in omega-3, dark chocolate and aromatic herbs and spices are natural ingredients that have many anti-aging properties. Rich in antioxidants and good fat, they can help fight the effects of free radicals, while nourishing and adding fat to your skin.
Moisturize your skin fully
As we age, our bodies produce less collagen and elastin, our reserves of hyaluronic acid decline and other hormonal changes occur. As a result, more mature skin loses density, sags and becomes dehydrated, causing wrinkles and fine lines to appear and even deepen over time. To slow the signs of that aging process, remember to apply a generous amount of moisturizer every morning and evening after washing your face. It's the easiest way to quench your skin's thirst, while nourishing, replenishing and plumping it up for a more youthful appearance.
Sleep well every night
The regeneration of skin cells reaches its peak during the night, helping our skin recover and fight back against the daily aggression that causes aging. So, it's easy to see why wrinkles, dark spots and sagging skin are much more apparent after a short night's sleep! To ensure proper recovery and enjoy smoother, more uniform, more radiant skin when you wake up, make sure you get enough sleep every night (for most people, that number varies between 8 and 10 hours).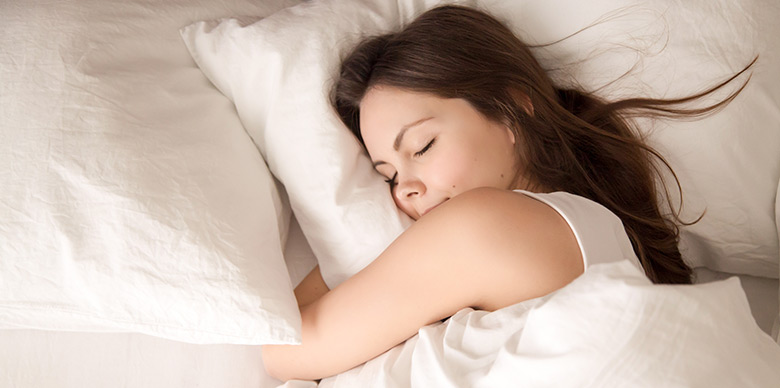 Remove your makeup and clean your skin properly every day
Clean skin doesn't age as fast because it is not as susceptible to micro-inflammation, a phenomenon that has been blamed as the major cause of visible aging. In fact, fatty tissue and pollutants that accumulate on the skin can cause oxidation and inflammation and hinder the skin's capacity to act as a barrier which dries the skin, increases its sensitivity and makes the epidermis more vulnerable to environmental aggressors. How do you combat these harmful effects? Clean your face every morning and night with an extremely gentle product and use a good makeup remover to get rid of any trace of makeup before you go to bed.
Avoid tobacco and excesses of alcohol
Tobacco use dries our skin and accelerates the loss of collagen, while alcohol causes dehydration, inflammation and damage to cells. By quitting smoking and drinking only in moderation, you'll notice positive changes quickly: after just a few weeks, you'll look fitter and less tired, your complexion will be smoother and brighter, your face will be plumper, and your wrinkles will be less noticeable. Win, win, win.
Choose the right anti-wrinkle cream
To choose the best products possible, check the labels for key ingredients, like antioxidants (vitamins A, C and E), active radiance restorers (glycolic acid, retinol), moisturizers (hyaluronic acid) and collagen peptides… You might also want to choose a protective formula for daytime use and a regenerating treatment for nights. Tip: for an intensive anti-aging treatment, you could always add a serum to your other creams or lotions to increase their effectiveness!