In our plate, vitamin C is recognized for its thousand and one virtues. In particular, citrus fruit, kiwis and parsley are excellent sources. But did you know that it can also nourish the skin? Research shows that vitamin C can reduce the appearance of wrinkles, improve skin elasticity, revive the complexion and reduce age spots. Spotlight on Vitamin C, the ultimate beauty ally.
STOP PREMATURE AGING!
Naturally present in the skin, vitamin C plays a vital role in skin health. Its antioxidant properties protect the cells against external aggression that cause skin aging. How? By reducing oxidative stress and neutralizing free radicals in the air, such as lead and mercury. In addition, its antioxidant action limits the inflammation caused by rosacea and helps prevent skin cancer.
This super nutrient is also an excellent collagen stimulator. Collagen is a natural substance found in the skin that promotes elasticity and firmness. By participating in the biosynthesis of collagen, vitamin C incorporated into cosmetics greatly helps to reduce the appearance of wrinkles.
Vitamin C also makes life hard for the ugly pigment spots caused by sun exposure, controlling inhibition and curbing the production of melanin which is responsible for this phenomenon. In addition, women who have suffered from acne can rely on it to accelerate the skin healing.
HOW TO RECOGNIZE IT IN OUR PRODUCTS?
As the vitamin C content of our skin decreases with age and sun exposure, many anti-aging cosmetics offer formulas fortified with vitamin C. But beware! The minimum dosage for a cosmetic treatment to be effective against skin aging is 5%. Vitamin C or its derivatives must therefore appear at the beginning of the list of ingredients. You can locate it under the following names:
• ascorbic acid • L-ascorbic acid • ascorbyl tetraisopalmitate • ascorbyl sodium phosphate • magnesium ascorbyl phosphate • tetrahexyldecyl ascorbate
THREE WAYS TO USE VITAMIN C
DAILY
Beginning at age 30, it is advisable to use skin care products enriched with vitamin C, such as Clinique's daily booster with 10% vitamin C. Guaranteed radiance! For a radiant complexion at all times, add foods rich in vitamin C to your diet. Now you are ready to thwart skin aging!
Our suggestions: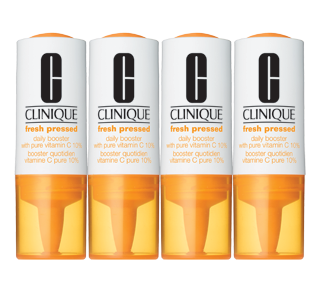 Clinique
Fresh Pressed Daily Booster with Pure Vitamin C, 4 x 10 ml
Just like your morning fresh-pressed juice or vitamin helps you stay healthy on the inside, this super-potent Booster was designed as a daily supplement to visibly rejuvenate skin from the outside - and a simple, seamless way to reinvigorate your de-aging routine without changing a thing.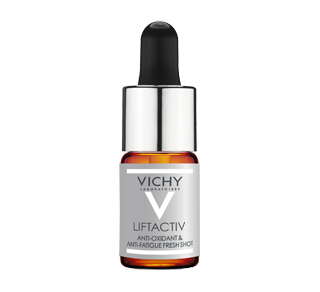 Vichy
Liftactiv Vitamin C Brightening Skin Corrector, 10 ml
Our formula with 15% pure Vitamin C and hyaluronic acid helps fight against signs of skin aging.
IN THE SUN
Protect your face from UV rays by applying a vitamin C treatment under your sunscreen. Your skin will be equipped with a double shield. In the evening, cleanse your skin with a pure vitamin C cleanser to deeply nourish your skin and remove impurities.
AS THE SEASONS CHANGE
Give your skin a beauty boost with a vitamin C-enriched mask two or three times per week. Or better yet, do a full-vitamin cure!
FULL VITAMIN CURE
Any time is the right time to start a vitamin C youth cure! To do this, here is a suggestion of a routine to adopt: combine the daily booster with vitamin C to Moisture Surge intense moisturizing concentrate and the unique +TM moisturizing emulsion. Designed by dermatologists, this treatment quenches the skin, boosts the skin's moisture reserves and contains firming ingredients to give the skin long-lasting youthful.