The final touch: lipstick! Want to know how to create a fabulous smile? Follow Virginie's tips!
Preparation!
If you want perfect results, you have to start with a perfect canvas. Lipstick that's been applied to well-moisturized lips not only has a more uniform finish (bye-bye, cracking!) it stays on longer without being absorbed into the skin.
What's the secret? After applying your foundation, give your lips a light coat of a collagen-rich balm. The nourishing and plumping ingredients will get to work while you're applying the rest of your makeup, making your lips ready for lipstick when the time comes. As a bonus, the collagen base will enhance the colour of your lipstick!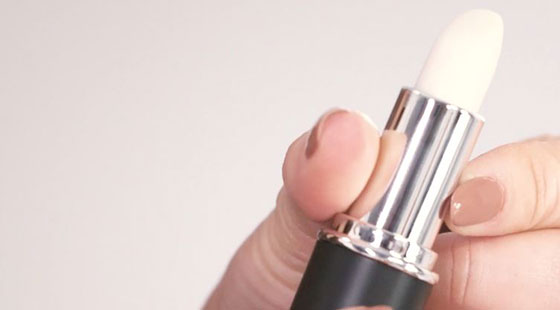 The easiest lips to colour are those that have been given some TLC! Every night before going to bed, coat them with a balm that will keep them moisturized all night long. Two or three times per week, exfoliate them with your toothbrush (yes, your toothbrush!) and then apply a mask. Don't worry if some of the mask goes past the edges of your lips, it will help reduce the appearance of lines.
Application
The prep work is done and now it's time for lipstick! If you want to prevent bleeding or you want to define the shape of your lips, it's best to outline them with a pencil. If not, jump ahead to applying the colour. If it's the right formula, you can use the lipstick directly from the tube, as long as it still has its pointed edge. Use a lip brush as needed to retouch the more delicate areas like the centre or the outer edges.