What do toners really do? Why and how should we integrate them into our daily beauty routines? Here's everything you need to know about these powerful beauty allies.
One lotion, a thousand uses.
Instead of asking what toners do, it might be easier to ask what they don't do!
These super-versatile products are ideal for...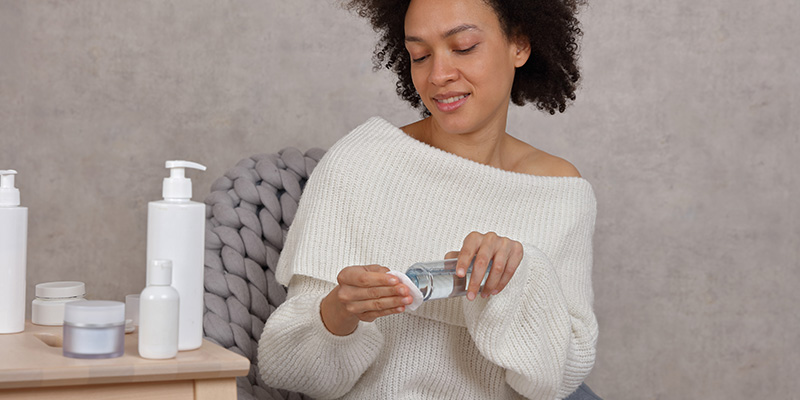 Cleansing and removal. In addition to ridding impurities from your skin, toners also provide gentle exfoliation, making your skin even more receptive to skin-care products. They can also help rebalance your skin's pH level, which can be damaged by tap water.

Apply them every morning and night, right after you wash your face.
Target specific problems. Dehydration, sensitivity, excess natural oil, blemishes, dark spots... There's a different type of lotion for every need, with each one providing a special boost to the other products in your beauty routine.

Apply them whenever you feel the need to your entire face or to specific areas that tend to be overly shiny or that become red and blotchy easily, for example.
Help set makeup. Because toners help moisturize and purify your skin, they provide a great base that helps keep you looking fresh for hours.

Apply them at the beginning and end of your makeup routine, then as needed during the day.
How do you apply toning lotions?
It all depends on the type of toner you use!
Put a few drops in your hands or on a reusable cotton pad and pat it onto your face, starting from the inside and working outwards.
Spritz two or three times on your face and neck, ensuring you cover the entire area. That's it, you're done!
What toner should you choose?
Most toners are gentle enough for any skin type. However, you might want to focus on certain types of properties depending on the specific characteristics of your skin or the problems you're trying to solve.
If you have sensitive skin, choose a soothing formula that tones without drying, and reinforces your skin's natural protective barrier.
If you have mixed or oily skin, search for mattifying ingredients that help control the production of sebum.
If your skin is prone to blemishes or dark spots, use a clarifying lotion that exfoliates gently.
If you have dull, lifeless skin, opt for a formula that's enriched with antioxidants and energizing active ingredients that help regenerate and reoxygenate your skin.