Choosing the right fragrance can take a lot of time… and testing. You often have to go through quite a few before you find one that's just right for you. So, how do you make the job easier? Well, you can start by avoiding these six fragrance faux pas…
TESTING PERFUMES AT THE END OF THE DAY
There's an ideal time to test fragrances and it's the morning. After a night of sleep, your olfactory sense is "fresh," so it detects subtle differences more easily than later in the day when you're already in scent overload.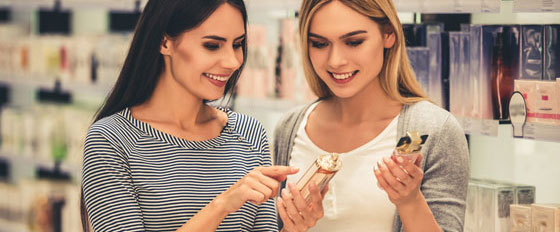 Because your testing session could take a while, make sure you plan it for a morning where you're not too busy. Or, better still, how about a weekend day?
WEARING PERFUMED MAKEUP
If your shower gel or moisturizer is scented, you'll want to skip them on the days you're testing fragrances. A skin that already has a scent will alter whatever extra fragrance you try on, so you won't get a true sense of the scent. What's more, perfume counters are already highly saturated with competing fragrances so the fewer, the better.
MAKING UP YOUR MIND AFTER A SINGLE SPRITZ
Fragrances need a certain amount of time before they reveal their full complexity. What you sense at the start are the top notes: they're the freshest and they disperse more quickly. The deeper heart notes develop about then minutes later. The slowest to reveal themselves, but also the most long-lasting, are the base notes. They don't usually come out until about half an hour after application. So remember to reserve judgement until you can fully appreciate their subtlety.
What happens if you find a fragrance you like but you want to test it a little longer? No worries. With the Trial sample service, offered in your Jean Coutu store, you can ask your cosmetician for a free sample of your chosen fragrance to test for a few days.
TRYING MORE THAN THREE PERFUMES, ONE AFTER THE OTHER
Your sense of smell has its limits. After trying three fragrances, your nose becomes saturated, giving you the impression that you've lost your sense of smell. How do you reset it? Well, you can create a diversion, by smelling a few grains of coffee between each new fragrance. Or, even better, take a good smell of your own body odour, like under your armpit. Better still, go get a few minutes of fresh air outside.
APPLYING THE PERFUME ANYWHERE ELSE BUT YOUR SKIN
We get it: when you're trying out a new fragrance, you're a little cautious at first, so you apply it to a cardboard testing strip. But even if you like your first impressions, you really have to try it on your skin to see how it reacts with your personal body chemistry. Make sure you spray it directly onto the skin of a pulse point, like your wrist, neck, back of the neck, ankles, behind the ears or the décolleté.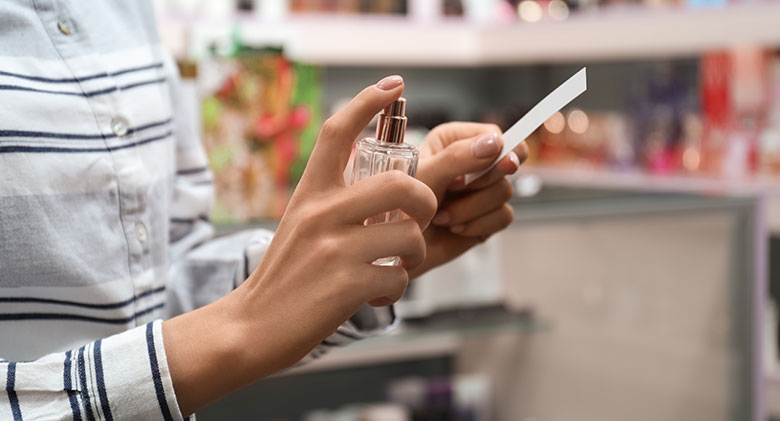 It's a well-known fact: fragrances smell differently on everyone. Each skin has its own unique chemistry that comes from who we are, what we eat, any medication we might be taking, etc. And each of those factors has an impact on the fragrance itself. Skin-type even affects how long a particular fragrance will last. For example, perfumes tend to last longer on more oily skin, which captures the scent, sealing it in for longer.
RUBBING YOUR WRISTS TOGETHER AFTER SPRAYING ON THE FRAGRANCE
We've all done it and guess what: it's a mistake! Friction breaks apart the bonds between the notes and leads to faster evaporation, which makes it harder to get a clear idea of the true scent.