Pink palette, monochrome makeup… two of the year's hottest trends come together in this soft, simple and super versatile look you can wear to the office, for cocktails or to give the Holidays a fresh breath of spring!
Proper preparation, please!
Perfect makeup starts with an impeccable complexion. So, before you jump right into the fun stuff, start by applying concealer under your eyes and to your eyelids. Then apply a natural foundation on your entire face. Use it sparingly and make sure you blend it in everywhere to avoid clumping. Use a little loose powder to set everything. After all, you want a solid base to build on!
Next, define your eyebrows, one small stroke at a time, from the exterior inwards, then use a mascara comb to diffuse the colour. And last but not least, use a moisturizing balm on your lips. It will work its magic while your makeup sets and prepare your lips for colour. Just remember to sponge off the excess balm before you apply your lipstick.
Using a semi-rigid brush (the secret weapon for precision lines AND just the right amount of blending), mix and apply aubergine and violet eye shadow on the upper lashes. Their dark colour will help define your eyes and add structure to your makeup.

Good to know: if shades of mauve are great for enhancing green eyes, don't worry: they look great with any colour! So, go mauve!
Create your gradient effect using the blending brush when applying pink shadow to your eyelids, brow bone and under your eyes: the colour will brighten your look and create a charmingly fresh effect.

To deepen the look, apply mascara to your upper lashes. If you want, apply a layer of burgundy over the black base: it will soften your eyes while accentuating the monochrome effect. Colouring your lower lashes is optional, but if you do, remember to use a skinny brush that defines the eyelashes without weighing them down.

Pro tip : Want to know the best way to apply mascara without clumping your lashes? Apply the mascara in short zigzag movements from the roots to the tips, doing multiple layers but only using a little, one layer at a time.
Complete the look by gluing false eyelashes to your upper lid. Apply them close to one another, at the roots of your natural lashes. When the glue is dry, darken them with a skinny brush so they blend with your natural lashes.

Pro tip : What to choose: short, medium or long lashes? Your decision depends, of course, on the look you're going for, but also on the shape of your face. If there's a lot of room separating your eyelid from your lashes, you should choose medium or long. Otherwise, choose short lashes. A rule of thumb: the tips of your lashes should never touch your eyelids!
Using the same palette you chose for your eyes, apply pink blush from your temples to your cheekbones (the part that sticks out the most when you smile). Make sure you don't use too much, especially if you blush easily. A good way to ensure you're using the right amount is to tap your brush against your hand to remove the excess blush.
As needed, increase your radiance by using a touch of illuminator on your cheekbones and on the bridge of your nose.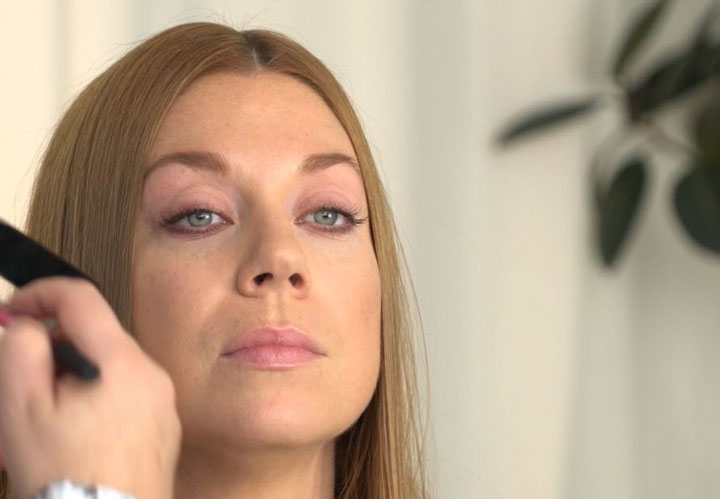 Using a brush, apply tinted gloss to your lips. Coral, faded pink, raspberry ... the choice is yours. And don't be shy about mixing colours to suit your taste. The words of the day are brilliance, lightness... and fun!