Many factors can cause dry skin. Here are five that just might surprise you!
THE CANADIAN WINTER
As temperatures start to plummet, it's important to make sure your skin is ready by moisturizing it properly: bitter cold and strong winds are two of the most common causes of dry skin. The reason? The dryer and colder the air gets, the more it absorbs moisture from your skin. The result? Your skin starts to itch and feels tight.
The solution: Protect yourself from harsh winter weather by dressing up warmly when you step outside. And make sure you protect the skin on your face with a cold cream and the skin on your body with a thick creamy balm that will act as a barrier against the cold.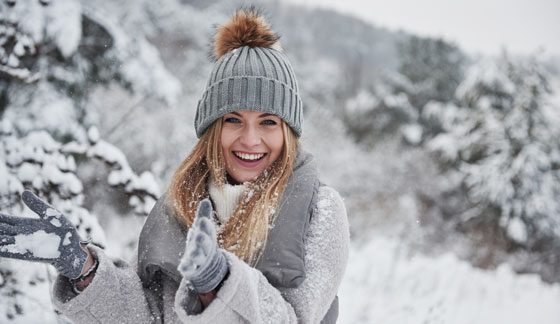 HEAT
A hot bath feels great when it's cold outside. But watch out, hot water can also dry out your skin and eliminate the natural oils produced by your body. The same goes for heating systems that can remove moisture from ambient air.


The solution: If you have dry skin, limit yourself to one shower or bath per day to avoid skin problems. Opt for warm (not hot) water and make sure to close your bathroom door to trap the humidity inside. As soon as you step out of the bath, tap your skin lightly with a towel and then apply your moisturizer while your skin is still damp. You can also get yourself a good, portable humidifier to use in the rooms that are too hot and dry.
A POOR DIET
Nutritionists agree: when you're not eating right, your skin is the first to suffer. Since skin is the outer covering of the body, the blood will carry nutrients to the rest of your body first, which means bad eating habits can dry your skin.
The solution: Certain nutrients can help fight dehydration. Vitamin B5 and vitamin E, for instance, help moisturize the skin. You can find them in multigrain bread and nuts, as well as almonds and cabbage. Unsaturated fatty acids are rich in lipids. Fill up on them by eating fatty fish (salmon, trout, sardines) and oils with a lot of omega-3 like nut and rapeseed oil. And try to avoid alcohol, coffee or tea which can cause dehydration.
CLOTHING MADE FROM SYNTHETIC FABRICS
Synthetic fabrics—such as nylon, polyester, acrylic, elastane and microfiber—can irritate and dry sensitive skin. This is because clothing made from these materials doesn't always let the epidermis breathe, making you sweat. In fact, sweat is your worst enemy in winter.
The solution: It's better to wear clothing made from natural plant or animal fibres such as cotton, hemp, flax, silk and wool (especially burlap, alpaca, cashmere, angora, mohair and ramie). And make sure to change out of damp or wet clothing to avoid getting cold and drying your skin even more.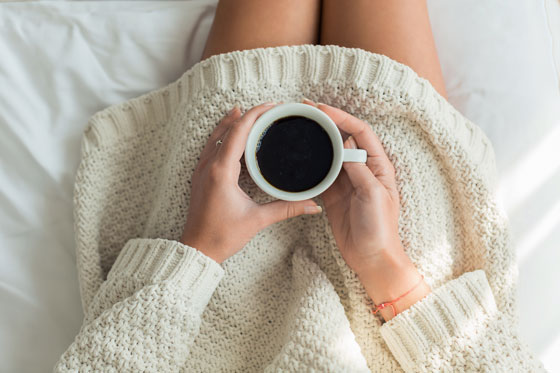 GENETIC CAUSES
In most cases, skin diseases are genetic, not chronic. Eczema and psoriasis, among others, can be transmitted from one generation to the next. The common thread to these skin ailments? Both present dry skin as a symptom. Eczema can make skin red, swollen and itchy while psoriasis can cause a burning sensation and irritation. Parents will want to opt for a specialized care routine for their little ones who are affected.
The solution: First and foremost, avoid scratching and consult a dermatologist. Until then, moisturize your inflamed or irritated skin several times a day with hypoallergenic products that do not contain perfume or alcohol. Our cosmetician will be happy to recommend such products.
HOW TO CARE FOR DRY SKIN
Dry skin lacks natural oils and in those areas that lack the proper amount of oil, the pores close up, making skin more susceptible to redness or flaking. A proper skincare routine has to accomplish two jobs: nourish your skin intensely and reinforce its protective barrier against external aggression.
Use gentle cleaning products, preferably without soap, to avoid drying your skin out any further. Two good choices? Shower oils and purifying milk.
Nourish your skin with a balm or moisturizer that's rich in emollients. This will help restore y0ur skin's elasticity and radiance, while adding much-needed strength and resilience.
Help seal the oil in with a complementary care product. Ideally, choose a formula that you can keep close at hand all day long, and use it liberally whenever you feel discomfort. A bottle of thermal water spray is a good choice.