We all know how important proper sun care is to prevent the damaging effects of UV rays. But what are the right products to use? And how? We've shed some healthy light on the subject.
Fighting UV rays: a year-round priority!
When you think of UV rays, you probably think of summer… But, even though they do get stronger from May on, UV rays never take a vacation! When it's cloudy, the rays pass right through the clouds. In winter, they get reflected off the snow and onto us. Inside your home? Guess what? Windows can't stop them, either!
The moral of the story: you should always apply sunscreen every day, all year round. And since the effects wear off after about two hours, you should also have a travel-size tube with you to reapply sunscreen throughout the day.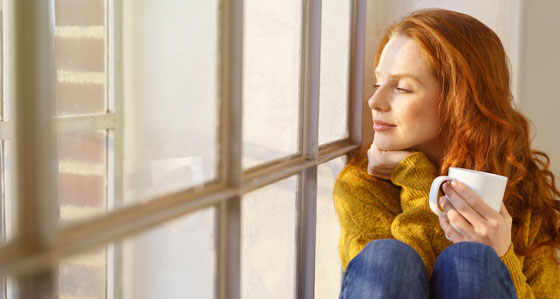 There are two types of UV rays and good sunscreens protect you from both!
UVA rays make up 95% of the rays that reach us and they're the main cause of premature aging of the skin. By generating free radicals that oxidize skin cells, UVA rays promote the appearance of wrinkles and cause skin to sag.
UVB rays, on the other hand, lead to tanning, but also to burning, in some cases, severe burns.
How to choose the right sunscreen.
There are two main factors to consider:
1. The Solar Protection Factor (or SPF). If you have pale skin that tends to burn more easily, you're going to want a higher SPF. If your complexion is darker, you could choose a lower SPF. But either way, you should never go lower than SPF 30.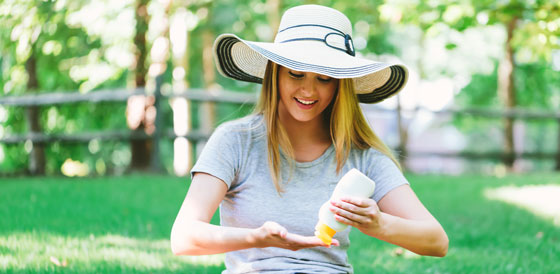 Did you know that the SPF measures the duration of the sunscreen and not its strength? The SPF indicates the time it would take unprotected skin to burn in the sun compared to the time it would take with sunscreen. For example, an SPF of 50 means that, theoretically, you could stay 50 times as long in the sun before burning as you could without protection. But who would want to stay in the sun that long without extra protection?!
2. The formula. You have two choices: chemical sunscreens, which absorb the sun's rays like sponges; or mineral sunscreens, which form a protective shield over your skin. In terms of effectiveness, they're both equal. What's important is that you choose the one that best suits your skin type and your lifestyle.
Milks and fluids
Their light, moisturizing textures make these refreshing sunscreens your skin's best friend. They can be applied quickly, and they quench your skin without leaving an oily film.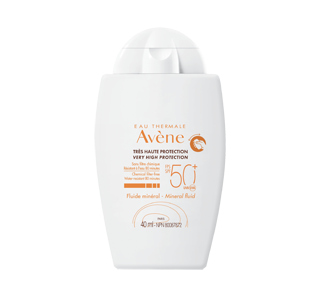 Avène
Mineral Fluid SPF 50+, 40 ml
Light, matt-finish sun care fluid formulated using only mineral based filters, to provide optimum protection for even the most sensitive skin.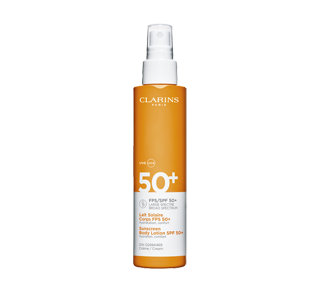 Clarins
Sunscreen Body Lotion Spray SPF 50, 150 ml
The antioxidant high-protection skincare for any condition suitable for all types of skin, even the most sensitive.
Dry-touch formulas
These formulas have a mattifying effect that makes them perfect for oily skin, or for outdoor sports! In addition to keeping the shine away for hours, they're easily absorbed and provide long-lasting protection against both water and perspiration.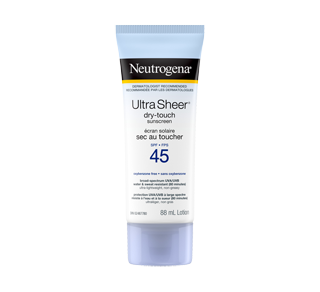 Neutrogena
Ultra Sheer Dry-Touch Sunscreen SPF 45, 88 ml
Help shield your skin from damaging sun rays. This fast-absorbing broad spectrum SPF 45 sunscreen lotion provides effective sun protection in an ultra-light, Non-greasy formula. Plus, this Non-greasy formula is dermatologist-tested, Non-comedogenic, PABA-free and oxybenzone-free.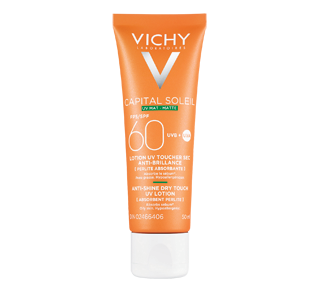 Vichy
Capital Soleil Anti-Shine Dry Touch UV Lotion, 50 ml, SPF 60
A dry touch texture for face. Non-greasy, non-shiny, non-sticky for a light feeling. It is particularly suitable for normal to combination or oily sensitive skins. Ideal for daily use. No fragrance.
Sticks and compacts
Looking for extra protection for those really vulnerable areas of your skin? Need a quick solution to enhance your healthy complexion while blocking UV rays? Choose a stick sunscreen or a tinted compact with an SPF of at least 30. They combine ease of application, soft texture and high protection. Plus, they slip into your handbag or beach bag easily, so they're perfect for quick use all day long!
Vaporizers
Vaporizers are high-protection dry mists that diffuse quickly and evenly, offer water-repellent protection and leave your skin feeling fully refreshed. They're also a great choice for kids. In a hurry to get outside and play? A few quick spritzes and you're good to go!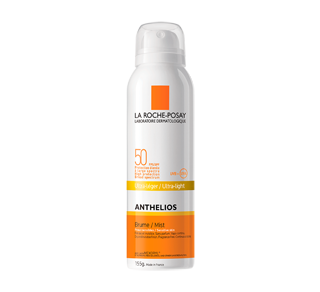 La Roche-Posay
Anthelios Mist SPF 50, 155 g
Ultra-light texture, invisible finish, dry touch. Non-greasy ultra-light fresh mist that penetrates quickly, leaving skin dry and clean. Continuous spray for even application. Perfectly adapted for outdoor activities.
What about sensitive skin?
Atopic, sensitive, tattooed, highly allergic, vulnerable... For skin with special issues (including those of children), mineral sunscreens are an ideal choice. Made primarily from natural ingredients (zinc and titanium powders), they protect your skin without being absorbed into it—two factors that help reduce the risk of unpleasant reactions.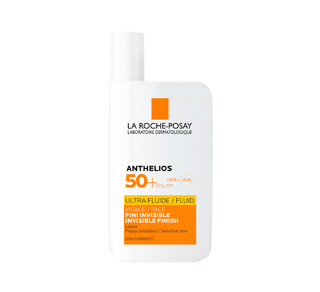 La Roche-Posay
Anthelios Ultra-Fluid Face Sunscreen Lotion SPF50, 50 ml
High UVA-UVB sun protection for the face with an invisible lightweight finish. A unique combination of invisible yet ultra-resistant protection developed for sensitive skin.