#silverhair: This keyword leads to over a million publications on Instagram. Popularized by influencers, stars and street-style pros, silver hair has been popular for several seasons. Take part in this trend, even just for a day.
Is silver hair difficult to pull off?
The all-silver manes you saw on Lady Gaga and Rihanna aren't your only options. Consider a more subtle option like an ombré or strategically placed highlights. The key is to select a shade you like and have time to maintain. If you choose a glossy white or metallic light grey, keep your colour bright—otherwise, you could end up looking like you're wearing a witch's costume!
As for styling, be sure to choose something that doesn't make you look older than you are. Try the slightly grunge-elegance of textured waves or go in the opposite direction with an ultra-geometric cut. If you're feeling really adventurous, try a pixie cut. It's sure to make a statement.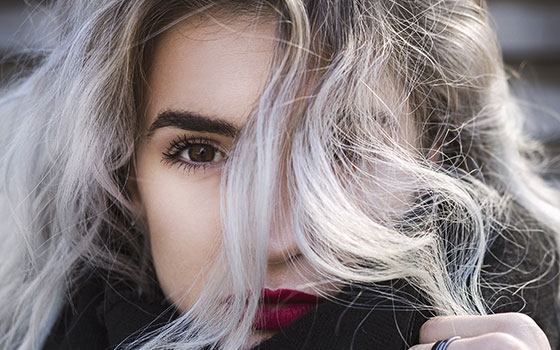 If you already have white hair, take advantage of it and wear it with confidence! A silver tone will give it an edgy look, especially if you wear it short, like Jamie Lee Curtis, or with the strong lines of a square cut with bangs.
It's best to test a colour before committing to it.
Try a temporary colour spray: it's quick and easy to apply. It works on all hair types, leaving a soft, flexible texture that's a breeze to style, which is great for fans of the curling iron! And best of all, it's gone after one washing: all gain and no risk!
When you're ready for a long-lasting colour
It's time to use a permanent colour. If you're feeling lukewarm about visiting a salon, there are lots of great DIY products that will give you vibrant colour without damaging your hair. This is especially important because you'll need to bleach your hair as much as possible to get a great-looking silver, something easier to achieve if you have blond or light-brown hair.
When it's applied to bleached hair, silver has a tendency to wash out quickly. Maintain the colour by using a sulfate-free shampoo made specifically for silver and expect to do regular touch-ups!
Give a little pep to your white hair.
For a mane worthy of Glenn Close or Helen Mirren, use a blue or purple shampoo and a toner. In addition to highlighting your natural colour, the toner will make combing easier, and most importantly, prevent your colour from yellowing. Use it just a few times per week, after you've shampooed, and leave it in for two minutes before rinsing!