We use plenty of products and types of razors when shaving. But which creams and tools should you use for your beard and skin type to avoid skin problems? Here are some tips and special products for the perfectly-groomed gentleman.
Every razor has its advantages and disadvantages. Due to the smooth finish they give, manual razors are recommended for all skin types, as long as they are used with products adapted to your skin type; nonetheless, they can sometimes cause cuts and irritation. In this case, it's best that you change blades regularly. Electric razors, on the other hand, are not suitable for thick beards. They are, nonetheless, the top choice for men who travel frequently and for those working with a three-day growth. Following this trend, Philips has designed a multipurpose tool with three separate heads: the Click & Style, which comes with a razor, a stylish beard trimmer and a body razor.
Pre-shaving: the way to beautiful skin
For best results, you should shave immediately after getting out of the shower or, at least pat your face with a warm cloth in order to soften the skin and open the pores. To avoid ingrown hairs, apply a skin exfoliate on a weekly basis, preferably the night before you shave.
Shaving
Gel, mousse, oil, there are as many products as there are skin types.
For normal skin :
Biotherm Shaving Gel combines anti-burn action and plenty of skin hydration.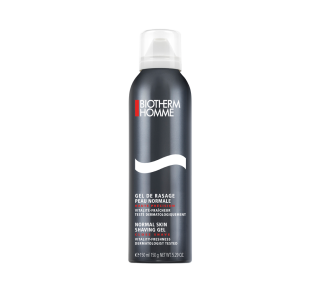 Biotherm Homme
Shaving Gel, 150 ml
For Normal Skin This cool sky-blue gel, which transforms into a thick, smooth and creamy foam, ensures an ultra-close shave.
For sensitive skin:
Products like Biotherm's Shaving Foam and Jean d'Estrées' Express Shaving Gel calm the skin while offering protection and relieving irritation, redness and burning. Shiseido Men Shaving Cream is also recommended for thin beards.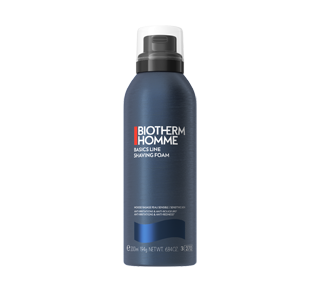 Biotherm Homme
Shaving Foam, 200 ml
For Sensitive Skin Dermatologically tested on sensitive skins and enriched with soothing Pure Extract of Thermal Plankton, this shaving foam for sensitive skin prevents irritation and respects even the most sensitive skin.
For all skin types:
High Definition Shave Foam by Lancôme and alcohol-free Ideal Smooth Shave Foam Gel by Clarins are essential for a pleasant shave.
For triple action:
Shave Ease Oil by ClarinsMen contains essential oils and can be used for a quick shave, all while keeping the skin hydrated and firm. Applied to damp skin, it is ideal for men on the go who need a close shave without irritating their skin.
Post-shave
Once you've finished shaving, splash your face with some cold water to help close up the pores. Next, apply L'Homme After Shave Balm by Roger & Gallet, whose aloe- and white tea-enriched gel-cream texture calms, hydrates and freshens the skin while leaving a delicate fragrance.