Reinvigorate
your hair
in 30 days
Wind, sun, blow dryer, styling products… They can all affect the protective layer that surrounds your hair, making them dull, brittle and unmanageable. Here are 7 tips to getting shiny, healthy hair in just 30 days.
1.
Make an appointment for a haircut.
To start off right, you at least need to get a trim. It's a key step to revitalizing your locks! If you don't, using specialized hair care products will simply be a waste of time and money.
2.
Exfoliate your scalp.
Just like your face and body, the scalp needs to be cleansed. A deep cleansing scrub once or twice a week will get rid of impurities and dead cells and will stimulate the scalp. As a bonus, the scrub will maximize the effects of the products you subsequently use: shampoo, mask, etc.
How to exfoliate your scalp: Working section-by-section, apply the product on damp hair. Gently massage with your fingers for a few minutes then rinse with lukewarm water.
3.
Use a gentle shampoo.
Shampoo cleanses the scalp and eliminates excess sebum. In addition to nourishing and moisturizing, gentle shampoo gently cleans skin without drying it. Use it every three days, if possible.
The right technique: With your fingertips, gently massage a small dab of shampoo on your scalp and then focus on the rest of your hair. Make sure to rinse properly using warm water before spending a few moments under cold water to seal the cuticles. To remove excess water, gently wring your hair with a towel but avoid rubbing because you could damage the hair fibres.
4.
Use a hair mask once or twice a week.
Use a mask adapted to your needs: a moisturizing mask for dry hair, a purifying mask for dandruff, a mask that will give dull hair a lustrous shine, etc.
The right technique… is extremely important. On clean and damp hair, but make sure it's not too wet because water will dilute the mask and make it less effective, apply two to four dabs of product on the body of the hair, not the roots. Lock by lock, gently massage the product into your hair with your fingers. Lather, just like with your shampoo, while rinsing.
5.
Use hair oil to moisturize and nourish your hair.
Hair oil is an underestimated product that can be immensely beneficial to hair thanks to its natural virtues and essential oils. The results are almost immediate: revitalized hair that's softer and silkier. Use daily or as a one-time treatment.
Used daily: Heat up a drop of oil between your fingers and apply it to your hair's dry ends.
As a pre-shampoo or nighttime treatment: Apply the oil working strand by strand and wrap a warm towel around your head. Leave for 20 minutes and then shampoo. If you want, you can even sleep with the product in your hair but make sure you cover your pillow with a towel to prevent stains.
6.
Protect your hair from the sun.
Just like your skin, your hair needs to be protected from the harmful effects of the sun. To keep your hair healthy, use an oil, spray or other UV protection product.
7.
When it comes to styling, less is more.
For the next 30 days, avoid tying your hair in a ponytail, using a blow dryer or using styling products (limit yourself to one if necessary).
We suggest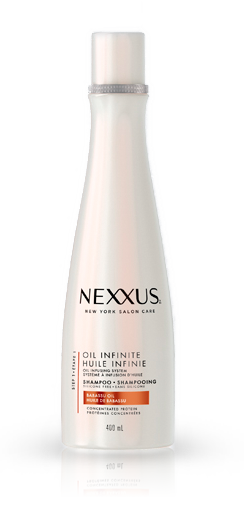 Nexxus
Oil Infinite Shampoo