We all dream of having smooth, perfect skin. Unfortunately, sebum and impurities can make life rough for your complexion. Here are a few solutions to help you deal with dilated pores.
Use specialized products to cleanse your face.
Pores play a vital role. They allow your skin to breathe and eliminate sebum, sweat and dead cells. Unfortunately, pores sometimes get blocked, which makes them more (too!) visible. That's why you should wash your face every day with a product that's designed specifically to cleanse skin deeply and tighten up your pores. Look for ingredients like salicylic acid, which unclogs pores, and retinol, which will help make them less visible.
We recommend:
Deep Pore Charcoal Cleanser, by Biore
Let's hear it for charcoal! This innovative black cleanser foams white then disappears completely upon rinsing. Infused with Japanese skin-purifying technology, it delivers results after just one use. And it's oil-free, making it ideal for greasy skin.
Exfoliate your skin regularly.
Exfoliation is a key step that you should never skip, no matter what type of skin you have, but especially if you have dilated pores. To clear out dead cells and cleanse pores deeply, exfoliate your face twice a week. Consider using a mask—these are ideal for unclogging pores.
Note: How often you should exfoliate depends on the sensitivity of your skin and your specific needs. For instance, if you have oily skin, you should do it more frequently. No matter what, it's recommended that you exfoliate at least once a week but no more than three times a week.
We recommend:
Pure-Clay Mask by L'Oréal
Infused with Kaolin, Montmorillonite and Moroccan clays along with red algae extract, this mask unclogs and tightens up pores, exfoliates dead cells and smooths skin texture. Freed from dirt, impurities and pollution, your skin will feel refreshed and breathe easier, while your pores will be visibly reduced.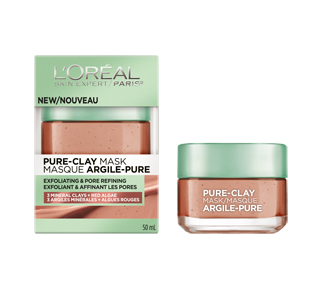 L'Oréal Paris
Pure Clay Cleansing Mask, 50 ml
The formula enriched with kaolin + montmorillonite + moroccan clays enhanced with red algae extract, unclogs and tightens pores, exfoliates dead skin cells, smoothes skin texture, draws out build-up of impurities, dirt and pollution, refreshes and allows skin to breathe.
Get yourself a good primer.
To add the finishing touch to your skin care routine, use a quality makeup primer. A thin layer is sufficient to smooth your skin and cover up any pores that are still visible. You can use the primer by itself for a subtle, natural look, or apply it as a base for other makeup. It's your secret weapon when it comes to achieving consistent, super-smooth skin!