Your hair's growing back but you don't have time for a colour treatment? No worries: there are lots of practical products that can help save the day in a snap. Let's take a look!
Give your roots the boot
Whether you need a speedy solution for a special occasion or a way to make your hair color last longer, what counts is choosing the right formula.
Your best friends for a quick fix: correctors. They're a snap to use and they slip easily into your purse for quick adjustments when you need them. Downside: they wash out with your first shampooing.
For a longer run, try permanent color retouching. It's longer lasting than correctors and it targets your roots more quickly and easily than a full colouring. Choose a colour as close as possible to your current shade but remember: because you're working with fresh roots, the shade will likely be lighter and more vibrant than the rest of your hair.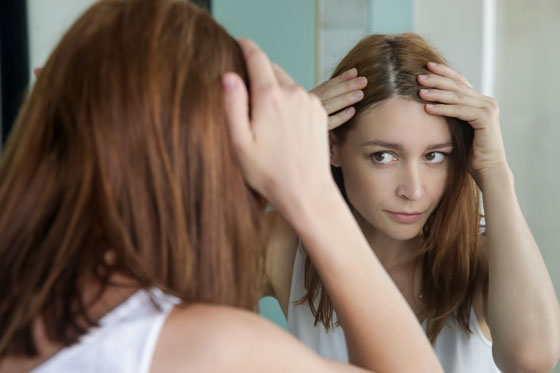 A question of method
In terms of application, there are a few tools available, particularly if you're using a temporary solution. Just choose the one that works best for you!
For correctors
Aerosol applicators cover your roots with a fine layer of powdered colour. Simply spray over the areas while holding the can a few inches from your head and you're good to go!
Stick applicators colour the surface, a little like chalk, while sponge applicators work by dabbing on the colour.
With coloured mascara, you brush on the colour just as you would for your lashes.
For retouching
Most permanent colour root retouchers come with a comb-tip applicator. A little like mascara, this method helps you target specific areas so you can apply the colour more evenly.
A word to the wise: before you start your retouching, apply a little petroleum jelly to the top of your forehead, your temples and your ears so you don't stain your skin.