We tend to forget about the sun during winter. But UVA and UVB rays are just as dangerous now as they are in the summer… maybe even more so! Why? Here's one reason: snow reflects 80% of the sun's rays, increasing your exposure, especially at higher altitudes. Here are a few tips to protect your skin.
Why protect your skin?
UV rays don't just cause sunburn, they provoke the oxidation of your skin cells, accelerating the aging process. Assaulted by free radicals created by exposure to the sun, the cells produce less collagen and elastin causing your skin to lose its suppleness, firmness and moisture… the perfect conditions for the appearance of wrinkles! And if your epidermis becomes damaged in some areas, it will overproduce melanin (the protective pigment created at the start of a tan). Hello, brown spots!
Winter has unique conditions!
The loss of light during winter causes a decrease in pigmentation and in resistance to radiation. Even if you spend just 15 minutes outdoors on a cloudy day, be sure to protect your skin! This is true for everyone but especially for people with pale complexions because their skin naturally produces less melanin and burns more easily. Good protection is just as important for sensitive skin that can become itchy and break out in pimples and red patches.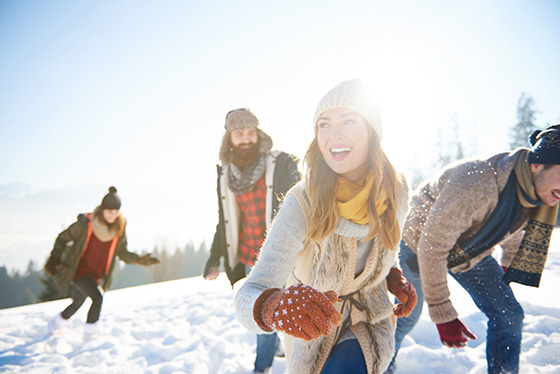 Sunscreen is crucial…
Using the right sunscreen is the foundation of effective protection. It's important to choose a product with a high SPF that blocks both UVA and UVB rays and is suitable for your skin type. Look for the official UVA logo on the bottle (the three letters inside a circle) for a guarantee.
In general, a non-comedogenic (doesn't block your pores), non-fat, fragrance-free product is a good choice. Water-resistance is also helpful for days when there's heavy snow and when warm clothing makes you sweat.
Whether you choose a mineral or chemical sunscreen, be sure to apply it on moisturized skin at least 30 minutes before going out, to maximize its effectiveness.
Reminder:
No sunscreen can block all UV rays. The number on the bottle doesn't refer to the absolute power of the protective agents but to the time you can spend in the sun before getting a burn. For example, an index of 60 means that your skin can remain undamaged 60 times longer than without any sunscreen. High protection won't stop you from tanning or burning. No matter what sunscreen you use, be sure to apply it regularly!
…But that's not all!
Covering your face with cream is great but don't forget to think of the easily forgotten areas:
Your head and ears should be covered by a tuque, keeping them warm and protected from frostbite.
Your lips, which are very delicate, can become dry, cracked and surrounded by fine lines, so coat them generously and frequently with an SPF lip balm.
Your cheeks and the bridge of your nose, which are particularly sensitive, need extra protection, especially if you play sports—carry a solar stick for quick applications!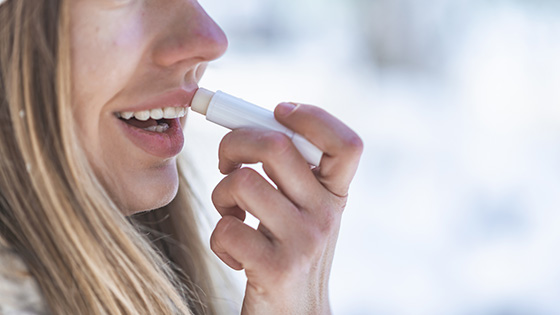 Three good habits to adopt:
Check weather reports for the UV index before going out.
Avoid staying outdoors for too long between 10am and 4pm.
Moisturize your skin immediately after exposure (the sun-cold combo can be very harsh).
How to conserve your golden glow
UV rays aren't the only way to get a great tan. In fact, self-tanners can help you achieve a golden glow even without the risk of sun exposure. So why not add a self-tanning product to your weekly skincare routine during winter! It's the quickest, easiest way to keep your tan alive.