The sun's rays are just as harmful for your skin in the winter as they are in the summer, and maybe even more so! Because of the snow, the reflection increases your skin's exposure to UVA and UVB rays. Proper sun protection is required, especially if you have blond or red hair, or fair or sensitive skin.
The sun causes premature aging of the skin. Prolonged exposure to the sun's rays is responsible for deep wrinkles and skin spots. Upon contact with the sun's rays, the skin becomes less supple and loses its elasticity.
The crème de la crème of sunscreen
If your burn easily when spending a day in the sun, you have sensitive skin that reacts strongly to sun exposure. This can also cause itchiness, small bumps or redness. People with fair, sensitive skin are more likely to experience harmful side effects caused by the sun and require proper sun protection during winter.
Chose a sunscreen with a high sun protection factor. The SPF level should be 50 or more. Good to know: A level of 50 + will still give you a slight tan if you expose your skin to the sun on a regular basis and with proper precautions.
REMINDER: If you are particularly sensitive to sunburns, avoid sun exposure between 11 a.m. and 4 p.m.
In addition to determining the right sun protection factor, you must choose a quality sunscreen, one containing a UV block. To know whether your sunscreen contains a UV block, look at the list of ingredients. The following products form a barrier on the skin and block UV rays. These ingredients protect you from UVA and UVB rays:
Mexoryl (SX or XL);
Titanium dioxide;
Zinc oxide;
Avobenzone (Parsol 1789);
Octocrylene.
Good habits to adopt
Apply sunscreen to exfoliated, well-hydrated skin at least 30 minutes prior to sun exposure, and reapply often during the day. And don't forget to use an after-sun lotion after prolonged sun exposure. Perfect after a day on the slopes!
Our suggestions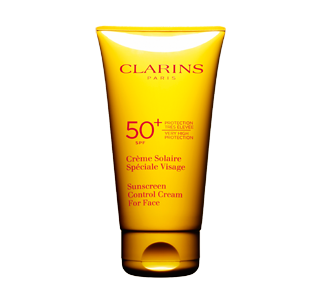 Clarins
Sunscreen Control Cream for Face SPF 50+, 75 ml
Very high facial protection for sun-intolerant skin.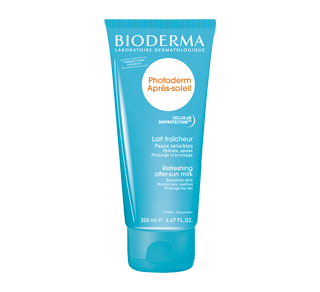 Bioderma
Photoderm After Sun, 200 ml
Photoderm After-Sun is the soothing, moisturising tan-prolonging skin care suitable for all skin types, even the most sensitive: dehydrated, overheated skin or sunburned skin.