Five easy steps, five great products, a few great Pro tips and suggestions for every type of budget. We've got all you need for a fast, effective makeup routine. Just follow the guide!
STEP 1 - The Foundation
For a truly natural look, try a fluid, easy-to-apply formula, but remember to choose a shade that's as close as possible to your natural skin tone.
Application tips
Whether you use a brush or a sponge, the application is the same: pour a little foundation onto the back of your hand, then apply it evenly over your entire face, starting in the centre and moving outwards. Remember to blend the foundation to the back and sides of your neck to avoid creating cut-off lines.
Our suggestions
Low price: True Match Unifying Foundation by L'Oréal Paris. Its hyaluronic acid-enriched formula moisturizes as it covers. Plus, its wide selection of shades makes it easy to find the right one for your complexion.
Average price: Clinique Acne Solutions Blemish-Free Liquid Foundation. Created using salicylic acid, this product cleans and purifies your skin while concealing redness.
Higher price: Clarins Everlasting Foundation. This foundation offers 24 hours of flawless coverage, with bonus mattifying and waterproofing effects.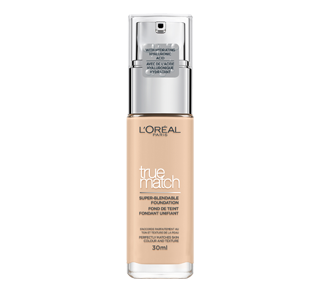 L'Oréal Paris
True Match Super-Blendable Foundation, 30 ml
Re-discover True Match super-blendable foundation, a skin-care infused foundation, available in 45 shades. It's new pump bottle design make the application process easy while maximizing the amount of foundation needed based on your preferred level of coverage. The formula provides ideal, natural and true-to-skin coverage. True Match is enriched with hyaluronic acid and improves skin quality in just 2 weeks and reveal more radiant and healthier looking skin. True Match foundation breaks down the boundaries between your skin and your foundation, so you can't tell where you foundation begins and your skin ends. True Match provides 24hr hydration thanks to its moisturizer-in-a-foundation complex with 80% moisturizing care. The foundation enhances your natural glow whilst allowing your skin to breathe with a non-comedogenic formula and suitable for sensitive skin. The formula gives a natural, bare-to-skin coverage, ideally matching your skin undertone. Available in 45 shades, to perfectly match your skin tone and texture. If you have used True Match super blendable foundation before, discover our shade guide to find your new True Match shade.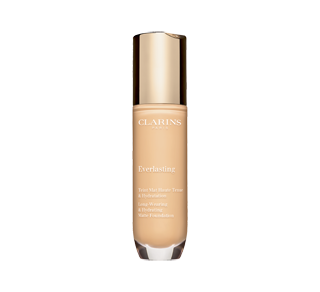 Clarins
Everlasting Foundation, 30 ml
Everlasting foundation with skin care benefits resists daily challenges and promotes a flawless looking, matte and comfortable complexion for up to 24 hours non stop !
STEP 2 - The Concealer
Just as you would with a foundation, choose the shade that blends in best with your natural skin tone, one that neutralizes dark circles effectively. If your circles are bluish, choose a peachy colour to conceal them well. If the circles are more mauve, a golden shade will work best.
Application tips
Place a couple of small drops under each eye, then apply with a brush or finger using a V-shape motion, moving from the inner corners of your eyes, downwards to the top of your cheekbones, and then upwards towards the outside. Once the formula has been well blended, you can set it with a very thin layer of translucent mineral powder.
Our suggestions
Low price: Personnelle Cosmetics Concealer. Creamy and easy to apply, this product conceals signs of fatigue while discreetly illuminating your eyes.
Average price: Infallible Full Wear Concealer by L'Oréal Paris. This product features a fluid, ultra-covering formula that's as effective at concealing dark circles as it is at correcting smaller imperfections.
Higher price: Teint Idole Ultra Wear Camouflage Concealer by Lancôme. Lightweight, and long lasting with great coverage, this product offers precise application and a subtle glow.
STEP 3 - The Mascara
If you have long, thin lashes, you'll want a volumizing mascara with a creamy texture that offers body and fullness. If your lashes are short and full, try choosing a lengthening, liquid formula that separates your lashes to create added definition.
Application tips
The best way to coat your lashes and prevent clumping is to apply the mascara using tiny zig-zag movements with your brush. If you want to accentuate the curves of your lashes, apply a little extra pressure on the brush while closing your eyelids.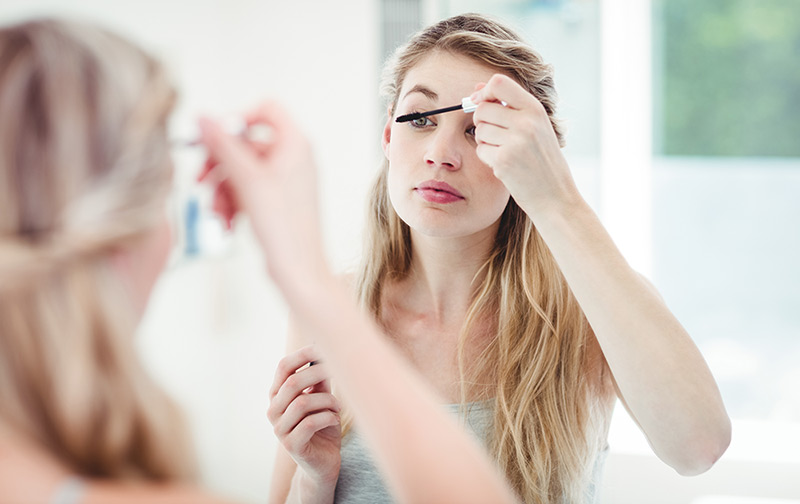 Our suggestions
Low price: Rimmel London's Wonder'Extension Mascara. Its rich, elastic texture boosts lash length, density and definition.
Average price: Vamp! Sexy Lashes Mascara by Pupa Milano. This product gives your lashes maximum curve and volume!
Higher price: Lancôme Hypnôse Mascara. The absolute classic! One coat leaves your lashes 8X thicker, perfectly separated, longer and naturally curled. This one does it all!
STEP 4 - The Blush
Whether you prefer neutrals or brighter colours, light shades, like soft pink, peach, coral, etc., are always a safe bet when you want to add radiance to your complexion.
Application tips
First, wipe your brush on the compact to grab a bit of colour. If you use powder, be sure to tap the brush on the back of your hand to remove any excess. Apply a small amount of colour to the tips of your cheekbones, then stretch the colour out horizontally or upwards, depending on the shape of your face.
Our suggestions
Low price: Maybelline New York Fit Me Blush. Its silky texture makes it easy to blend with virtually any type of skin.
Average price: Burt's Bees Cheek and Lipstick. Enriched with jojoba and sunflower oils, this 100%-natural formula offers a healthy glow while gently accentuating your lips. Perfect for adding a ray of light!
Higher price: Lise Watier Powder Blush. This product is non-drying and easy to apply so you can accentuate the contours of your face as desired.
STEP 5 - The Lipstick
Lip gloss, matte cream, glossy red sticks... Choose your favourite texture, but make sure it's a long-lasting formula, especially if you're going to wear a face mask for extended periods of time.
Application tips
Worried about lipstick that bleeds or smears? Try tracing the outline of your mouth with a pencil before applying your lipstick. No matter what type of formula you use or the applicator that comes with it, you can always use a brush to touch up those areas that need more precision, like the corners of your mouth.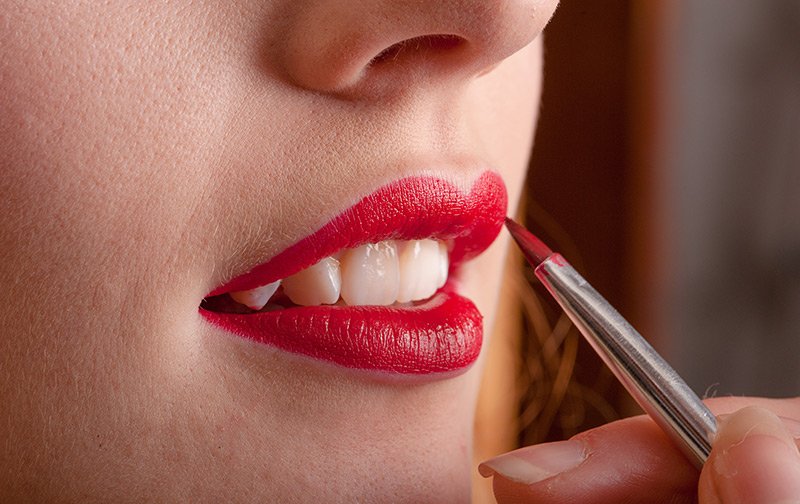 To create smooth, full lips...
Coat them with a nourishing formula before you apply your makeup. That way, it will have time to work its magic before you apply your lipstick. And remember to care for your lips daily, by applying a balm every night before going to bed. You'll also want to exfoliate and use a moisturizing mask at least once a week.
Our suggestions
Low price: NYX Professional Makeup Lip Lingerie XXL matte liquid lipstick. This product is lightweight and comfortable with hold that lasts for up to 16 hours.
Average price: Clinique Pop matte lipstick + base. This 2-in-1 formula smooths your lips and enhances the brilliance of your colour while ensuring a creamy matte finish.
Higher price: Estée Lauder Pure Color Envy Lipstick. Rich, intense colour and a highly moisturizing formula, all in a lip-friendly stick... What more could you want!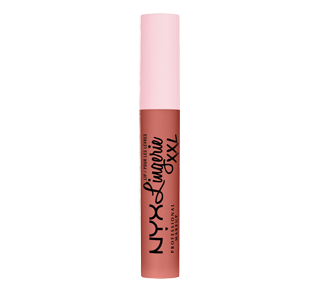 NYX Professional Makeup
Lingerie XXL Matte Liquid Lipstick, 4 ml
Meet the 1st liquid shapewear for your lips: Lip Lingerie Xtra Xtra Long-lasting! Full-bodied smooth matte lips Mold your lips and accentuate your lip shape! This vegan formula* sets to a smooth matte finish for fuller-looking lips. 16H color that moves with you This type of lingerie stretches with you... no matter what your lips do! No crack, no budge, no fade and no transfer for up to 16 hours! But just like your favorite shapewear… it feels lightweight and comfortable! Color-saturated matte liquid lipstick nudes 24 nudes amped-up with color saturation designed to enhance all complexions *no animal derived ingredients