Makeup, pollution, wind, sun—daily life can be tough on your skin. To help boost its radiance, there's nothing better than a good night cream. Here's why!
WHAT DOES MY SKIN DO WHILE I SLEEP?
Your skin doesn't act the same at night as it does during the day. Its rhythm changes. During the day, the skin plays a defensive role, protecting itself from UV rays, pollution, weather conditions and bacterial growth. When you're asleep, the skin is also active, working to repair the damage caused during the day and regenerating itself.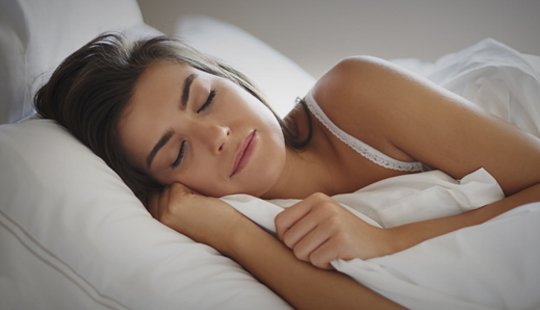 DAY CREAM VS. NIGHT CREAM: WHAT'S THE DIFFERENCE?
From the time you wake up to the time you go to bed, your skin has to fend off several external aggressors. The first mission of a day cream is to protect. It is formulated to maintain hydration all day, relieve discomfort and prevent signs of aging.
While you sleep, your skin is in regeneration mode. It recuperates best while you're in the arms of Morpheus! To help it do its work, you should apply face cream that is specifically formulated to accelerate tissue repair and promote cell renewal. This type of product is commonly referred to as night cream. While often underestimated, night cream plays an essential role in the health and quality of your skin.
So to sum up: day cream and night cream are complementary.
WHO SHOULD USE IT?
Everyone! There is a wide selection of night creams available that are designed for all skin types and needs, such as firming, revitalizing, refining, protecting, fighting imperfections, preventing signs of aging, etc.
AT WHAT AGE SHOULD I START?
Unless your skin is very dry, you won't have to start using a night cream until your twenties. However, as soon as you see a skin problem developing, you should immediately remedy it. Choose your night cream according to your age and skin type. For example:
If your skin is acne-prone, opt for a purifying cream.
If your skin is dry, favour rich, creamy textures.
If your skin is oily, choose formulas that are less rich, such as fluids or gels.
In your twenties, opt for a moisturizing night cream that allows the skin to repair damage from sun and lack of sleep.
In your thirties, choose an anti-wrinkle night cream to slow skin aging, refine its texture and restore radiance to your complexion.
If you have mature skin, use an anti-aging cream that boosts hydration, stimulates cell renewal and collagen production, etc.
WHEN AND HOW SHOULD I APPLY IT?
Before going to bed at night, apply your night cream after you've removed all your makeup removed and cleansed and scrubbed your skin. Apply the cream to your entire face, with the exception of your eyelids and eye contour area, which require a specialized product to avoid swelling.
Want a little extra help? Once or twice a week, replace your cream with a no-rinse night mask. Apply a slightly thicker layer than you would with other creams and leave it on until morning. Your skin will have all the time it needs to absorb the active ingredients to really benefit from the formula. It's perfect for optimal regeneration and deep rehydration!
Note: Don't expect your night cream to perform miracles from the first application! It takes about a month for the skin to renew itself. So, be patient and you'll see results!