Nail art hasn't gone away, but a new trend is taking over. It's called negative space, a versatile style with a thousand ultra-sophisticated variations.
Put your darker polishes at the back of the drawer and make room for pale and transparent colours to pair with negative space. It's the summer's hottest craze! Check out these three ultra trendy variations.
Ultra simple
For maximum chic with minimum effort, choose a polish that's close to your natural nail colour, such as beige or sheer pink. Apply two layers. When the polish has dried, apply a protective top coat for a longer-lasting look that shines.
Fashion-forward
Start with a protective layer of sheer polish to help your manicure last longer and keep your nails healthy. When it's dry, apply a metallic polish – we're loving golden pink at the moment.
Now it's time create that negative space. For sharper lines, use adhesive tape or dots. Cut out a half-moon shape to create a section at the tip of your nail. Next, section off the lighter portion at the base of your nail by cutting out a similar shape, but hollow, like the letter D.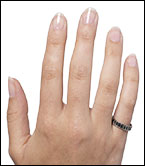 Apply a thin layer of polish on both sections, leaving the centre portion untouched. If necessary, apply a second layer.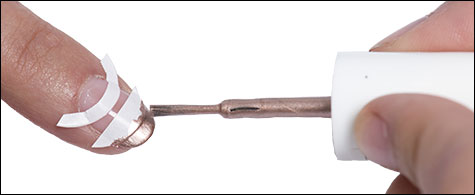 Wait at least ten minutes for the polish to dry, then carefully remove the tape. Apply a final layer of clear polish.
Pro tip: With a steady hand, it's possible to create this look without using tape or adhesive paper.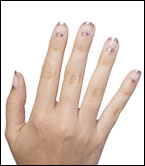 Pretty and feminine
It takes patience and creativity to create this super cute and unique manicure. First, cut a section of tape into several thin strips. Next, apply a layer of clear base coat to your nail and wait for it to dry.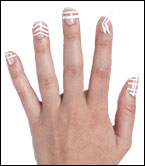 Then, use the strips to create shapes on your nails. Have fun creating a different design on each nail. For instance, you could choose a triangle at the base of one nail, chevrons for another, diamonds, stripes, etc. The possibilities are endless!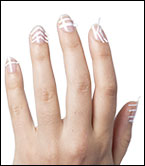 Apply white polish to your nails, wait for it to dry, then remove the tape. Last but not least, apply a matte top coat to make your manicure even more modern.