We spend so much time taking good care of the skin on our faces that we often forget our neck and décolleté, which is a shame because the skin in those areas needs extra help! Here's a quick look at how to give these areas the care they deserve.
WHAT CAUSES WRINKLES ON THE NECK AND DÉCOLLETÉ?
Much finer than the skin on your face, the skin on your neck and décolleté also has fewer sebaceous glands. And without these natural emollients, your skin dries out more quickly, making it more vulnerable to daily harm from light rays, wind, cold, pollution and other factors. As a result, lines, wrinkles, red spots, welts and pigment spots appear sooner than on other areas of your body.
Do you know text neck?
The term describes the posture you take when you lean forward to look at your phone. When adopted repeatedly and for a long period of time, this posture can cause not only muscle pain, but also the development of a wide wrinkle – the "technological wrinkle" – where you neck bends.
DEVELOP GOOD HABITS
To counter the effects of premature aging of the neck and décolleté, give these areas as much care as you would the skin on your face.
In your 20s and 30s, use a fast, simple solution: during every skin-care routine, ensure you extend your movements and products down the neck towards the décolleté.
From the 40s on, start using targeted care products that boost the tone and elasticity of your skin while ensuring a more uniform complexion.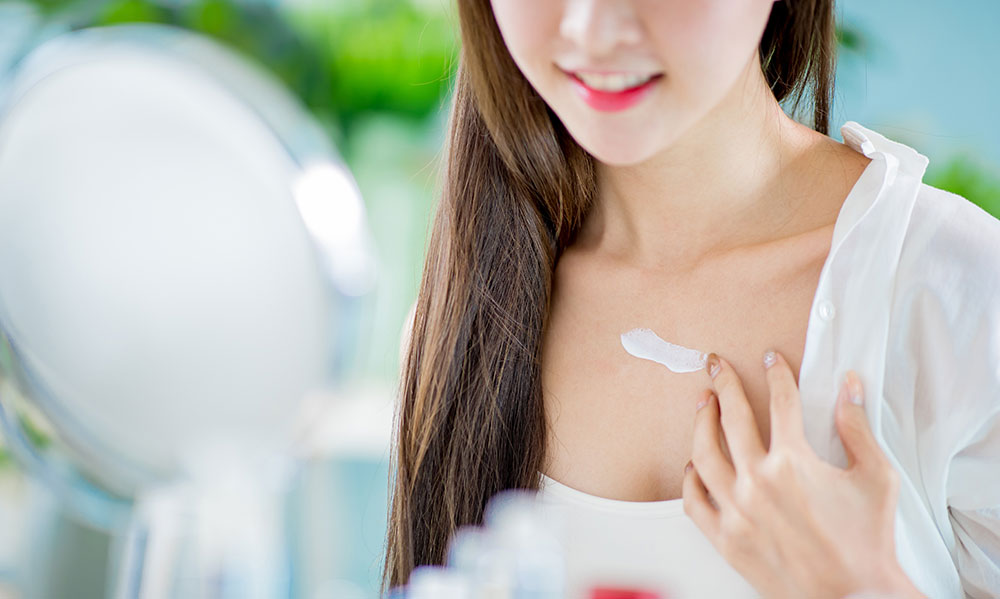 ENHANCE YOUR BEAUTY ROUTINE
Cleanse morning and night using circular movements so you don't stretch the skin. Use a gentle tonic or makeup remover: the skin on your neck and décolleté needs delicate care.
Use a scrub once or twice a week to eliminate dead skin cells and boost radiance. And, because the skin on your neck and décolleté needs more time to heal, remember to choose a milky or non-grainy product and apply it gently to reduce the chances of irritation.
Moisturize: beautiful skin is never parched! For effective hydration, choose fine, light products that stimulate the regeneration of your skin (hyaluronic acid should be high on your list!). Formulas that are too rich make your skin too heavy, causing sagging, which is the opposite of what you want!
If you have brown spots: apply a light cream or serum rich in active lightening ingredients, which will limit melanin production and prevent the appearance of new spots.
If your neck and décolleté are uncovered, be sure to protect them from UV rays with a high SPF sunscreen.

PROPER APPLICATION IS ALL ABOUT TECHNIQUE!
To make the most of your routine, good habits are key… as long as they're gentle!
Your neck: warm the cream in your hands and apply it in small circular movements from the centre outwards, bringing your two hands together behind your jaws.
Your décolleté: start by massaging the skin in a horizontal movement, from the interior outwards, keeping your hands flat. Next, move vertically, from the chest up towards the neck: this movement stimulates the cells responsible for elasticity and support in your décolleté area. Repeat the movements until all the cream has been fully absorbed.
Did you know? The clothes you wear can have an impact on wrinkles and even contribute to the premature aging of your skin. For example, sweaters that are too tight will rub against your neck all day long and that's something you absolutely want to avoid. The same goes for your bra. If it's too small, it will push against your chest, accentuating wrinkles. If it's too big, it won't provide the support you need and your skin will be unduly stretched, and that too can cause wrinkles.
Our suggestions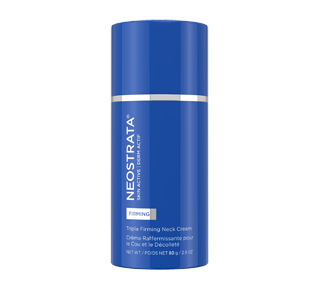 NeoStrata
Firming Triple Firming Neck Cream, 80 g
This antiaging neck cream is formulated with a complex of three ingredients, each with a unique action to deliver a lifted and firmer appearance. NeoGlucosamine, NeoCitriateTM and pro-amino acid work together to firm the appearance of sagging skin and target the volumizing matrix. This potent cream is enriched with a restorative fruit stem cell extract.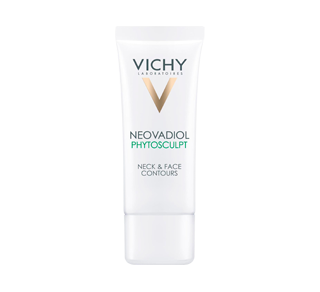 Vichy
Neovadiol Phytosculpt, 50 ml
Neovadiol Phytosculpt Anti-Aging Mature Face & Neck Care For Menopause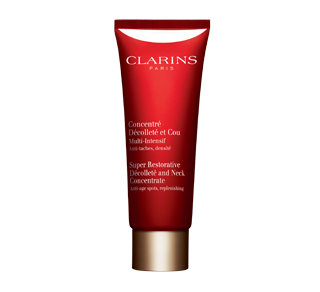 Clarins
Super Restorative Décolleté & Neck Concentrate, 75 ml
Helps to redensify, restructure and even.