Which areas do we tend to forget most in our beauty routine? The neck and décolleté. We spend so much time and effort taking care of the skin on our face by cleansing, toning, moisturizing and applying anti-wrinkle cream and masks, that we sometimes neglect these two important areas. And yet, with just a little bit of attention (and care!) we can keep them looking youthful.
WHAT CAUSES WRINKLES ON THE NECK AND DÉCOLLETÉ?
The skin in these two areas is fine, delicate and often exposed to harsh elements. As a result, it tends to slacken quicker than the skin on the face.
What are the main skin aging factors associated with the neck and décolleté?
The sun
The wind
The cold
Pollution
Wearing a bra that is too tight
Clothing that rubs the skin: turtlenecks, scarves, etc.
LES BONS RÉFLEXES À DÉVELOPPER
General rule: to fight and prevent neck and décolleté wrinkles, pamper your skin daily like you do your face. In each step of your beauty routine, apply the care products to your face then keep going down the neck all the way to the décolleté. It's super simple and ultra-fast!
1) Cleanse.
Fighting wrinkles begins with frequent cleansing (morning and night) in the affected areas, lightly brushing the skin with circular motions to avoid stretching it. Opt for a gentle cleansing milk, since the skin on the neck and décolleté needs to be delicately cared for.
2) Scrub.
Each time you exfoliate your face (once or twice a week), take advantage to also scrub your neck and décolleté. Removing dead skin cells will restore your skin's radiance and reduce the appearance of wrinkles. But watch out! Scrub too hard and you may irritate or even tear the skin. Use a gentle exfoliant and delicate motions!
3) Moisturize.
We can't say it enough: hydration is the secret to beautiful skin. As you already nourish your face morning and night, get into the habit of doing the same for your neck and décolleté. You have two options: either apply your face cream to these areas as part of your regular ritual, or apply an anti-wrinkle cream that's specially formulated for these two delicate places. An anti-wrinkle cream is a perfect option if you want to attack wrinkles that have already formed on your neck or décolleté.
As for the application technique, here's what we suggest:
Neck: warm the cream in your hands then massage it in, from the centre of the neck outward.
Décolleté: with flat hands, massage your chest horizontally moving outward, then vertically from the bottom of your chest up to your neck. Repeat until the skin fully absorbs the cream.
4) Choose your clothing carefully.
Yes, your choice of clothing can have an impact on your wrinkles and even contribute to premature skin aging. For example, wearing a shirt that is too tight and rubs against your skin all day long is strongly discouraged. As well, it's important to wear the right bra size. If your bra is too small, it can irritate the skin and accentuate wrinkles; too big and it won't offer the necessary support, and the stretched skin will be more likely to wrinkle.

REMEMBER
If your neck or décolleté are exposed, make sure to protect the skin from UV rays by wearing sunscreen with a powerful SPF. It's non-negotiable!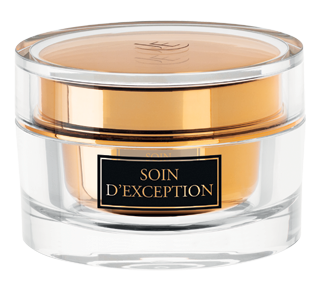 Jean d'Estrées
Soin d'Exception Face, Neck and Décolleté, 50 ml
Precious alliance of efficiency and pleasure. At the heart of the formula: Trésor d'Actifs, subtle blend of mother-of-pearls active proteins and Argan Tree plant stem cells. A generous skin care, with unique performances and infinite comfort. The complete response to mature skin needs.