Classics revisited, blended shades, iridescent finishes... There's no doubt about it: the new styles and colours for this spring and summer will brighten your day. Here's a quick look at three manicure trends to polish up your nails this season.
1) A colourful French manicure
You're probably familiar with the classic version of this look: white-tipped nails with a clear or pink finishing coat. Well, this spring features a fun variation on that popular theme. Try switching the white for a colour of your choice, maybe something vibrant like Very Peri, the blue-violet shade named Colour of the Year by Pantone. Or maybe something like deep green, yellow, fuchsia or orange. Remember: bold is beautiful!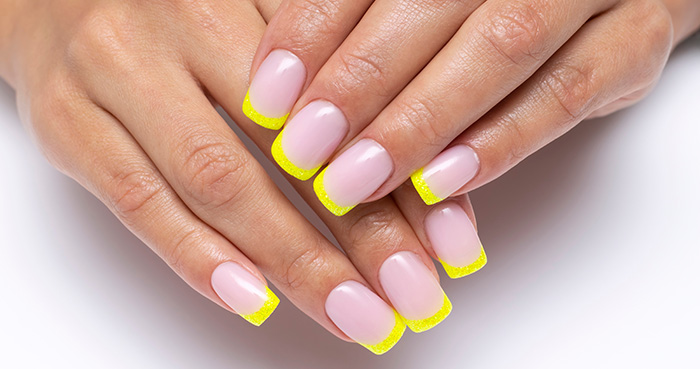 How to perfect a French manicure…
There are two golden rules:
Be patient. The French manicure gets its elegant look from the precision of the lines, so it's important that you let each coat dry 100% before you apply the next one. If you don't, the polish will smudge. So, remember to leave plenty of time between your base coat, the lines at tips of your nails and the finishing coat.
Use a guide to help you paint perfect lines. If you happen to have a French manicure set, use the sticky strips to create the lines. Or you can also wrap an elastic band around your fingertips and use it as a stencil. Either way, avoid using regular tape, which could damage your base coat.
2) Mismatched multi-coloured nails
This playful style has been around for a while now, and it's still a perfect choice for the lighter looks of spring and summer. Best of all, it's easy to achieve on your own. Just apply a couple of different colours to the nails on the same hand. Use whatever strikes your fancy. In terms of shades, you can't go wrong with pastels, which are this year's top picks. You could also try a combination of nude, caramel and peach.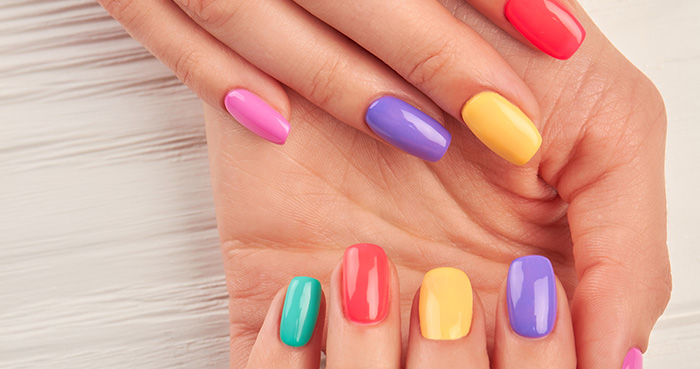 How to create colour harmony in your choices?
You can achieve perfect colour combinations in a few ways:
Juxtapose shades of the same hue, like burgundy, soft pink and pinkish beige.
Use the same colour on at least three of your nails to create a pattern;
Create balance by combining assertive shades with more discreet ones.
Remember: surprise is your ally, so have fun and don't be afraid to experiment.
3) Pearlescent and iridescent finishes
After being on hiatus for a few seasons, iridescent polishes are back. Women love their subtle reflections, which add depth and character to virtually any look. They also feature softer colours, which go great with a healthy summer complexion.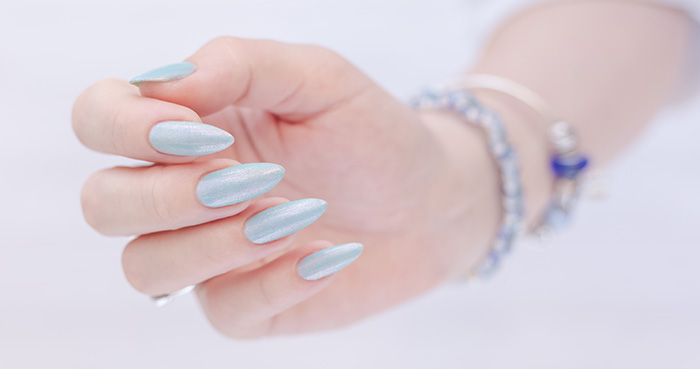 Blend those trends!
Here's an idea: try reinventing the French manicure by adding a pearlescent polish to the tips of your nails. Or use a few pearly shades in your multi-coloured collection.