As far as manicures go, several new arrivals have caught our eye! Either opt for a polish that gives off a subtle scent, or paint your nails with pastels and transform them into precious little gems.
Popular pastels
Essie's prestigious Resort line proposes four new polishes—three pastels for your day looks and a dark purple to dress your nails up for the evening. If you like softer tones, you'll just love Find Me an Oasis' pale blue, Resort Fling's soft coral, and Cocktail & Coconuts' neutral beige with a subtle hint of glitter. And for those nights on the town when the clock strikes midnight, why not opt for a dark purple like Under the Twilight?
Fragrant polishes that pack a surprise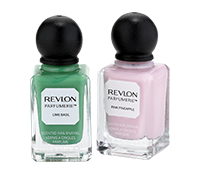 Someone had to think of it—turns out it was Revlon! Now you can find scented nail polishes in 16 gorgeous hues whose beauty is matched only by their fragrance. The lilac polish gives off a subtle lavender aroma, the green polish smells of lime, while the pink one happily reminds your nose of strawberries. To really appreciate their delicate bouquet, you have to apply a base coat, add two extra layers and wait until your nails are fully dry.
For a faux finish
Faux nail polish, you ask? You know those stick-on nails that make it look like you just got a manicure? Nail art. With Sally Hansen's Salon Effects line, you can get 24 styles of nail art—from simple chic to decadent—with designs reminiscent of marble, flowers, zebra, leopard and a whole lot more. Putting them on is easy enough, and with a bit of practice, you'll get professional results in no time. What's more, stick-on nails can last up to a couple of weeks—to make them last as long as possible, coat them with a transparent polish.
In conclusion, nail art is getting more and more popular, which means an increasing amount of accessories are on the market to embellish your fingertips. Stencils and nail art pens can help you make your own designs, while you can use glitter and even little jewels to make your nails sparkle. Intricate nails are all the rage this spring!