Gentlemen, does your hair get greasy looking from time to time? Here are some simple tricks to mop up the mess and get you back to looking your best, sharpest self.
WHY DO WE GET GREASY HAIR?
Our scalps naturally produce oil (sebum) which moisturizes and protects our hair from external aggressors. But when sebum-producing glands become overactive, hair gets weighed down at the roots and becomes greasy.
So, what causes the overproduction of sebum? There are lots of factors that affect oil production, including hormonal changes, periods of stress or fatigue, exposure to pollution, the use of inappropriate hair products, poor diet, etc., but whether your hair's condition is chronic or brief, there are easy solutions!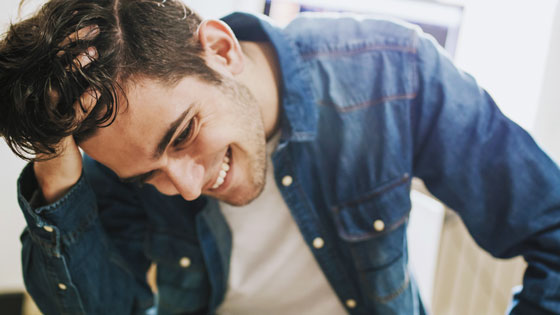 ADOPT HEALTHY HABITS
Use appropriate products
Using shampoos and conditioners that are too rich in moisturizing ingredients can make your hair heavy and leave residue. Silicone-based products that coat the hair shaft should also be avoided. Instead, use gentle, pH neutral products with oil-controlling ingredients.



Good to know: anti-dandruff shampoos have a drying effect and can be useful for the overproduction of sebum. Use one a few times per week, even if you don't have dandruff!
Space out your washings
Wash your hair only as needed, ideally, every two days. The frequent use of detergents irritates the scalp and stimulates sebum production. If your hair gets limp and tired, use a dry shampoo. All you need are a few spritzes to refresh your hair until the next shampooing.
Don't rub your scalp too vigorously when you shower.
Once again, you risk increasing oil production. Ideally, lightly stimulate sebum production by giving your scalp a quick massage before shampooing to activate circulation and to encourage blood flow to your capillaries.

Wash your hair in lukewarm water
If you're feeling brave, you can rinse with cold water. The important things is to avoid excessive heat because it stimulates oil production.
Never apply conditioner to your roots
Because your roots are already coated with natural oils, they certainly don't need any extra nourishment. It's best to apply your conditioner to your hair strands 3 to 4 cm from your roots. And don't use conditioner on hair any shorter than that.
Take the time needed to rinse your hair thoroughly
Shampoo or conditioner residue drowns your hair and makes it greasy really quickly. Everything should be rinsed out when you step out of the shower, fresh as a shower.
Avoid touching your hair too often with your hands
We do it without thinking about it – while we're on our computers, when we sweep our hair out of our eyes, etc., we touch our hair all day long. And that makes hair really greasy and heavy.
Watch your diet
Eat the healthiest diet you can. Avoid greasy, deep fried food, sugar and other ingredients and food that encourage the production of capillary sebum.