Developing an efficient skincare and makeup routine with a reduced beauty kit is totally doable, even while being thrifty and environmentally friendly! What's the secret? Being creative with the cosmetics you already have and trying new uses for them. And we've got the proof!
Remember! Before you start exploring new uses, make sure the products you use are safe on different areas of you face or you could end up with a skin reaction. One good way to avoid that is by using hypo-allergenic products that contain no alcohol or perfume and make sure you check the best-before date on the packaging.
REVISITING YOUR MAKEUP KIT
1. Lip balm
This thick, transparent, water-proof product is ideal for…
Taming eyebrows. Just use a little on the end of your fingertip and dab it onto the offending hair. A quick stroke of a mascara brush and you're done!
Nourishing cuticles. Rub it directly onto the cuticles and let it penetrate deeply for a quick manicure and say goodbye to dead skin and cracking.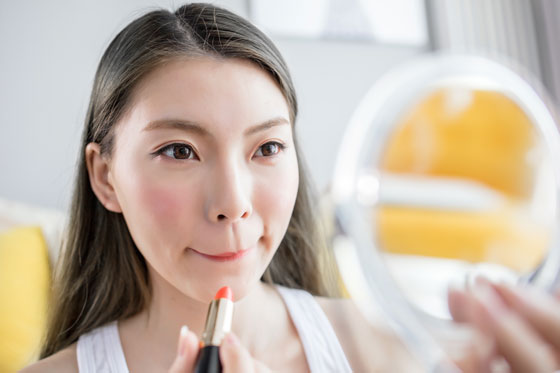 2. Lipstick
With its countless shades and textures, lipstick makes the perfect replacement for…
Blush. Use the end of the stick to dab a little onto your cheekbones, then blend it upwards towards your temples. For best results, choose a shade that works with your natural complexion. And remember to use it sparingly.
Eye liner. Pour a drop of liquid lipstick onto a beveled brush and use it to colour your upper lashes. Make sure you use a long-lasting formula with a finish that's not too sticky.
3. Blush
Forgot your lipstick or your eyeshadow at home? No sweat. Just dab a little blush above your eyes or onto your lip balm and you're good to go. To avoid drying out your skin, use a product with a creamy texture, which goes on easily using either a brush or your finger.
4. Eye shadow
Your eye shadow can do double duty…
No eyebrow pencil? No worries. All you need is a beveled brush and some eye shadow that's the same colour as your eyebrows. Just fill in the spaces by brushing on the eye shadow in the direction of growth. A few careful strokes and you've got perfect arches!
Shedding some light on illuminators. A touch of light-coloured, iridescent eye shadow on your cheekbones, your eyebrows, the bridge of your nose or above the centre of your lips looks just like an illuminator. Nobody will know the difference!
5. Mascara
Ran out of black eye liner? Rub a beveled brush along the end of your mascara brush and you've got all you need to draw a thick, well-defined line!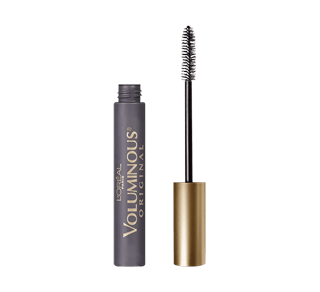 L'Oréal Paris
Voluminous Original Mascara, 8 ml
L'Oréal Paris presents Voluminous Original volume building mascara, in deep burgundy. Specially formulated to resist clumping, keep lashes soft, and build lashes up to 5x thicker. Our volume maximizing brush quickly thickens and builds lashes evenly for a full and dramatic look.
TAKE A CLOSER LOOK AT YOUR COSMETICS…
1. Moisturizing milk
In addition to being a great moisturizer, this essential product can also…
Control the frizzies. Just rub a little body milk into your hair and style it once it's dry. It's a great way to take care of rebel hair without weighing down your locks.
Zap static electricity. Turtle-neck sweater driving your hair mad? Stockings sticking? Just rub a very thin layer onto the offending fabric and the job's done!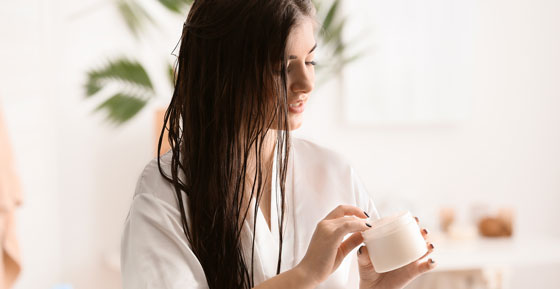 2. After-shampoo cream
Sure, it leaves your hair radiant and silky smooth, but it can also double for shaving cream! Its rich texture protects your skin against razor burn and helps the blades slide more smoothly! Ideal for keeping your skin super soft.


3. Talcum powder
No loose powder handy? Talcum can be used to…
Fix your makeup. Apply it with a brush to seal your foundation, your concealer or your cream blush.
Give your complexion a boost. Just add a little to the highest points on your face before you apply your makeup for instant radiance.
4. Petroleum jelly
With its light, shiny texture, the old standby Vaseline is ideal for adding a soft, radiant, well-moisturized look to your complexion. Add a little to your cheekbones and above your eyebrows for quick illumination.