This season, small is the way to go with your makeup kit. That means opting for quality over quantity and choosing multi-purpose products. This less-is-more approach also comes in handy when you need to travel light.
Here are some ideas for making the most of your beauty products.*
One beauty product, many possibilities.
Lip balm
Designed for moisturizing your lips, this is also ideal for setting your eyebrows. Apply some balm to the tips of your fingers, dab it on to your brows, then brush them gently with a spoolie brush.
Running low on nail cream? Use lip balm to deeply hydrate your cuticles for a peel- and crack-free manicure.
Lipstick
Don't have any blush handy? Apply some lipstick instead by simply dabbing it on to your cheeks then shading it to get the desired effect.
Liquid lipstick
Long-lasting and available in wide variety of rich shades... liquid lipsticks and eyeliners have a lot in common! To transform your liquid lipstick into an eyeliner, all you need is an angled brush.
Bronzing powder
If all you have on hand is a bronzing powder, you can use it to highlight the contours of your face ... or as an eyeshadow!
Eyeshadow
If you don't have an eyebrow pencil with you, but do have an eyeshadow the same colour as your brows, then use it to fill out and define them with the help of a brush.
If you have a light, iridiscent eyeshadow, feel free to use at as an illuminator too. Just apply some to your cheeks or the arch of your eyebrows.
Blush
Forgot your lipstick? If you have pale lips, try dabbing a little blush on top of your lip balm.
You can also use it as a makeshift eyeshadow.
Mascara
All out of black eyeliner pencil? Run an angled brush over your mascara wand, then use it to trace a thick, well-defined black line.
Concealer
Applied to your eyelids, this is perfect for brightening your look and setting your makeup.
Our suggestions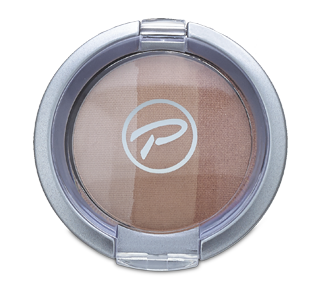 Personnelle Cosmetics
Eye Shadow Trio, 1 unit
The Personnelle Cosmetics Eye Shadow Trio has everything you need to enhance your look. Its long-lasting formula will not crease.
The secret powers of skincare products
Moisturizing milk
Say goodbye to frizz! Put some moisturizing milk on your hands, rub them together until there's just a little excess cream left, then run them through your hair for an impressive smoothing effect.
Use the same technique to remove static from your pantyhose.
Sunscreen oil
Besides protecting your skin, sunscreen oil is also ideal for nourishing and moisturizing dry hair ends. It's the perfect way to use up any leftover oil once summer's over.
Hair conditioner
Not only does it leave your hair silky and healthy—it can also serve as a makeshift shaving cream. The thick texture protects your skin against razor burn and helps blades glide smoothly.
Our suggestions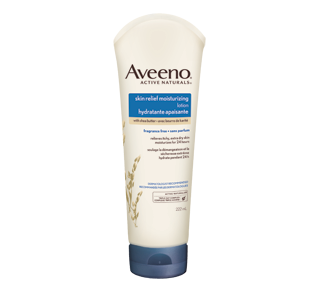 Aveeno
Skin Relief Moisturizing Lotion Fragrance-Free, 222 ml
Aveeno Skin Relief Moisturizing Lotion (Fragrance-Free) contains a patented Triple Oat formula and natural shea butter to revive extra dry skin and provide lasting protection from skin dehydration.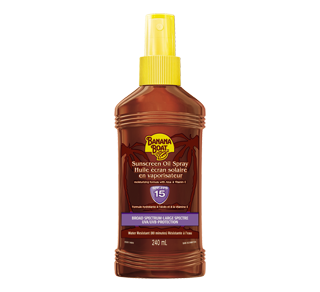 Banana Boat
Sunscreen Oil Spray SPF 15, 240 ml
Banana Boat ® Sunscreen Oils contains rare oils and extracts of coconut, banana and carrot together with aloe vera and Vitamin E. This super-rich blend helps lock in moisture and keep the skin feeling silky smooth while helping prevent sunburn.
New twists on old classics
Talcum powder
Don't have any loose powder on hand? Use talcum powder for a fixing effect or to brighten certain areas of your face under your makeup.
Fixative
Are your eyebrows out of control? Try using a spoolie brush with a little nail polish on it to set them.
Petroleum jelly
Good old Vaseline is perfect for giving your complexion a soft, radiant look. Apply it on your cheeks and eyebrow arch to brighten them.
Nail polish
Got a tear in your tights? Stop it from spreading by applying a dab of nail polish with a brush!
*To avoid skin reactions, make sure your product of choice is suitable for use on other parts of the face before following these suggestions. Go for alcohol- and scent-free hypoallergenic products.